QF entity only Hospital from Middle East to showcase precision medicine success stories based on Arab Genome datasets
30 January 2023, Doha, Qatar – A team of researchers and physicians from Sidra Medicine, (a member of Qatar Foundation), were at Precision Medicine World Conference (PMWC 2023) in California last week, to showcase how it has made precision medicine a reality for children with rare diseases in Qatar.
Held in the United States of America, PMWC is the largest and original annual conference dedicated to precision medicine. Its mission is to showcase practical content that helps close the knowledge gap between different sectors and to accelerate the development and spread of precision medicine.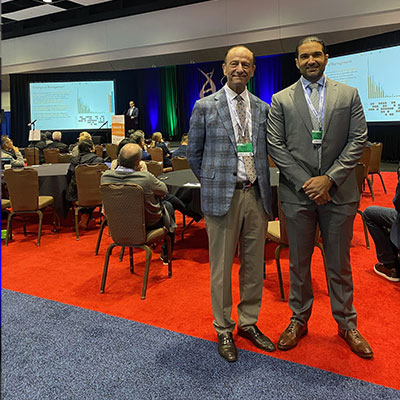 The delegation of Sidra Medicine experts attending PMWC 2023 included Prof. Ziyad M. Hijazi, Chief Medical Officer; Dr. Khalid Fakhro, Chief Research Officer; Prof. Khalid Hussain, Div. Chief of Endocrinology; Dr. Ruba Benini, Attending pediatric neurologist and epileptologist and Dr. Chiara Cugno, Director of Advanced Cell Therapy Core and Attending Physician in Pediatric Hematology and Oncology as well as Dr. Max Renault, the Director of Research Operations and Strategy.
Prof. Ziyad M. Hijazi said: "PMWC 2023 was a fantastic opportunity for us to highlight Qatar Foundation's investment in precision health and precision medicine, through an entity like ours. I was very proud of our ground-breaking case studies and clinical research that showed how we have made precision medicine a reality and used our genomics know-how to transform patient care in Qatar. We were the only hospital from the Middle East region present at the event. We also had a very unique positioning in sharing how we have successfully used newly analyzed datasets of the Arab genome to benefit patient care, pharmacogenomics and population health."
In a panel session titled 'Building Future Precision Care in Qatar', Prof. Ziyad M. Hijazi and Dr. Khalid Fakhro, along with Dr. Edison Liu, the former President and CEO of the Jackson Laboratory and member of the Research board at Sidra Medicine, explored the bench to bedside pathways of care for patients at the hospital.
Prof. Hijazi, who presented an overview of Sidra Medicine and shared examples of the ground-breaking services that have set the hospital apart from other healthcare facilities in the region, citing patient profiles from endocrinology and genomic medicine said: "What was a major drawcard for me joining Sidra Medicine in 2014, was the encouragement to engage in clinical research and the types of patients we would have the opportunity to care for. Our treatment programs were being structured to be personalized particularly for patients in the Middle East, with complex phenotypes not common in North America and Europe. What was even more appealing was that since Sidra Medicine is a teaching hospital, we are educating and training the next generation of physicians from the Arab world, to evaluate and treat diseases and conditions that are unique to the region."
Dr. Fakhro cited an example of how Sidra Medicine's zebrafish laboratory was used to resolve genetic ambiguities in a family, who were patients of Dr. Ruba Benini. "The three siblings had a progressive neurodegenerative neuropathy and were experiencing a range of physical disabilities leading to a slow deterioration in mobility. Following many years of extensive non-conclusive testing both at Sidra Medicine and at other hospitals outside Qatar, such as neuroimaging; nerve conduction studies; biopsies and clinical genetic testing; it was only during the research recruitment phase at Sidra Medicine, that a novel variant with a unique phenotype was discovered. We then did a zebrafish model of the genetic abnormality in the patients and found that treatment with Riboflavin decreased the abnormalities caused by the mutation. Since then, the three children have been started on Riboflavin treatment, and their clinical improvement is currently being monitored by the Neurology team."
Dr. Edison Liu said: "Sidra Medicine, with its confluence of capabilities and circumstances, is a unique institution poised to discover and to treat genetic disorders. Its focus, organization, and scale to achieve these ends will be unparalleled. In addition, given the impact of genetic disorders in the region, Sidra Medicine is already playing a significant role in addressing a major burden of disease in this historically understudied population. By enhancing the national infrastructure for medical and translational research, Sidra Medicine will also ensure that Qatar will become increasingly self-reliant in finding biomedical solutions to diseases relevant to the region."
Sidra Medicine was also part of the 'Challenges and Opportunities for National Precision Medicine Initiatives' panel with Microsoft, where Dr. Fakhro talked about the precision medicine initiatives being undertaken at Sidra Medicine and how they were transforming healthcare for patients in Qatar.
Dr. Fakhro concluded: "Sidra Medicine not only has the clinical and research expertise, technology, innovation and skill sets, we are now in a strong position to contribute to the global knowledge economy. Our experience with Middle Eastern genotypes and phenotypes as well as with novel diseases, is a game changer in the precision medicine field. We are seeing a lot of interest in collaborations related to precision oncology; data sharing for rare diseases and pharmacogenomics. We have many exciting plans in the works including the launch of a GMP facility and clinical trials for novel drugs for treating pediatric tumors. We want the rest of the global healthcare and research community to know that they can collaborate with us here in Qatar."