QF Entity highlights expertise in first of its kind ortho-plastic oncology surgery in treating Ewing's Sarcoma
13 December 2021, Doha, Qatar – A team lead by Sidra Medicine, in partnership with Hamad Medical Corporation (HMC), have successfully performed ground-breaking ortho-plastic oncology surgery and saved the life and limb of a four year old girl with Ewing's Sarcoma.
The young patient was referred to Sidra Medicine with a short history of hip pain. Initial x-rays prompted urgent CT and MRI scans at Sidra Medicine and a subsequent biopsy performed at HMC confirmed the diagnosis of Ewing's Sarcoma of the left thigh bone, a rare type of cancer that occurs in or around the bones.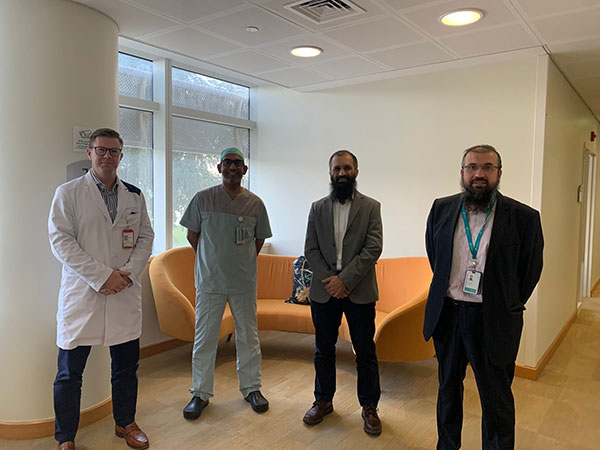 Dr. Ata Ur Rehman Maaz, Senior Attending Physician at Sidra Medicine's Pediatric Oncology Division said: "Ewing's Sarcoma forms two percent of all childhood cancers and usually manifests between the ages of 10 and 20, so this child was particularly young for such a diagnosis. We immediately put her on a program that included chemotherapy to stop the spread of the cancer from her femur to the rest of her body. However the most crucial part of treatment for Ewing's Sarcoma is local control and that is surgery."
The surgical approach was conceived by Dr Ahmed Mounir, senior consultant orthopedic oncology surgeon at HMC and Dr Graeme Glass, senior attending plastic surgeon at Sidra Medicine. In a world first, they made a plan to exactly excise the part of the bone affected by the tumor and to reconstruct the excised bone by making an exact replica based on another bone taken from the patient and a custom cut bone graft. This construct was fitted together and a new blood supply was attached to the reconstructed bone under a microscope. Crucially, the growth potential of the hip was preserved using microsurgical techniques to preserve the blood supply to the growth plate of the hip. The entire construct was fixed using orthopedic fixation techniques.
Dr. Graeme Glass, senior attending plastic surgeon at Sidra Medicine said: "Conceptually, this operation represents the next logical step in only a handful of cases described in the medical literature. The earliest similar cases used only the fibula, a non-weight bearing bone below the knee. Using this bone to reconstruct the hip and femur (thigh bone) was less than ideal because the reconstruction was weak and late fractures occurred more often than not. Later, two individual reports improved upon this by wrapping the fibula in hard bone graft. This reduced late fracture rate but the growth potential of the fibula is not the same as the growth potential of the femur. By contrast, our modification should be both structurally strong and capable of normal growth and it is to be hoped that this will minimize the need for revision surgeries and allow her to lead a long, happy and active life."
Dr. Ahmed Mounir, senior consultant orthopedic oncology surgeon at HMC said: "It was imperative that we successfully removed the tumour completely while keeping the head of the thigh bone and its growth plate with their blood supply intact. After careful preoperative planning of this innovative, highly complicated procedure, many highly advanced techniques were used during surgery to achieve its main goal – and that is complete excision of the tumor with microvascular preservation of the nutrient artery to the femoral head. This would help preserve the potential for the reconstructed limb to continue to grow and function normally. It was a tough goal to achieve, but we did it. This is the first time in the world to have such procedure done successfully on such a young patient with bone tumor. Our intention is to publish it in medical literature so surgeons around the world can help other young children by using this innovative surgical technique that we achieved in Qatar."
A team of over 10 surgeons, anesthesiologists and nurses performed the surgery, which took over 20 hours. Dr. Mounir was assisted by Sidra Medicine orthopedic surgeons Dr. Farhan Ali and Dr. Talal Ibrahim who removed the tumor and then partnered with Dr. Glass to dissect the nutrient artery to the femoral head and perform the microvascular reconstruction.
Dr. Farhan Ali, senior consultant orthopedic surgeon at Sidra Medicine said: "This surgery was complex and unique because we were performing multiple functions in one setting. It was critical that we worked in cohesion – from the removal of the tumor, taking out the cancerous elements from her thigh bone, and then the reconstruction component. The primary aim of the procedure was to remove the life-threatening cancer of the bone, but we wanted to give the best result in terms of function and future growth as well by preserving the patient's own hip joint. This was only made possible by different teams working together and bringing our different skill sets to the operating table."
Dr. Talal Ibrahim, Division Chief of Orthopedic Surgery at Sidra Medicine said, "Before modern orthopedic facilities and expertise became available, many patients would have had to have amputations, or fairly basic type of tumor resections leading to life-long disability. An ortho-plastic approach utilizes the skills of both orthopedic and plastic surgery to remove the tumour and perform a functional reconstruction of the hip joint at the same time. We are incredibly proud of the collaboration Sidra Medicine has with HMC where our joint expertise of orthopedic oncology, pediatric orthopedic, and microvascular and plastic surgery results in not only curing certain types of cancer, but with excellent functional outcomes for young patients."
Prof. Ziyad M. Hijazi, Chief Medical Officer at Sidra Medicine said: "There has been no reported or recorded cases of such a reconstruction and this is the first case to be done in the world using a new ortho-plastic oncology technique. What Qatar is able to offer in the care and treatment of children with complex diseases can be rated as some of the best in the world and comparable to other world-leading children's hospitals. We are very pleased in being able to save this young girl's life and wish her a happy and healthy future."
The patient is currently undergoing physiotherapy at Sidra Medicine, to ensure optimum function of her limb. She will also require an additional six months of chemotherapy in order to minimize the chances of cancer recurrence and ensuring the completeness of cure.
The patient's parents said: "Words cannot describe the gratitude that we have for the entire team at Sidra Medicine. We are immensely relieved with the outcome of the surgery and the follow up care that she continues to receive. As a family, we felt we were in the safest of hands in this wonderful hospital. We hope that parents of children who have cancer, know that there is a children's hospital in Qatar with a team that you can trust who will provide the best care possible. Thank you Sidra Medicine, HMC and thank you to the government of Qatar for developing such an advanced healthcare system that provides hope, care and cure for families in Qatar."
Dr. Mansour Ali, Chair of the Department of Surgery at Sidra Medicine said: "I am very proud of our team at Sidra Medicine as well as what we have achieved jointly with our partners at HMC. Our collaborative efforts highlight Qatar's advancements in healthcare and that we bring together the best expertise and teams to save the lives of children with rare cancers like Ewing's Sarcoma. What is equally inspiring and encouraging is that the success of the surgery offers hope to other patients with similar conditions. It also provides reassurance to families that their children can get such care here without having to travel abroad. In addition, our plans to publish the procedure is also testament to our medical education positioning in sharing best practice examples globally with our peers."
The department of surgery at Sidra Medicine offers a range of pediatric surgeries including neurosurgery; otolaryngology; orthopedic surgery; ophthalmology; pediatric general and thoracic surgery; perioperative surgery; plastic and craniomaxillofacial; renal transplantation and urology. It is part of the National Surgical Quality Improvement Program (ACS-NSQIP); recognized for its dedication to achieving the best surgical results for its patients. For details, please visit: https://www.sidra.org/clinics-services/childrens-and-young-people/pediatric-surgery.