QF Entity brings together experts calling for better nutrition and support for women in the early stages of life
10 March 2020, Doha, Qatar—The Maternal and Child Health Symposium (MCH 2020), held by Sidra Medicine, a member of Qatar Foundation, wrapped up its three-day conference with key calls to action on better nutrition for women, importance of HPV vaccines in adolescent women, and investment in further research to understand pregnancy complications.
The symposium, which took place at the Qatar National Convention Centre brought together nearly 600 delegates including well-known researchers, clinicians, trainees, postdoctoral researchers, students and all members of the community to cover advancement methods in the field of reproductive health, pregnancy, fetal and post-natal life.
The conference is in alignment with Qatar's National Health strategy 2018-2022 priority targets: Healthy women leading to healthy pregnancies and was co-chaired by Dr. Souhaila Al Khodor, Director of Maternal and Child Health Program and Dr. Annalisa Terranegra, Investigator in Nutritional Genomics and Metabolism from Sidra Medicine.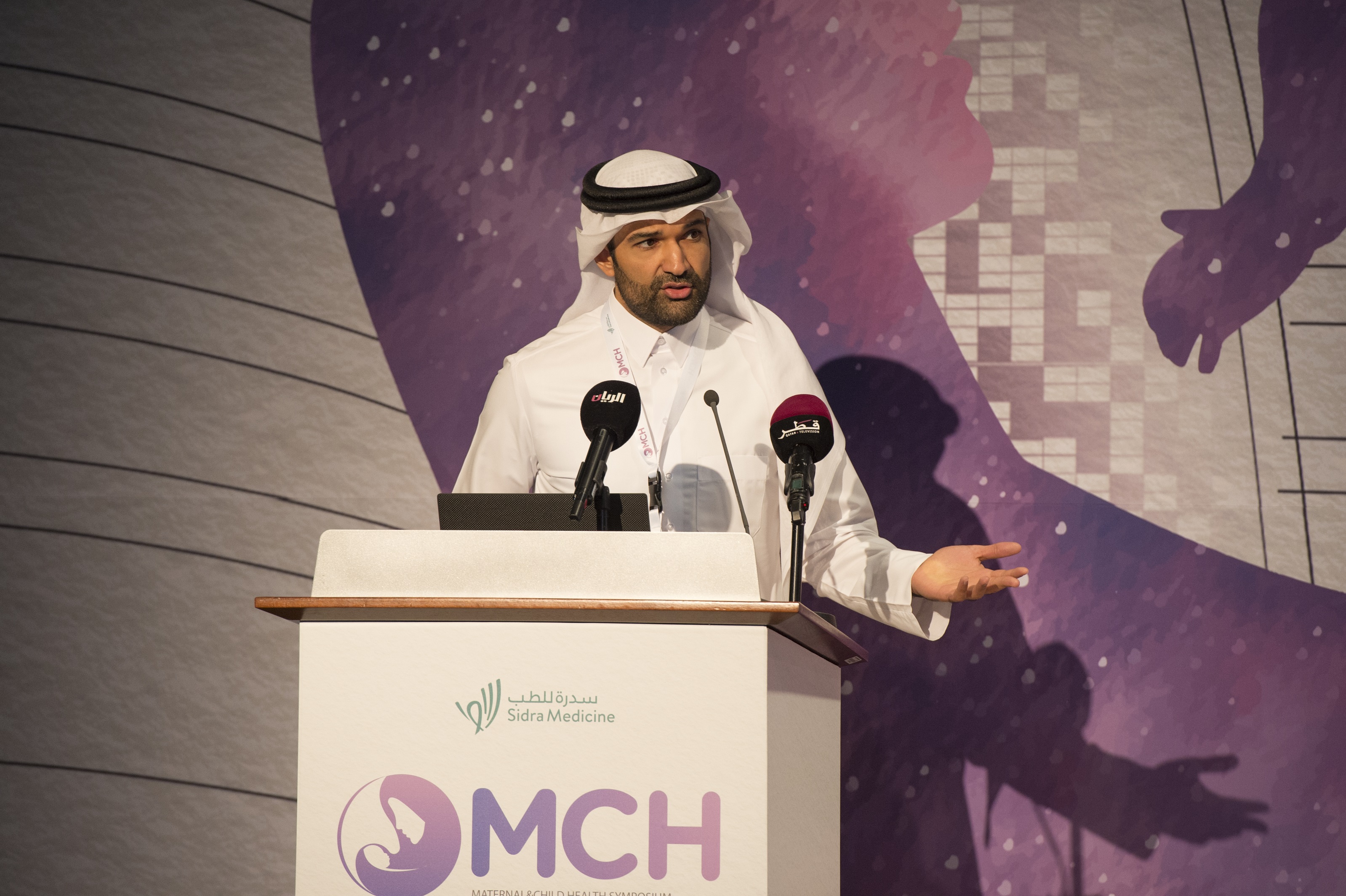 Dr. Khalid Fakhro, Sidra Medicine's Act. CRO at the closing ceremony of MCH 2020
Dr. Khalid Fakhro, Act. Chief Research Officer at Sidra Medicine said: "MCH 2020 showcased the successful integration of our clinical and research maternal programs at Sidra Medicine. International and local speakers shared their experience on topics such as gestational diabetes, pre-term birth, perinatal child health and reproductive conditions such as infertility that affect millions of women and men worldwide.
"We learned a lot over the three days, and a key message from the symposium is that to advance maternal and child health in Qatar, large cohort studies and public participation are fundamental. As an academic medical center, patients at Sidra Medicine who enroll in research can teach us a lot, with benefits not only for today's world but also for future generations around the globe," continued Dr. Fakhro.
During a session presented by Prof. Kent L. Thornburg, titled "The Developmental Origins of Health and Disease paradigm: Maternal Roots of Adult Onset Chronic Disease", it was noted that the introduction of good nutrition in the early stages of a woman's life is fundamental not only for her health, but also for healthier pregnancies and healthier babies. The theory was supported by several speakers during MCH 2020, who shared best practice examples and research programs from Qatar as well as from the United States, the United Kingdom, Spain and other countries.
Pregnancy complications in women are said to be rapidly increasing with a health risk for both mother and child. Common complications reported in Qatar include gestational diabetes, preterm birth, pre-eclampsia, gestational hypertension, stillbirth and low birth weight. However, the symposium participants agreed that more longitudinal studies are needed, in addition to multi-omics technologies to address pregnancy complications and enable precision medicine in this field.
The MCH2020 Symposium included a pre-conference seminar and community workshop aimed at pregnant women and first-time mothers to provide them with information regarding nutrition and exercise during pregnancy. The conference also marked International Women's Day with the delegates on 8th March.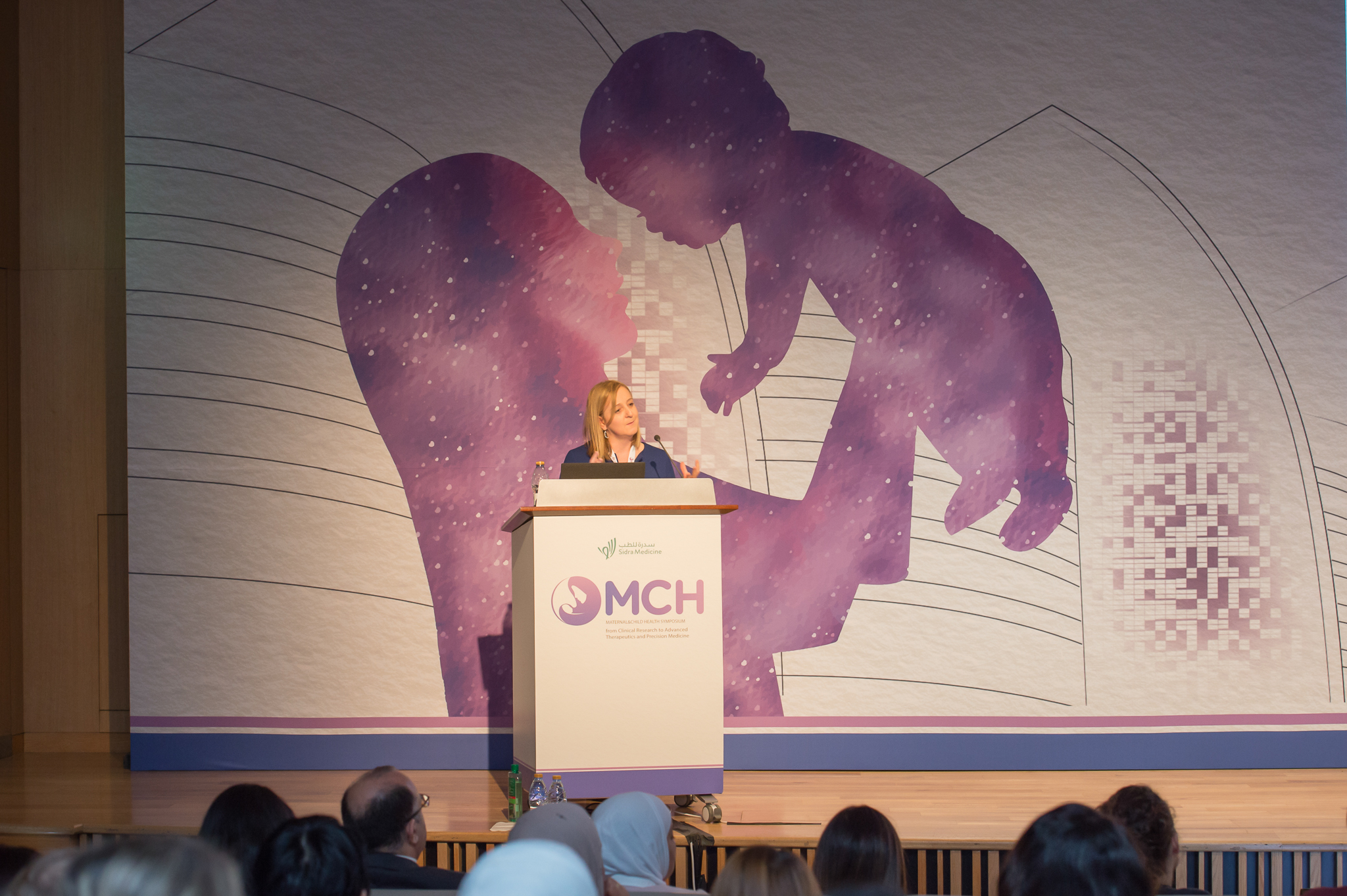 Prof. Rachel Tribe, Kings College London
"Risk factors such as maternal stress, maternal mental health, obesity and maternal age can impact birth outcome. Therefore, providing healthcare for women at an early age, and giving them advise as they go through life, has very positive impact. I am looking forward to seeing more interesting work come out of Sidra Medicine related to this topic, and the possibility for us to collaborate through the Kings College Global Engagement Partnership Fund," said Rachel Tribe, the Professor of Maternal and Perinatal Science from Kings College London in the UK who presented on the Mechanism of disease in pre-term birth.
Read the Arabic version here.
For more information about Sidra Medicine's maternal and child health clinical and research programs, please watch this video here and visit www.sidra.org for details.
- ENDS -