"I chose Sidra Medicine to give birth to my daughter because I wanted a place where I could have a calm birth experience, where my birth plan would be followed and respected"– Clare Flores
At Sidra Medicine, our skilled team of Obstetricians, Midwives and Nurses will guide your birthing journey, tailored to your needs, with compassion and genuine care.
One of our patients, Clare Flores, shares her story about her positive birthing experience with us:
Having birth at Sidra Medicine was a decision I made after receiving many recommendations from mothers in Doha who shared their positive and empowering experience there.
I had a negative birth experience for my first child three years ago at a different hospital. The process was filled with unnecessary interventions by staff who were rushed and took no care to follow my birth plan. This made my physical and emotional recovery a very difficult and long journey.
For the birth of my second child, I wanted to choose a place where I could have a gentle and empowering birth experience, where my birth plan would be followed and respected as far as possible.
It all started when I posted in the Positive Birth Group on Facebook asking for recommendations. Several mothers mentioned Sidra Medicine as a great option as they had positive births there.
It then came as a pleasant surprise when one of their midwives reached out to me directly through the group page. Once we exchanged details, we discussed my previous birth experience and my wishes for my upcoming birth. She was keen on explaining to me the skilled team of UK midwifes at Sidra Medicine who are trained to deliver low risk vaginal births. I was very excited to hear about this option as this is the standard practice in the UK where I come from. I also believe having a midwife lead the birth was more comforting as a support to the mother.
I followed up my appointments with Dr. Ashok Kumar who patiently counselled me through my previous birth experience and relieved any anxieties I was feeling, helping me to feel empowered and confident about my upcoming birth. He was incredibly supportive and respectful of my birthing plan and my wish to have a midwife-led delivery and was always very responsive to my questions. I could not have asked for better patient care from a doctor.
On 4th February, at 39 weeks 5 days pregnant, I had a routine appointment with Dr Ashok at 1.30pm. After the appointment, I was sitting in the waiting room waiting for my insurance to approve blood tests and after half an hour waiting, I realised I had experienced several contractions. Over the next half hour, I started walking around the waiting room. As I timed my contractions, I realized they were coming regularly every 8 minutes. I went back to see Dr Ashok who offered to do a cervical check, where I was already 3cm dilated and in early labour and he advised me not to leave the hospital.
I phoned my husband to leave work and make his way to the hospital, it was time! I then went to collect my son who was playing with my mother in the hospital's play area that has a fantastic pirate ship with an aquarium, where he spent hours playing over the next couple of days.
We went to a café and had chocolate cake, then we went for a walk in the hospital gardens to try to speed up the labour. We admired the Damien Hirst bronze sculptures, and my son was really excited that soon his sister would be born like in the final sculpture. [Pictured]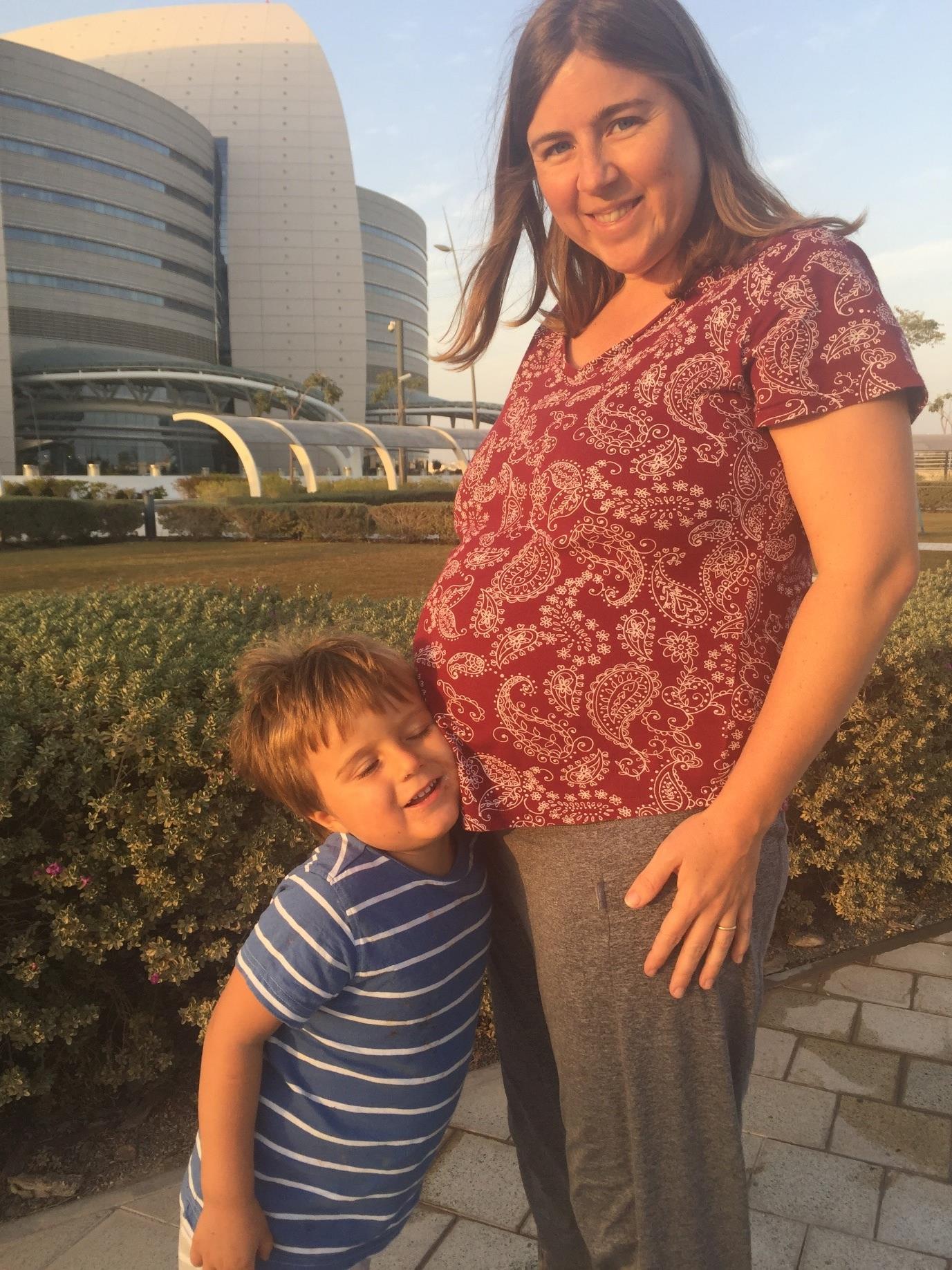 At around 5.30pm, myself, my husband, my mother and son checked calmly into the Ladies OB Triage and Urgent Care at Sidra Medicine. We were shown to a treatment room where we were attended by a midwife, Sister Desiree. Before proceeding with checks, Sister Desiree read my birth plan, confirming my choices and made me feel happy and relaxed as we chatted.
As I laid on the bed having the baby's heartbeat and contractions measured, my son cuddled up with me and we read books together until it was time for me to head to the delivery room with my husband, while my son stayed back with my mother.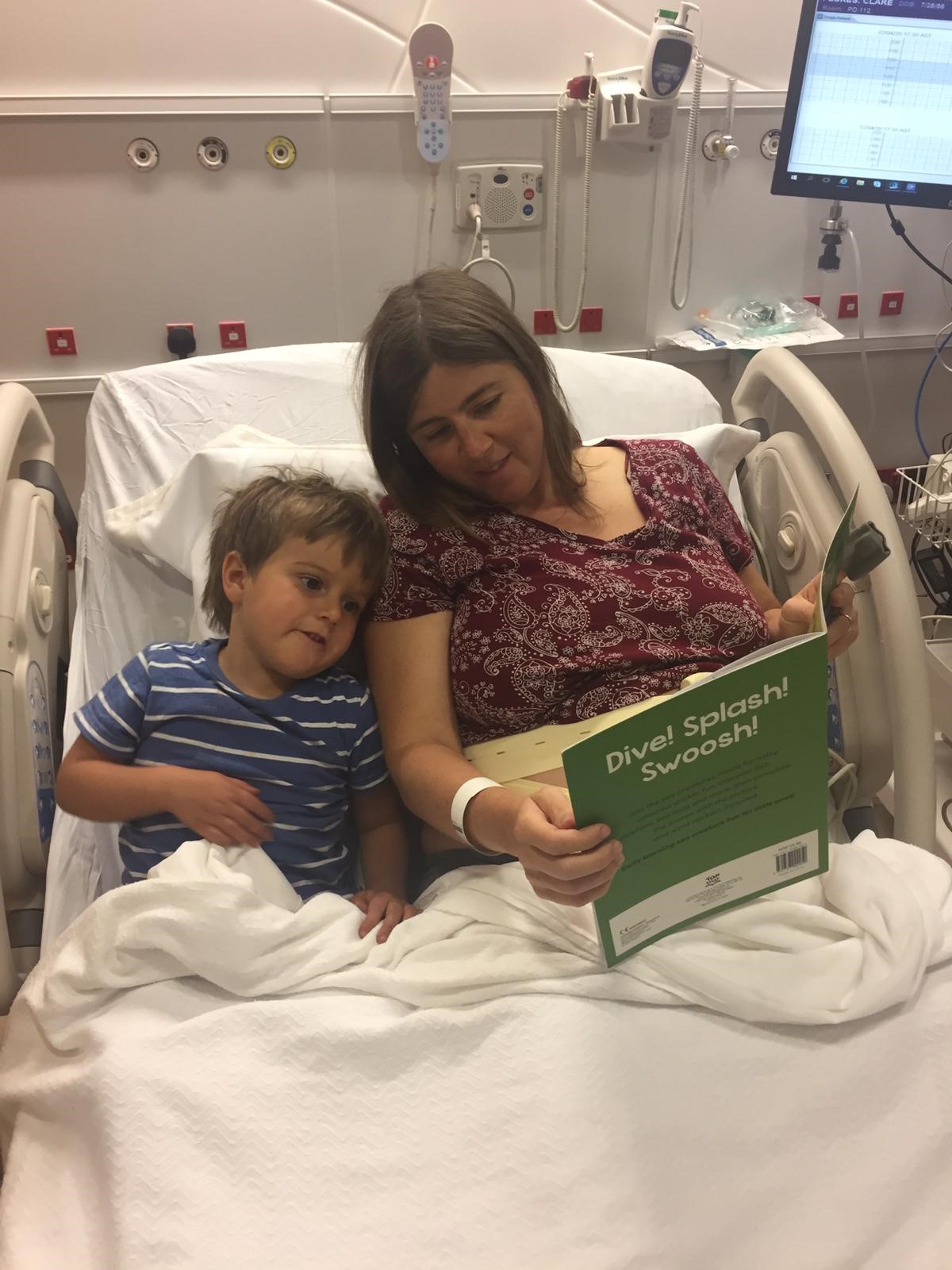 In the delivery room we were met by midwife Sister Gladys. I immediately felt comfortable and relaxed in her presence and for the fact that she was highly experienced and competent in vaginal births. Later she told me she always had wanted to be a midwife as her mother was also a midwife.
The room itself felt very intimate and not at all metallic or clinical. We had the lights dimmed and the open view from the windows of the Doha skyline was impressive. I moved freely around the room and used the birthing ball to get into different positions. Sister Gladys carefully read my birth plan and answered all my concerns regarding birthing.
At around 8pm I felt the contractions were getting unbearable and requested some gas and air to help the pain. Another midwife Sister Joyce came and coached me how to breathe through the contractions and her support filled me with confidence and calmness.
I felt I was getting close to the end, so although another cervical check was not due until 10pm, I requested Sister Gladys to perform one early. During the check she warned me that my water bags were bulging out and that if she continued they may burst. I consented for her to continue, and seconds later I felt a big gush of water and immediately my daughter's head shot downwards and I felt a huge sense of relief as I felt her crowning.
Sister Gladys calmly asked my husband to press the assistance button, and Sister Joyce and two doctors came into the delivery room. Sister Gladys expertly supported my daughter's head and my perineum as my daughter pushed her way out, whilst Sister Joyce gave me clear instructions and great support with my breathing to help prevent any tearing.
My daughter, Charlotte Evelia was born at 8.26pm weighing 3.16 kg.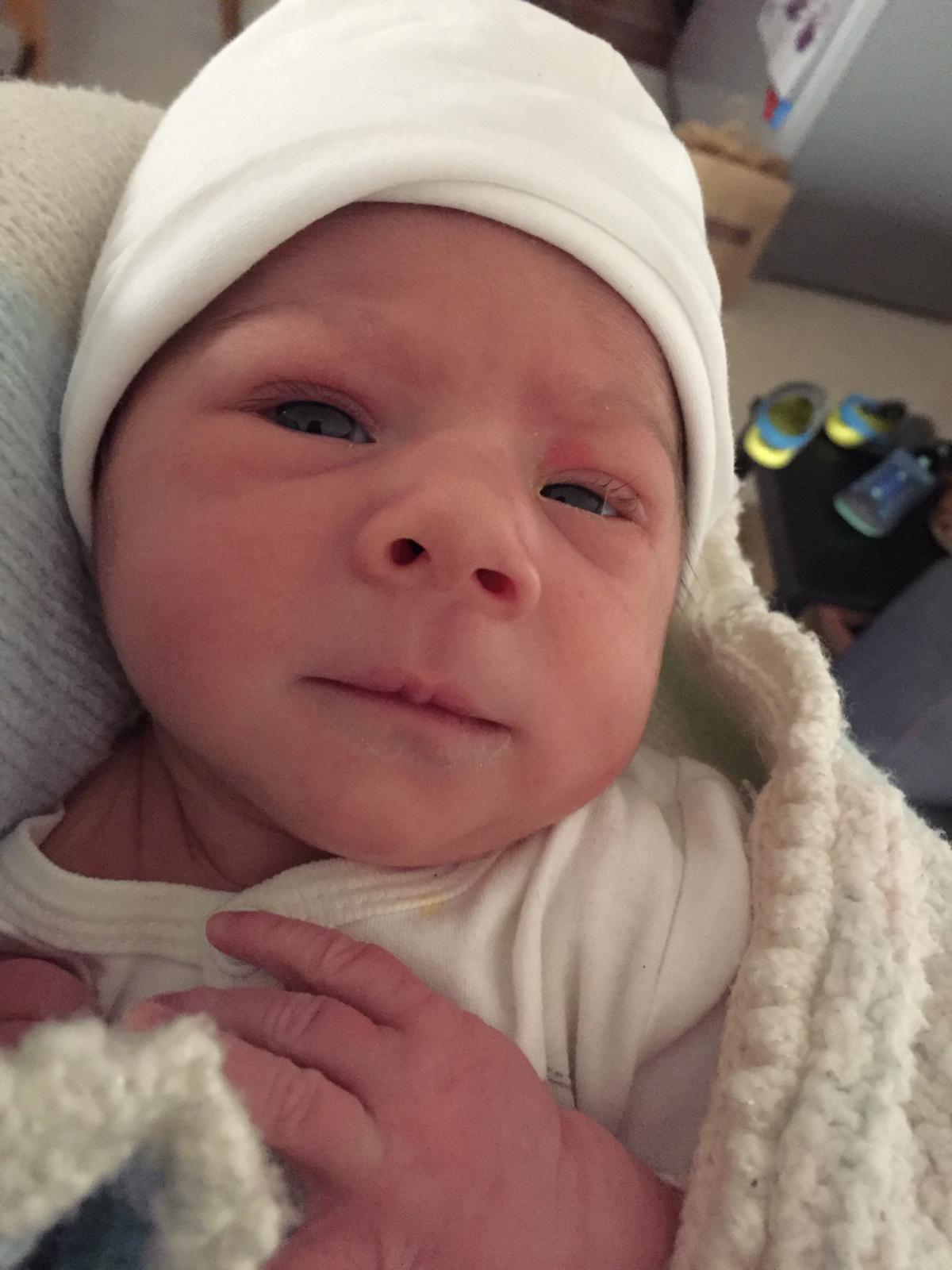 Charlotte was immediately placed skin to skin on my chest. My husband cut the umbilical cord and as per my birthing plan, I wished to deliver my placenta naturally and Sister Gladys was supportive in this. We waited 30 minutes then she gently helped massage the placenta out.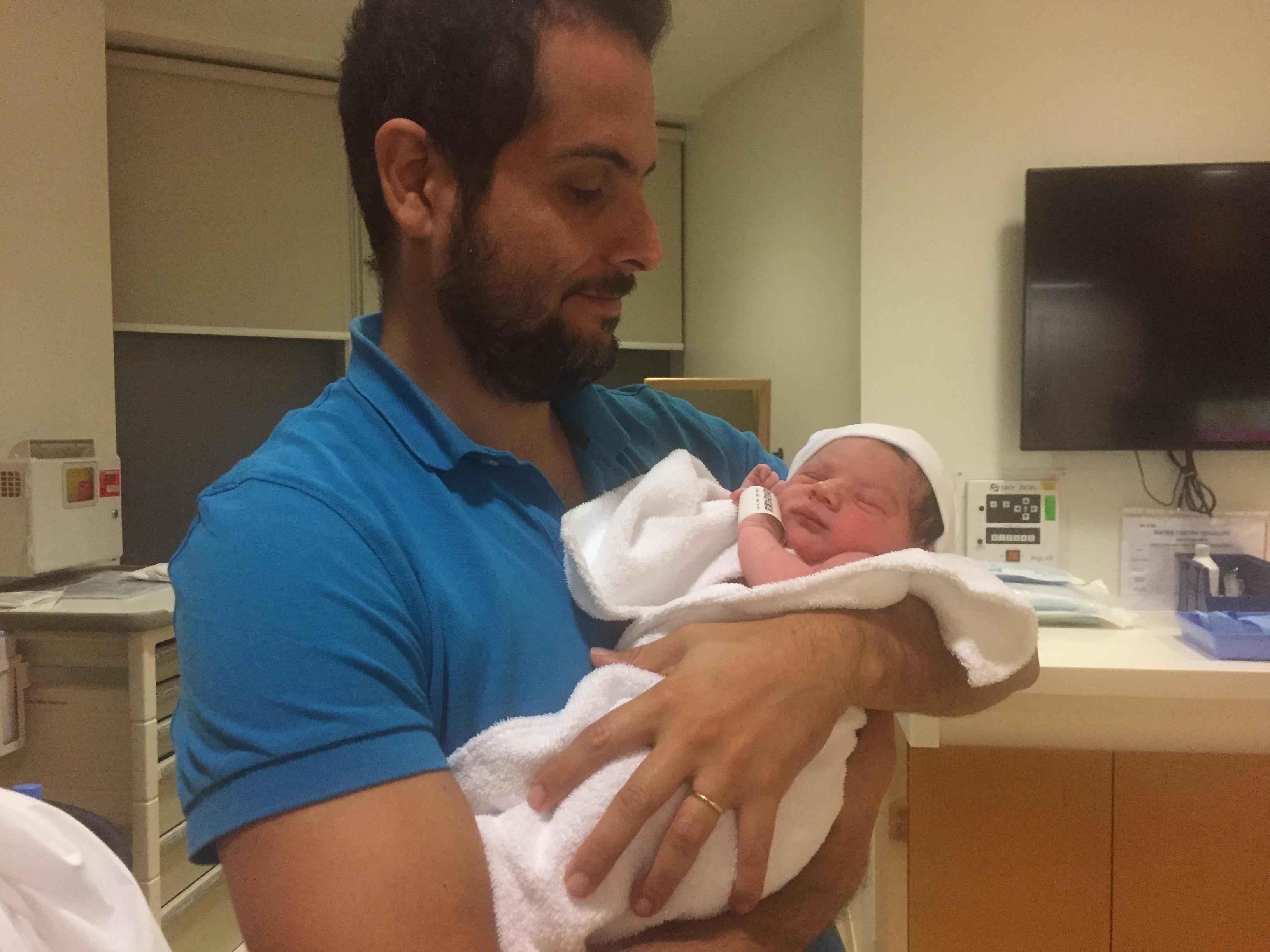 Although it was my second time breastfeeding, I still felt unsure of nursing such a tiny baby and Sister Joyce helped me through the process amazingly. Sister Gladys gave my daughter her Vitamin K injection whilst she was nursing on me. As I had missed dinner, I was very hungry so Sister Gladys arranged an evening meal to be served it to me in the delivery room. Everyone was incredibly supportive. There was so much care and a true feeling of calm and assurance every step of the way.
We then transferred to a postpartum room, with my daughter still skin to skin under my nightgown. The postpartum room was very comfortable with a large sofa bed and a chair-bed. There was enough room for my mother, son and husband to comfortably sleep and we were left undisturbed throughout the night to enjoy our first night with our new family addition.
In the morning a lovely and caring midwife, Sister Catherine took over our care with all the checks for the baby and myself.
All the staff were so caring and dedicated to their work. The team of midwives were incredibly skilled in childbirth and mother and baby care.
I am so happy with that I choose to deliver at Sidra Medicine, and wouldn't hesitate to deliver there again or recommend it to other mothers to help them enjoy a pleasant and reassuring birth experience.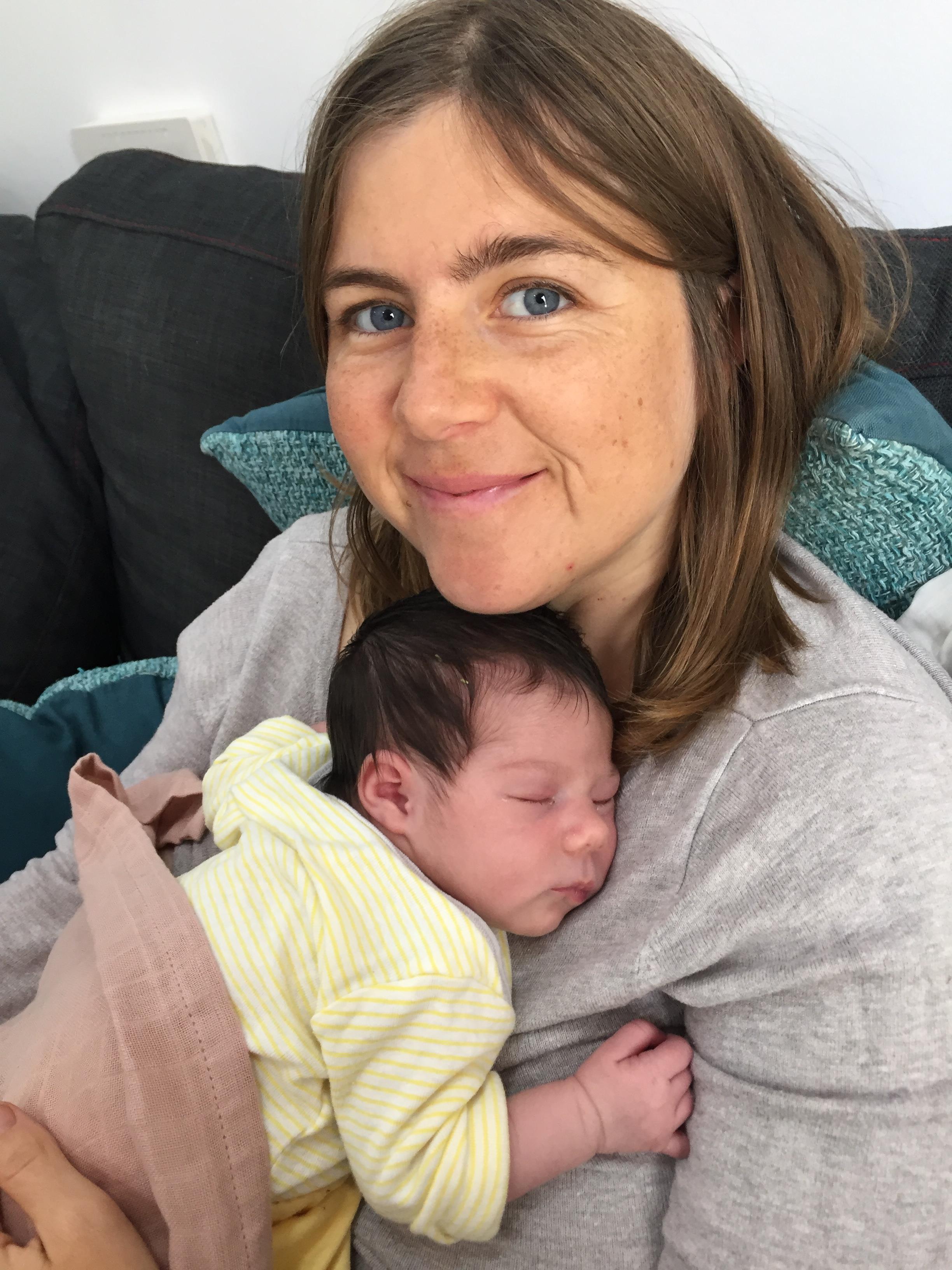 Throughout my whole pregnancy and aftercare, I was treated with respect for my birthing plan and it was followed exactly as I wanted. I could never imagine having such a perfect hospital birth experience anywhere else in the world. A sincere thanks to Sidra Medicine.
Read the Arabic version of Clare's patient journey here.