21 July 2020, Doha, Qatar - Sidra Medicine, a member of Qatar Foundation, is launching a series of free webinars (virtual seminars) on general health topics.
The Meet Sidra Medicine's Experts webinar series, are part of the hospital's community engagement program and will feature guidance and recommendations on subjects related to women's and children's health. Topics include lactation and nutritional advice; diabetes management guidance for parents; mental health and much more.
Registration for the webinars is free, with topics presented in either English or Arabic.
Jennifer Ahen, Act. Executive Director of Communications at Sidra Medicine said: "The current pandemic has impacted the direct sharing (whether face-to-face or within a group context) of useful and at times critical health information with key members of our community including first time mothers; teenagers and students with mental health concerns; parents with children who have disabilities or health challenges. Our "Meet Sidra Medicine's Experts" webinars are a safe and effective way for the community to hear from our team of physicians, educators and health professionals on topics that matter and in real time. We hope that they will find it useful and engaging."
The first Meet Sidra Medicine's Experts topic "Children with Type 1 Diabetes and COVID-19" will be hosted on the 27th of July 2020 from 2.00 to 3.00 p.m. It will feature advice and guidance from Prof. Goran Petrovski, Senior Attending Physician from Sidra Medicine's Diabetes Clinic. Prof. Petrovski will discuss diabetes management processes for parents and teenagers especially during the current pandemic. It will also highlight the clinic's use of a new management protocol for children with Type 1 diabetes.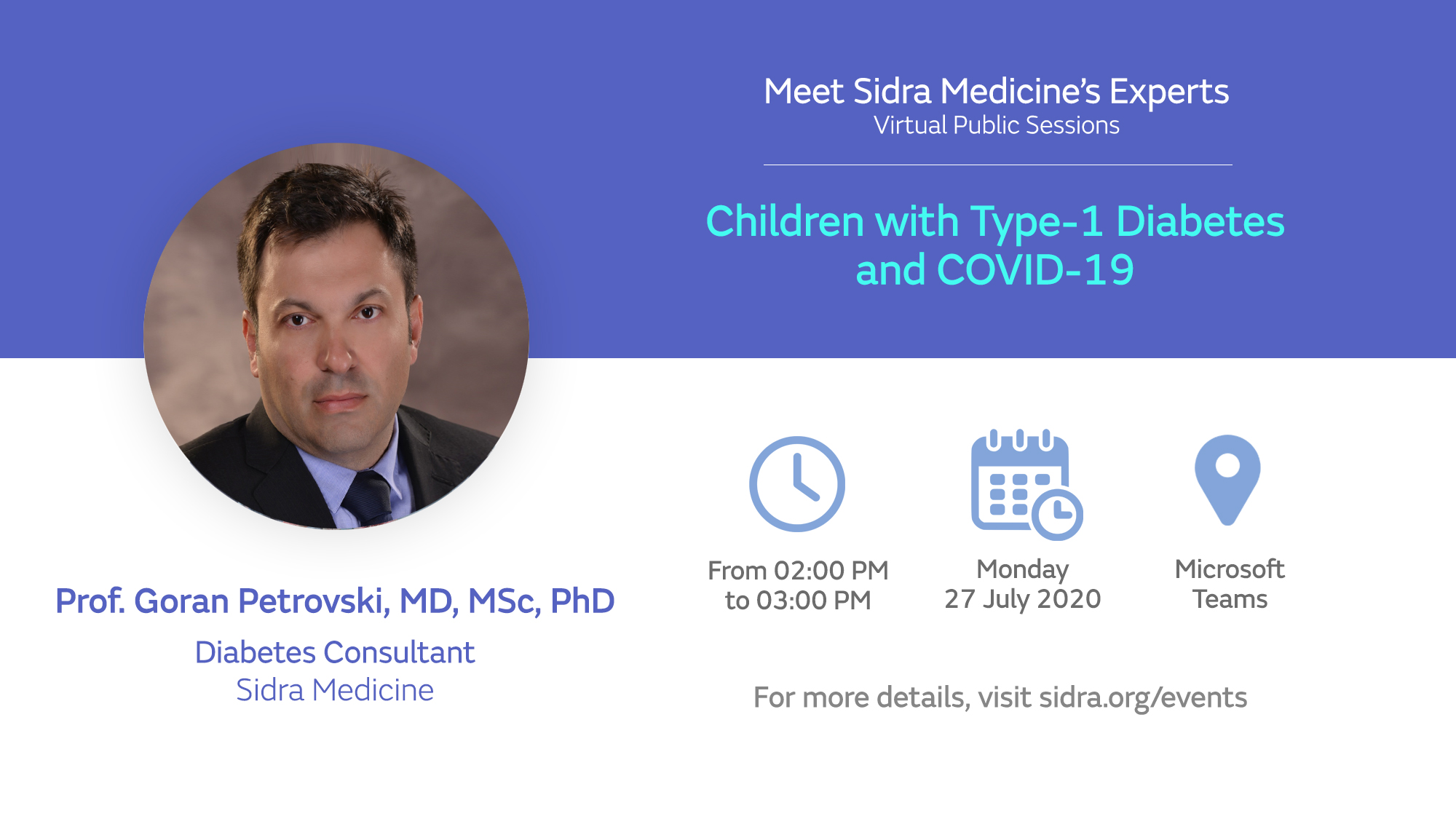 To register for upcoming Meet Sidra Medicine's Experts webinars please visit the events page on Sidra Medicine's website here: https://www.sidra.org/events-calendar/
Read the Arabic press release here.
-ENDS-