"I chose to give birth in Sidra Medicine as I heard so many positive birth stories from friends and acquaintances. I too wanted a positive, empowering, gentle birth and highly recommend Sidra Medicine for those who are looking for a place to have a positive birth experience."
At Sidra Medicine, our experienced team will guide your journey of care, tailored to your needs. One of our patients, Cherish, shares her story about her positive birth experience with us:
"I chose to give birth in Sidra Medicine as I heard so many positive birth stories from friends and acquaintances about their experience there.
I gave birth to my first child via emergency Cesarean five years ago at another hospital. For my second birth, I really wanted to have a vaginal birth after Cesarean (VBAC). I had heard that Sidra Medicine was supportive of VBAC, depending on the patient's case. I too wanted a positive, empowering, gentle birth experience. So I did everything I could to prepare myself for it.
In preparation for my delivery, I attended a private Hypnobirth course with my birth companions (husband and mother) at 20 weeks. And consistently listened to the affirmations and visualized the birth I wanted up until the final day.
At 37 weeks, my baby was in the breech position and I had a successful external cephalic version to turn the baby. I was totally relaxed and my doctor was pleased to find out that my baby started moving by himself and that the doctor only needed to guide him gently.
I was determined to have my VBAC and this experience increased my confidence. While I had visualized a beautiful, gentle birth, I was also mentally prepared to stay calm if things took an unexpected turn.
I went into labor spontaneously at 40 weeks and three days - just one day before my scheduled induction. My husband, mum, my daughter and I headed to Sidra Medicine, when my contractions were about 7 minutes apart.
After checking into their OB triage, we were led to the spacious labor room. The midwives and doctor in charge were very friendly and respectful.
I opted for a midwife-led delivery to minimize interventions. However, the doctor in charge also came to introduce himself due to my previous medical history. He wanted to go through my birth preferences and told me that they may not be able to fulfil certain things I requested depending on the circumstances. I was ok with that and I was impressed that even throughout the shift changes, all the doctors and midwives thoroughly went through my birth preferences and tried their level best to help me achieve them.
After laboring for 8 hours, I was quite tired and requested for an epidural. I initially wanted to do it drug-free but after hearing many positive experiences from friends, I left the option open to having one. An anesthesiologist arrived who answered my questions and addressed my concerns before proceeding to administer the epidural.
I was started with a lower dose where I could still feel my legs and was given a button to control when I wanted to administer the epidural. It took the edge off and I was able to relax. After four hours, my water broke and shortly after, I felt my contractions intensify so I requested for a stronger dose. I was given six hours to labor before they checked on my progress.
However, after being in labor for 10 hours, I had only dilated 2cm and was stuck at 6cm and the baby was in a posterior position.
The doctor then came in to talk to me about my options. He said that since the baby seemed to be still doing fine, he was happy to give me another couple of hours to labor as he knew how important it was to me to have my VBAC. However, if nothing changes in that time, he would have to strongly recommend a Cesarean and it's best to do it before the baby was in distress. I was happy with that approach and appreciated that the team consistently showed their support regarding my choice but made sure to share their expert opinion if things didn't go to plan.
I chose to take that two hours to continue laboring and tried a different position, hopefully to give my baby a chance to turn. It was my gynecologist's shift by now and upon examination nothing had changed so I had no choice but to opt for a Cesarean. I was prepped and ready to go into the OR in about 15 minutes.
I was happy that my husband could be in with me inside the OR. I reiterated that I wanted delayed cord clamping and immediate skin to skin, which they reassured me was their standard practice at Sidra Medicine.
When I finally heard my baby's cry, tears started streaming down my face and when they put him on me, I was sobbing.
After I collected myself, a midwife asked if I'd like to breastfeed him, and she kindly helped me do that. All the while, the doctors worked hard to stitch me up. I believe this was key to helping me establish my breastfeeding successfully as compared to my first delivery at another hospital where I was pressured to give formula after a distressing experience. I would like to note that I have no qualms about supplementing with formula and I chose to do so when I was too exhausted and needed a break while recovering in the hospital.
I never imagined I could have a gentle Cesarean that was so empowering and positive, one where I felt respected and not pressured into making a quick decision.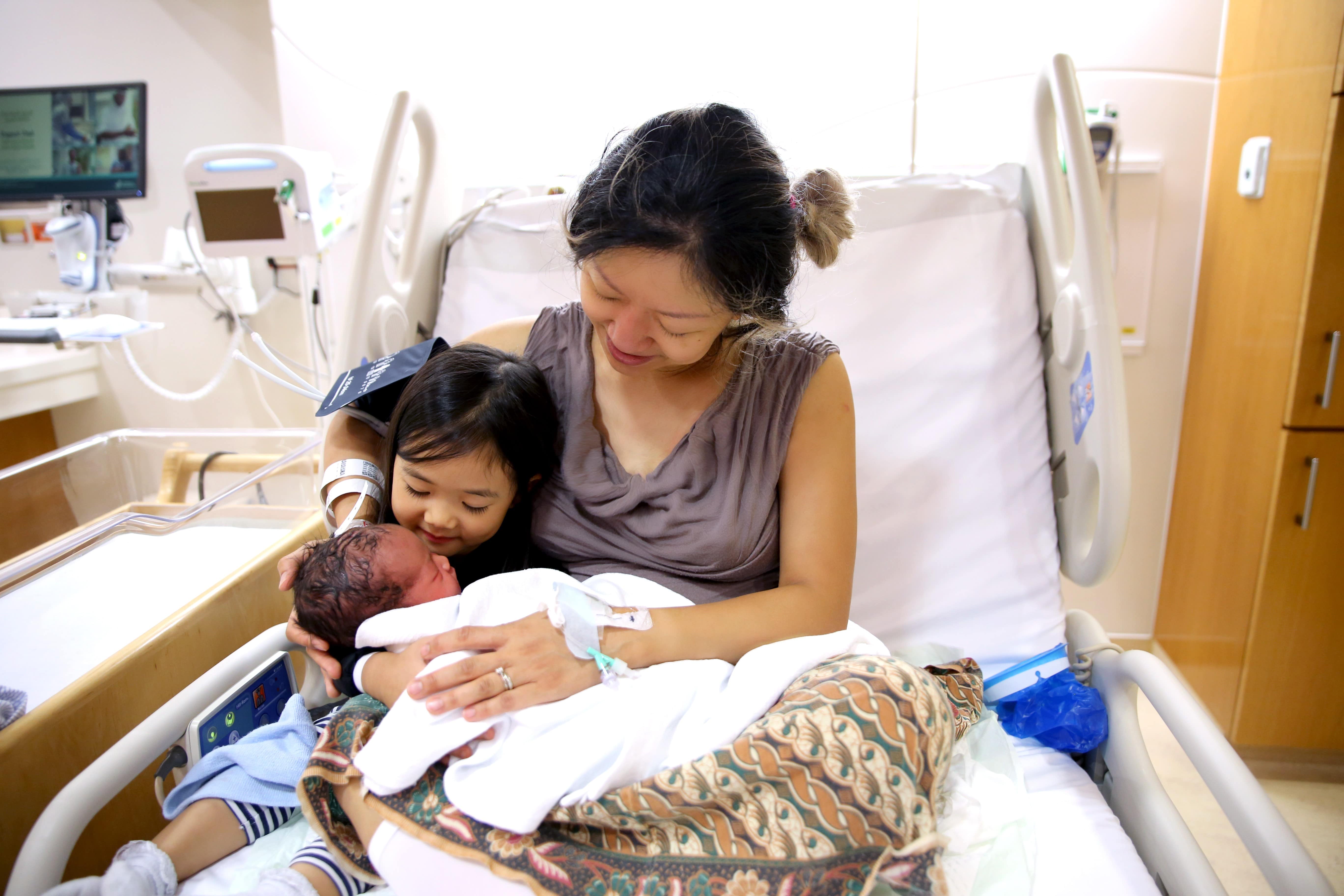 Cherish at Sidra Medicine
I give credit to my wonderful birth companions, the exceptional staff at Sidra Medicine - from the doctors, midwives and nurses and also to my Hypnobirth conditioning. The aftercare at Sidra Medicine was also amazing. I highly recommend Sidra Medicine for those who are looking for a place to have a positive birth experience."
Read Cherish Story in Arabic here.