QF entity coordinates treatment and flies in four year old on a special chartered plane from Oman to Qatar
31 August 2020, Doha, Qatar – Maryam, a four year girl living in Oman, suffered catastrophic internal injuries following a blunt trauma to her chest after an accident and developed life-threatening airway problems. She required a highly specialized interventional airway procedure in order to preserve and save her lung; a procedure not available in Oman.
Worldwide, there are only a select number of hospitals with a combination of Cardiac Intensive Care Units (CICU) and interventional radiology expertise that specialize in pediatric airway (bronchial stent) interventions. Sidra Medicine, a QF entity, is one of the few hospitals with a CICU that provides support for infants and children with congenital or acquired heart disease. The hospital is also the only one in the Middle East with an advanced intra-operative imaging suite (IMRIS) supported by adult and pediatric interventional radiologists and a pediatric cardiac anesthesia team to ensure patient safe outcomes.
Maryam who suffered severe injuries to her left lung, liver and diaphragm as well as a broken arm was being cared for at the Pediatric Intensive Care Unit (PICU) in Sultan Qaboos University Hospital in Oman. Despite having undergone multiple complex surgeries, and with the surgeons in Oman repairing the torn bronchus in Maryam's lung; her injuries meant that she needed to breathe through a tube (tracheostomy) connected directly to her trachea.
Despite being on a ventilator, Maryam's left lung kept collapsing due to inadequate air entry as it was not strong enough to remain open on its own and for her to breathe normally. This meant that there was a significant risk of losing her left lung. In order to preserve it, the PICU team in Oman coordinated with Sidra Medicine, to bring Maryam to Qatar for the highly specialized airway stent procedure.
"With time of the essence, this was truly an international effort as we worked closely with the hospital in Oman that was caring for Maryam, to ensure she was kept stable for a transfer from Oman to Qatar. Although the surgeons in Oman did an incredible job in repairing her torn bronchus, the airway in a young child is not strong enough to remain open until they are older. It was critical to bring Maryam urgently to Qatar to save her lung. What was even more challenging was the fact that it happened during the pandemic – we had to put all stops in place to ensure a safe patient transfer," said Prof. Ziyad M. Hijazi, Acting Chief Medical Officer and Executive Chair of Pediatric Medicine at Sidra Medicine.
"We had our team of international patient program experts and medical specialists coordinating the entire process, especially Dr. Andrew Durward, CICU Attending Physician who carefully oversaw the details of the transfer with the team in Oman. Along with Dr. Walid Mubarak, Interventional Radiology Attending, both physicians planned the details of Maryam's stent placement using imaging sent from Oman," continued Prof. Hijazi.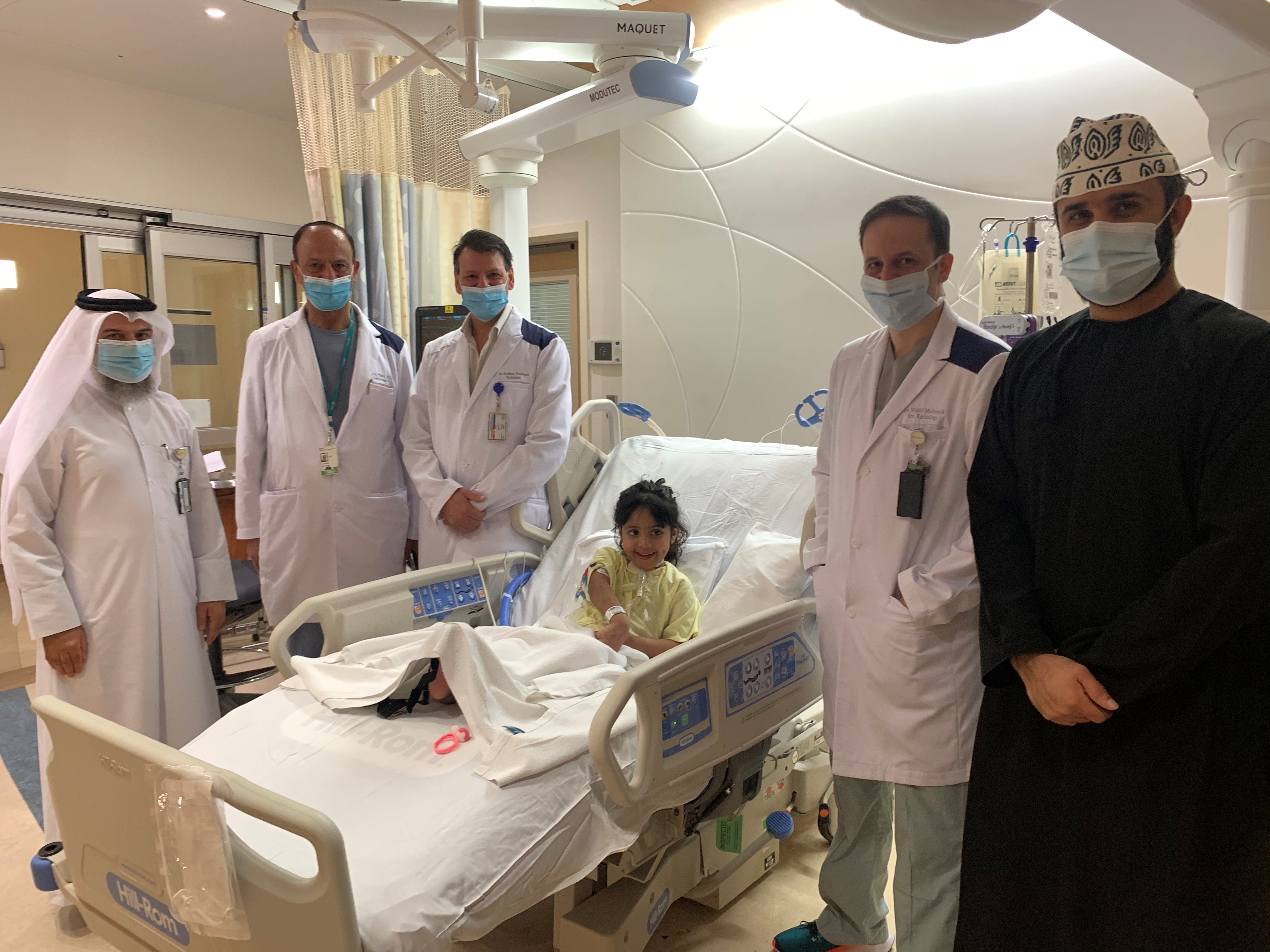 Standing left from right:
Prof. Ibrahim Al Janahi (Div. Chief of Pulmonology); Prof. Ziyad M. Hijazi (Act. Chief Medical Officer); Dr. Andrew Durward (Attending Physician - CICU);Patient Maryam; Dr. Walid Mubarak (Attending Physician - Interventional Radiology) and Maryam's father, Talal Al Balushi.
Maryam was transferred to Qatar on a specially chartered flight, with her father and aunt and was escorted by a pediatric medical team from Oman. She was immediately transported from Hamad International Airport to Sidra Medicine via ambulance, where she was accompanied by Dr. Andrew Durward, Attending Physician at Sidra Medicine's CICU unit who is one of the few physicians specializing in airway interventions and brought the technology to Sidra Medicine from his previous stint at Evelina Children's Hospital in London. Dr. Walid Mubarak and Dr. Ashley Robinson, both of whom are considered dedicated pediatric interventional radiologists (less than 100 worldwide) and experts in image guided interventions, planned the procedure with Dr. Durward.
Maryam's procedure was planned as a multi-modality, multidisciplinary approach with her care at Sidra Medicine involving life-saving support from the CICU unit, interventional radiology, pulmonology, ENT and pediatric anesthesia. Her ICU care team included ICU specialized physicians, nurses, rehabilitation therapy, physiotherapy, speech and language therapists, child-life specialists and dietitians.
To improve the outcome of the procedure, Maryam's surgery took place in Sidra Medicine's state-of-the-art IMRIS hybrid operating theater, which features intraoperative imaging capabilities, including a moveable intraoperative MRI (magnetic resonance imaging) and capacity to run highly complex interventional radiology procedures. Her procedure involved the use of CAT scan, fluoroscopy and bronchoscopy working together at the same time to insert the stent under direct and indirect visualization.
The procedure, which took three hours, featured Dr. Durward and Dr. Mubarak placing a biodegradable stent on the left side of Maryam's airway. The customized stent, which is 20 mm long and 5 mm wide, was placed to keep her airway open and for her to make full use of both her lungs. This is a procedure that required both physicians to work synchronously to achieve the required precision.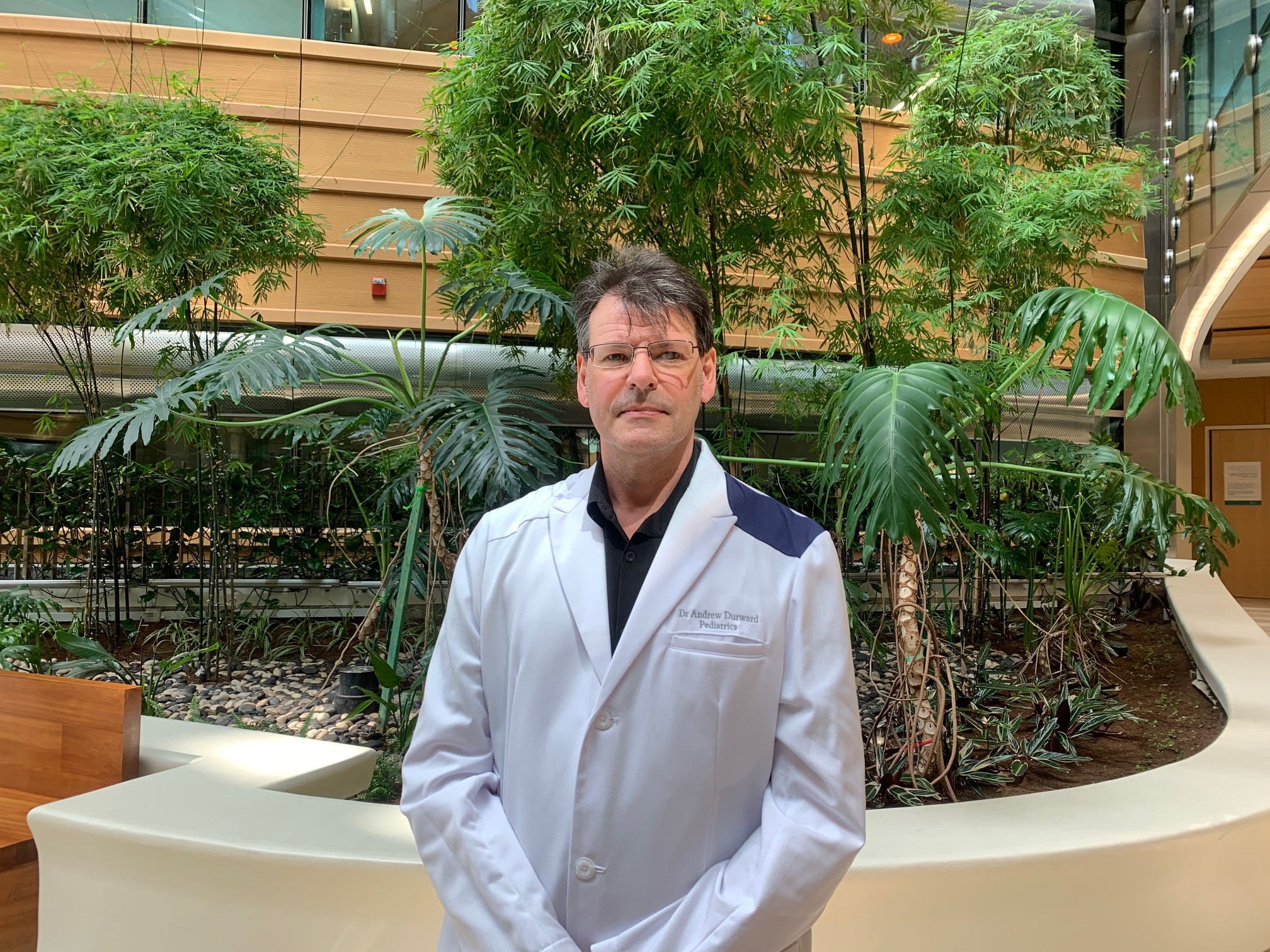 Dr. Andrew Durward, Attending Physician, CICU
"This is a highly specialized procedure, as the stent needs to be positioned very carefully and has to fit the airway exactly in order to avoid any complications. It is performed by only a handful of airway specialists around the world, in addition to the fact that there are only a few centers that can perform pediatric airway stents, let alone bio-degradable ones. In Maryam's case, a novel biodegradable stent was used which has a very good safety profile and can be repeated in time as the patient grows and recovers. We are incredibly fortunate that Sidra Medicine is one of the few Greenfield hospitals to make such an investment in specialist children's surgeries and that also has a highly skilled interventional team to conduct the procedure safely. Maryam was our first international patient who was implanted with a biodegradable stent," said Dr. Andrew Durward, Attending Physician at Sidra Medicine's CICU unit.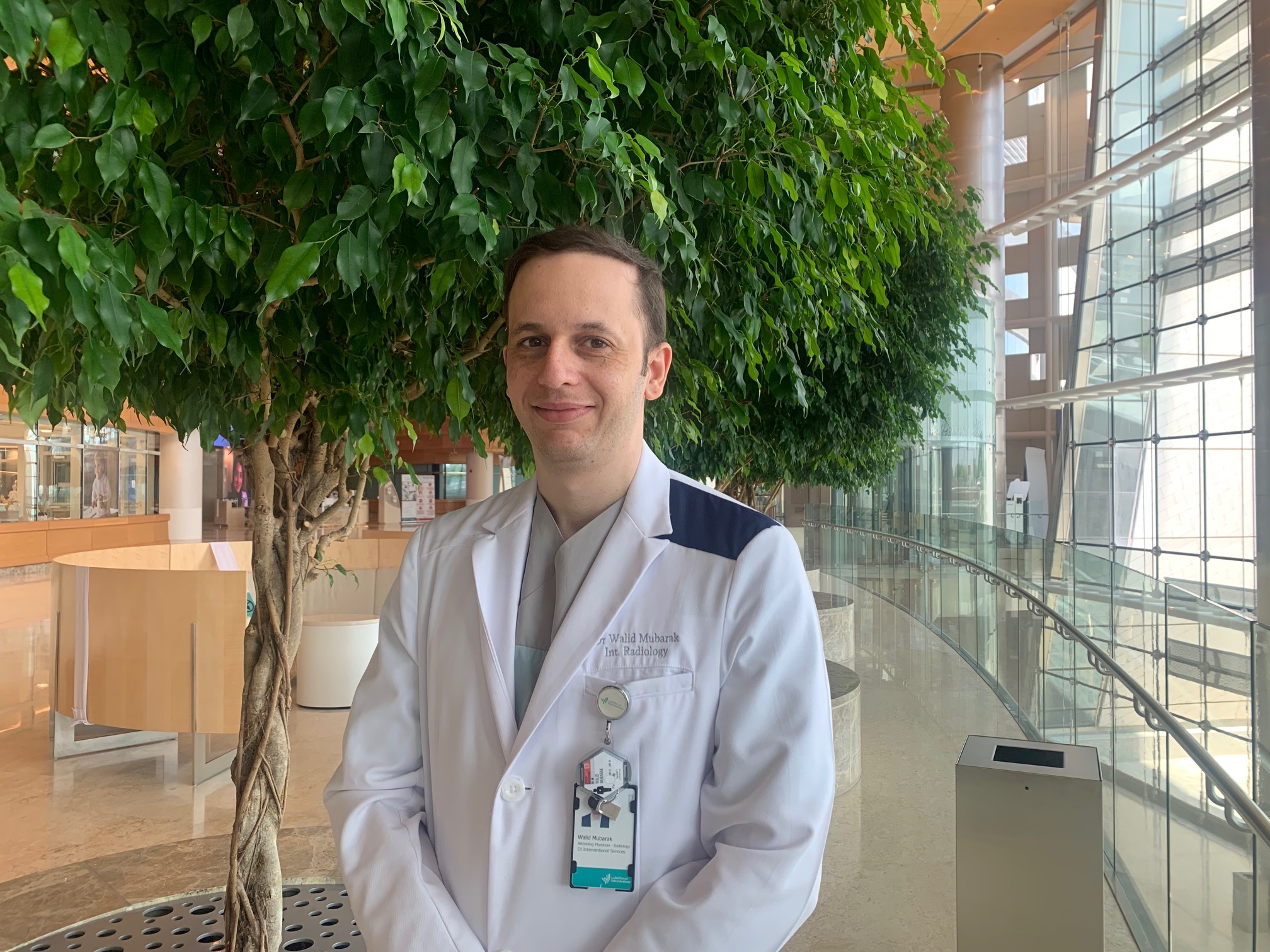 Dr. Walid Mubarak, Attending Physician in Interventional Radiology
Dr. Walid Mubarak, Attending Physician in Interventional Radiology at Sidra Medicine said: "Sidra Medicine was one of the first hospitals in the region to install an IMRIS suite. Along with our specialist anesthesiologists and intensivists with airway intervention experience, our approach has helped changed the dynamics of specialized pediatric interventional radiology in ensuring successful patient safe outcomes. Our teamwork and the effective use of our IMRIS suite is what enabled us to achieve millimeter precision for Maryam's stent placement as the highly precise technology was able to better define the injuries to her lung and allow us to place the stent safely. The technology was critical in securing the airway during the procedure is what reduces the risks."
Maryam's recovery was very swift, as her breathing improved on the very same day following her procedure. Her stent will biodegrade in three months and is not expected to leave any damage to her airway. She is expected back at Sidra Medicine in three months, for a follow up consultation and a replacement stent with a view of seeing how her airway recovers over time.
Talal Al Balushi, Maryam's father, who accompanied her for the life-saving procedure at Sidra Medicine said: "On the 18th of May, my daughter suffered a major accident. Despite undergoing several surgeries in Oman, she still required an airway stent to save her left lung. The medical team at Sultan Qaboos Hospital were exceptional in saving her life and ensuring that we got the right support at the right time and recommended Sidra Medicine for the procedure. It was a challenging journey travelling during a pandemic. We arrived on a specially chartered plane to Qatar, with the commitment and determination of everyone involved to ensure Maryam received the best and safe care possible.
"My family and I are truly grateful for the support we received every step of the way. From the Sultan Qaboos Hospital team and their treatment abroad program to the wonderful team here in Qatar at Sidra Medicine, including their own international patient office. I am particularly grateful to Dr. Andrew Durward who along with the team here have been amazing. To see Maryam being able to breathe normally just hours after her procedure has been so reassuring. Alhamdulillah that my daughter's life has been saved and for the wonderful cooperation between both our governments and the medical teams in Oman and Qatar. Thank you!"
"This was a fantastic collaborative effort, and I am incredibly proud of what we have achieved. I would like to take the opportunity to thank the not only the medical teams in Oman and Qatar, but also acknowledge the collective cooperation, compassion from other supporting partners including the Governments of Qatar and Oman, as we all were united in our mission to urgently save this young girl's life. Sidra Medicine has been actively working to develop its international patient program, having cared for close to 700 international patients from across the MENA region, including Africa, Central and South East Asia, Russia and South America. We look forward to continue being credited for our life saving and innovative work not only in Qatar but beyond," concluded Prof. Hijazi.
Read the Arabic press release here.
-Ends -