Sidra Medicine has launched an ambitious partnership with ENIGMA, the world's largest brain mapping project, to study brain health and disease among the Qatari population. The partnership is Sidra Medicine's latest project aimed at advancing personalized medicine in the country.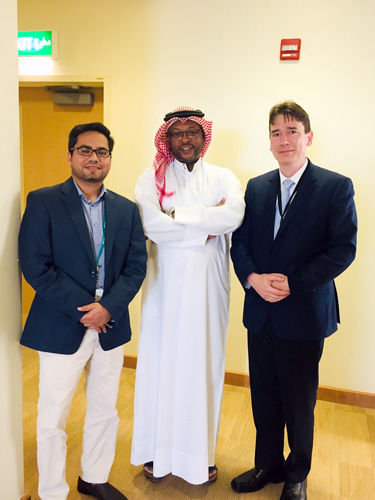 The alliance will analyze genetic data and brain scans from Qatari patients and compare it with other diverse worldwide populations to better understand diseases that affect the local population. The target of the new study is an in-depth investigation into the mechanisms of epilepsy, autism, diabetes and diseases of the brain.
Commenting on the partnership, Dr. Rashid Al Ali, Deputy Chief Research Officer stated, "Sidra Medicine is committed to advancing the understanding of the epidemiology and mechanisms of diseases to develop preventive and therapeutic tools. Our partnership with ENIGMA will allow us to access international datasets to better understand diseases such as autism and diabetes, which are high on Qatar's healthcare agenda. It will enable us to contribute to advancing research in these fields and put Qatar's scientific expertise on the global healthcare map. The alliance also offers the opportunity for many of our investigative researchers to continue with their research development and collaborate with peers on new programs."
Sidra Medicine's participation highlights its position as a pioneering hospital in the region, hosting some of the world's top researchers and clinicians. The Sidra Medicine team includes Dr. Xavier Estivill, Division Chief of Translational Medicine, Dr. Muhammad Waqar Azeem, Chair of Psychiatry and Dr. Mohammad Haris, Principal Investigator in Functional and Molecular Imaging.
Dr. Mohammad Haris said, "The ENIGMA alliance is a great example of how research can set the foundation for clinical care at Sidra Medicine. When you can compare scans from hundreds of international and local patients, it allows us to look out for differences and commonalities. This brings us several steps closer to finding better treatment and care methodologies for diseases like autism and epilepsy."
ENIGMA, which began in 2009 and grew to involve over 900 scientists from 35 countries, has performed the largest brain scanning studies of diseases globally. Studies have ranged from epilepsy to depression and schizophrenia. They are designed to compare vast biobanks of brain scans and genetic data from different countries to better understand diseases and how they progress over time.
Paul Thompson, a neuroscientist from the Keck USC School of Medicine, in Los Angeles, who leads the international ENIGMA study, noted: "In planning this long-term study with Sidra Medicine, we bring a vast resource of data, expertise and infrastructure to help tackle pressing problems in brain disease. Sidra Medicine's scientists are international leaders in genetics and neuroscience. Together, we will develop new methods for understanding abnormalities in the human brain and relate them to changes in our DNA. We are seeking new treatment targets and new directions to treat brain diseases in the Qatari population and across the world."
With a vision to become a beacon of learning, discovery and exceptional care, Sidra Medicine will continue to collaborate with top international entities to advance clinical and translational biomedical research, thus benefiting the population of Qatar and the world.