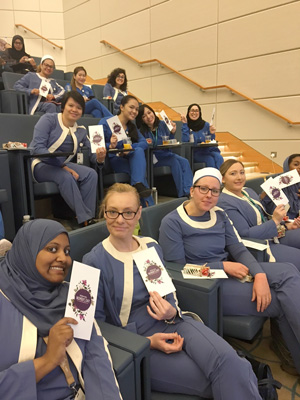 Speaking at the event, Dr. Al Obaidli said, "Our goal is to make Sidra Medicine an employer of choice for women and we have taken a number of steps to reflect this ambition by recognizing the importance of working women. With more than 66 per cent of the workforce at Sidra Medicine being female, our focus for this year will be on helping our employees achieve a healthy work-life balance. Studies have shown that organizations that embrace such policies worldwide are more effective, with improved productivity and retention. We want to lead by example in Qatar, by listening to the needs of our employees and enabling them to perform at their best in a supportive environment."

Sidra Medicine has already implemented several policies to gain recognition as an employer of choice for women. These include enhanced maternity leave and the ability to return to work part time on full time pay to encourage retention, among other benefits. Further policies around a flexible working framework and special leave policies for domestic emergencies are being developed this year.

"We are committed to creating a workplace that supports women in reaching their full potential, be it through comprehensive learning and development programs or policies that celebrate the special needs of new mothers and families," added Dr. Al Obaidli.

Following an inspirational opening presentation by Dr. Al Obaidli, panellists representing a wide range of industries and roles shared their success stories and ways in which they overcame challenges on a path towards maintaining fulling lives and careers. These included keynote speaker, former Minister of Social Development for the Sultanate of Oman Dr. Sharifa Al Yhayai; CEO of Qatar Business Incubation Centre, Ms. Aysha Al Mudahkha; Supreme Committee for Delivery & Legacy CSR Manager, Ms. Mead Al Emadi; Founder and Jewelry Designer of Hiraat, Ms. Nada Al Sulaiti and Lactation Consultant, Ms. Najla Al Kuwari.

A large contingent of Sidra Medicine team members discussed the opportunities available for women within the organization. Event attendees heard from Chief Operating Officer Morag Gates; Chief Human Resources Officer Paul Jones; Chief Financial Officer Ms. Loretta Seamer; Deputy Chief Nursing Officer Deborah Kelly; Division Chief for Adolescent Medicine Al Anoud Al Ansari and Director of People Capability Development Elizabeth Beetham.