Qatar Foundation institution focuses on organizational and leadership development for current and future healthcare leaders
Doha, Qatar, 16 December 2018: Sidra Medicine has announced the graduation of nearly 100 managers and directors from an extensive leadership program developed in partnership with Harvard Business Publishing, the corporate arm of Harvard Business School.
Titled iLead, the program is designed to raise leadership competencies in current and future leaders at Sidra Medicine. Employees from across clinical, research and administration departments took part in the eight month program. iLead will enable them to play a key role in employee engagement initiatives, developing organizational culture and to positively contribute towards patient experience outcomes.
Dr. Abdulla Al Kaabi, Chief Medical Officer at Sidra Medicine, who was also the key speaker at the graduation ceremony said, "The iLead leadership program developed in collaboration with Harvard Business Publishing is truly unique – it was customised keeping our organizational strategy and goals in mind. This is a fantastic achievement and we are very proud of the first batch of our Directors and Managers who have all passed the course. The program is just one of the many we have developed either in-house or in collaboration with world-leading institutions, and is reflective of our commitment to provide our teams with the very best tools in furthering their healthcare careers and professional development."
iLead along with Lead Yourself for young national professionals, is part of an ongoing strategy by Sidra Medicine to ensure employees at all levels, are given access to the right training tools, mentorship and learning opportunities to advance their careers in healthcare. The strategy is a clear affirmation of support for Qatar's National Vision 2030 and the country's National Health Strategy 2018-2022.
Commenting on the program, Mr. Abdulla Jassim Abdulla, Director of Licensure, who won the "Top Student" award on the iLead senior leadership development program said: "The training was valuable in two main ways; in addition to strengthening the rapport among staff across all departments at Sidra Medicine, it also provided insights into tools and methods utilized to analyze processes, identify gaps, suggest solutions and implement changes. All of which aim to build the culture of innovation and best practice in the organization."
As top student, Mr. Abdulla has won an executive education course at Harvard Business School in the USA and will be sponsored by Sidra Medicine to attend next year.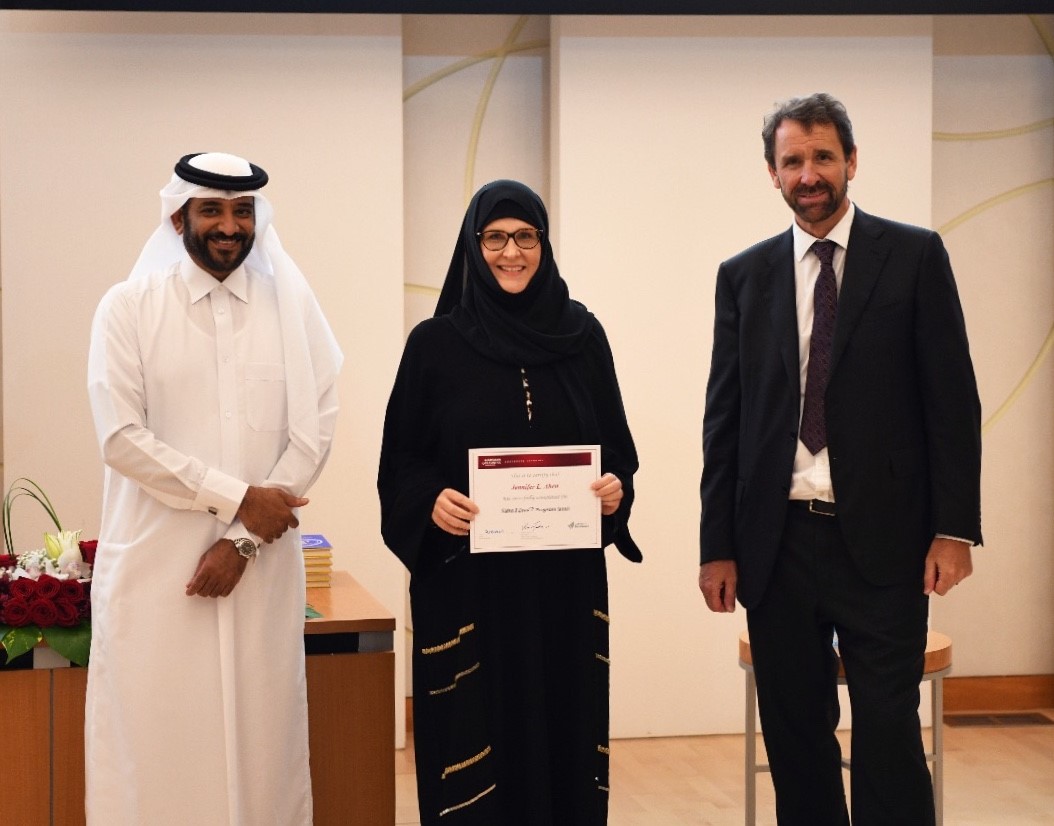 Jennifer Ahen, Director of Corporate Communications, another high performing graduate of iLead said: "With a strong female workforce, it is very encouraging to work in an organization like Sidra Medicine where they are creating avenues of professional and personal development that will encourage and inspire more women to consider careers in healthcare."
- END-
About Sidra Medicine
Sidra Medicine provides specialized healthcare to women, children, and young people from Qatar and around the world. It is a private hospital for public benefit.
Established by Qatar Foundation for Education, Science and Community Development, Sidra Medicine embraces best practice medical education, innovative biomedical and clinical research and discovery, and exceptional patient and family focused care. This unique combination makes Sidra Medicine one of the handful of healthcare organizations in the world that embeds the concept of personalized medicine into its very ethos of treatment and care.
Sidra Medicine provides comprehensive specialist healthcare services for children and young people, as well as maternity and gynecology care for women. Some of its unique children's specialist services include Cardiology, Neurology, Urology and Plastics & Craniofacial Reconstruction. It is also treats and cares for pregnant women with fetal complications.
The ultramodern healthcare organization is a testament to Qatar's pioneering spirit and sustained commitment to its human and social development.
To access Sidra Medicine services, and learn more about our contribution to global healthcare, education and research, please visit www.sidra.org.