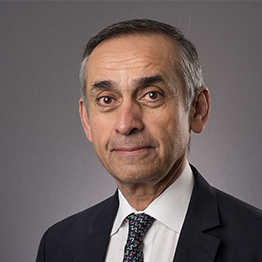 Prof. the Lord Darzi of Denham
Vice Chair of the Board of Governors
Professor the Lord Darzi of Denham is the Vice Chair of the Board of Governors for Sidra Medicine. He was appointed to the role in 2015.
Lord Darzi has had the privilege of contributing to many activities in Qatar, mostly in Healthcare reform and Innovation. Appointed by His Highness the Emir to serve as a member of the board of the Ministry of Public Health under the leadership of the previous Minister of Health – His Excellency Mr Abdullah Bin Khalid Al Qahtani, Lord Darzi has supported many areas of reform including cancer and primary care services before stepping down in 2015 to join Sidra Medicine as Vice-Chairperson.
Lord Darzi is also a Member of the Qatar Foundation Advisory Board and Executive Chair of the World Innovation Summit for Health (WISH), an initiative under the Patronage of Her Highness Sheikha Moza bint Nasser, who is also the Chairperson of Sidra Medicine.
In January 2014, Lord Darzi was awarded the Qatari Sash of Independence by His Highness the Emir Sheikh Tamim bin Hamad al-Thani in recognition of his contribution to Qatar's health sector.
Lord Darzi holds the Paul Hamlyn Chair of Surgery at Imperial College London, and the Institute of Cancer Research as well as his active clinical practice in surgical oncology at both the Royal Marsden Hospital and St Mary's Hospital London. He is also Director of the Institute of Global Health Innovation at Imperial College London where his policy and academic research is directed towards achieving best practice through innovation, improved patient safety and enhancing the quality of healthcare.
Lord Darzi has published over 950 peer-reviewed research papers to date as well as numerous policy strategies and government papers. Notably, his transformative vision while Minister for Health in the United Kingdom, to set quality as the central organising principle of the National Health Service, transcended political barriers and culminated in his seminal publication, 'High Quality Care for All: NHS Next Stage Review'.
In 2013, Lord Darzi was invited to review London-wide health policy by then Mayor Boris Johnson when asked to develop a set of recommendations to place London as the leading and healthiest major global city in the world. The resulting publication, 'Better Health for London', has been widely accepted and adopted across London and more widely across the United Kingdom.
In recognition of his achievements Lord Darzi was appointed as Fellow of the Royal Society, the world's oldest and most prestigious learned society for the celebration of knowledge and science. He has also been elected as an Honorary Fellow of the Royal Academy of Engineering, a Fellow of the Academy of Medical Sciences, and an associate of the Institute of Medicine (The US National Academy of Science).
Lord Darzi was knighted for his services in medicine and surgery in 2002. In 2007, he was introduced to the British House of Lords as Professor the Lord Darzi of Denham and appointed Parliamentary Under-Secretary of State at the Department of Health. In 2009 Lord Darzi was appointed a member of Her Majesty The Queen's Most Honourable Privy Council, a role he continues to fulfill today. After relinquishing his ministerial duties that same year, he sat as the United Kingdom's Global Ambassador for Health and Life Sciences until March 2013. During this appointment and beyond Lord Darzi has developed his status as a leading voice in the field of global health policy and innovation.