Digital Health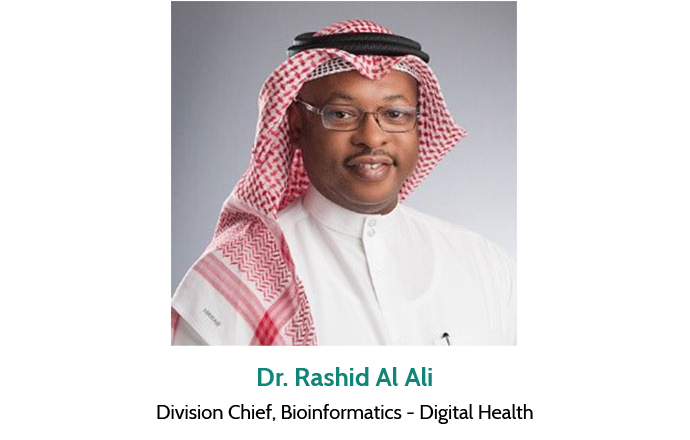 The Digital Health Core is led by Dr. Rashid Al Ali. Before joining Sidra Medicine, Dr. Rashid Al Ali was the Director – Corporate Services at ASPIRE Academy for Sports Excellence. He was responsible for overseeing the operations of Information Technology, Finance & Procurement, Human Resources, Communication and General Administration. At ASPIRE, Dr. Rashid Al-Ali worked closely with Senior Management and External Consultants on developing the Corporate Vision, Mission and Strategy map based on the balance score card system. Dr. Rashid Al-Ali received his Ph.D. in Computer Science from Cardiff University - Wales, UK, and his MS in Computer Science from George Washington University - Washington, DC, USA. Furthermore, Dr. Rashid Al-Ali graduated with a BS in Computer Engineering from the University of the Pacific - California, USA.
The emergence of fast and efficient technologies for the sequencing of nucleic acids and proteins, has meant that Bioinformatics has to produce an ever-increasing amount of experimental data. In addition, with technological advances and the ubiquity of the Internet, scientists now have unparalleled opportunities to access, share and analyze vital data and information stored in many datasets. The digital health department offers high-quality services to all clinical and research initiatives at Sidra Medicine, that will assist clinical and research scientists by providing bioinformatics, computing and storage resources, helping them understand and manage their datasets.
The department aims at creating a digital ecosystem to support all computational aspects (compute, storage, software development, data processing, data management & analytics) that are crucial for advancing precision medicine within Sidra Medicine and beyond. It also provides solutions for customized scientific tools and web-based research data analytics and visualization portals for communicating scientific results of the underlying research data as an integral part of the scientific process. Thus, unifying various aspects of biomedical, computational and precision medicine research.