Deep Phenotyping Core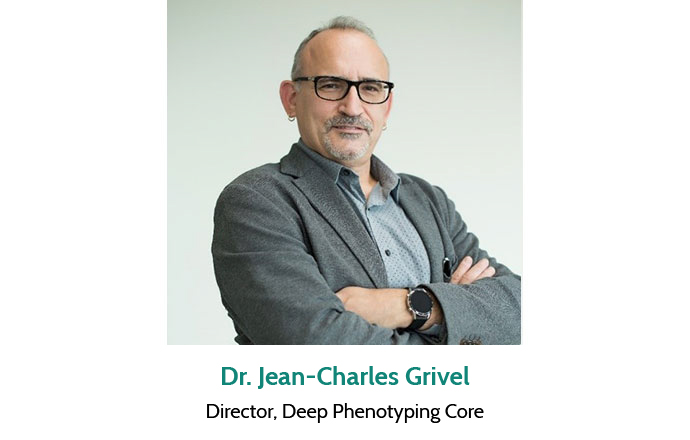 The Deep Phenotyping Core is led Dr Jean-Charles Grivel. Dr. Grivel obtained his Ph.D. in immunology from the University of Aix Marseille II. He was a postdoctoral fellow at the National Cancer Institute (NIH, USA) and became a Staff Scientist in 2000 at the National Institute of Child Health and Human Development. He pioneered the development of human organ culture for studying the pathogenesis of HIV, Human Herpes Viruses and Measles virus as well as their interactions, which led to the granting of two patents. Dr Grivel has developed several high dimension immunoassays for the quantification of viral antigens and other immune system related proteins. He has also developed several flow cytometric methods for characterizing antigen-specific cellular responses as well as submicron particles. These methods are used for studying the role of microvesicles in heath and disease, especially in cardiovascular disease and cancer as well as to characterize the antigenic composition and maturation of viral particles. Dr Grivel has received the NIH Award of Merit in 2006. He currently directs the Deep Phenotyping Core of Sidra Medicine.
Sidra Medicine is aiming at delivering personalized medicine to the patients of Qatar and beyond. The systematic measurement and analysis of qualitative and quantitative traits of patients, known as Phenomics, completes the personalized medicine approach initiated by genomic approaches. The Deep Phenotypic Core (DPC) provides a multifaceted phenomics platform dedicated to establishing cellular, molecular and functional phenotypes that complement genomics, transcriptomics, and clinical phenotypic analyses of patients. Relying on metabolomics, lipidomics, elemental chemical analysis, high-dimension proteomics, super-resolution microscopy and high-dimension flow cytometry, the DPC generates systematic, high-quality, validated precise molecular and cellular phenotypes of patients and enable true phenomic science in Qatar. The DPC aims at providing in depth and breadth the panels of diagnostic and investigational assays proposed in Sidra and in Qatar. The DPC mission is to provide the technical and intellectual frameworks for the realization of the second pillar of Sidra Medicine's Research Personalized Medicine agenda: "Establishing an Advanced Diagnostics program".
The Integrated Genomics Services department delivers genomics, molecular biology, informatics and animal model services to Sidra Medicine Principle Investigators, clinical scientists, Qatar Genome Programme PIs and external collaborators. The facilities aim to provide high-quality advanced services and data. IGS offers a portfolio that covers the extraction of genetic material from subject samples, their analysis using genomics and 'omics techniques, the analysis of the resulting data and generation of interpretable results and the downstream generation and analysis of model animals to study effects and impacts of genetic variants. The department is structured into subgroups with specialized functions under one umbrella.
Sidra Medicine Deep Phenotyping Core Services
Flow Cytometry Services
High-Dimension flow cytometry (30+ parameters)
Cell Sorting 30 parameters (any recipient)
Nanoparticle Tracking Analysis (size distribution, concentration, potential)
Phenotypic Analysis of microvesicles and viral particles
Characterization of Sperm DNA Fragmentation byTerminal deoxynucleotidyl transferase-mediated dUTP Nick End Labeling (TUNEL)
Multiplexed serological assays (CoVID-19)
Proteomics Services
SomaLogic: High-dimension SomaScan assay.
Multiplex bead array used as the solid phase for immunoassays or hybridization.
Custom multiplexed Immunoassays
Advanced Imaging Services
The core possesses two advanced confocal systems a Zeiss LSM880 equipped with a dual photon source as well as 6 LASER lines and a fast super-resolution module (Fast Airy scan) and a Zeiss LSM780 with a tunable white LASER and 6 LASER lines.
Transmitted light as well as Fluorescent Widefield Microscopy can be combined on our two confocal systems, using the same illumination beam, ensuring that all of the images are in registration.
Time-Lapse and Live Cell Imaging living tissues and cells are possible with the current temperature and gas incubation options available on both Confocal systems.
Z stack and 3-D imaging
2-photon Microscopy provides dual photon excitation between 340 and 540 nm for deep tissue penentration.
Second Harmonic Imaging: a label-free contrast imaging.
Super resolution Imaging, AiryScan and Fast AiryScan Imaging
Spectral Unmixing can be used in combination with other advanced imaging modalities.
FCS, FCCS, RICS AND PCH. The LSM 880 is equipped with spectroscopy modules apart from imaging modules.
LASER Capture Microdissection able to cut out and isolate the selected region of a specimen without any physical contact.
Graphics workstation can be used for 3D rendering, quantitation and analysis of data.
Analytical Chemistry Services
Untargeted analysis of lipidome
Untargeted analysis of metabolome
Quantification of short-chain fatty acids
Quantification of saturated, monounsaturated and polyunsaturated fatty acids
Quantification of amino acids.
Quantification of metformin - under development
Quantification of thiols - under development
Quantification of elements by AAS
Simultaneous quantification of elements by ICP-QQQ - under development
Contact:
Jean-Charles Grivel
Director – Deep Phenotyping Core
Tel: +974 40037407
Email: dpc@sidra.org