Holter Monitor
What is a Holter monitor?
A Holter monitor is a battery-operated portable device that measures and records your child's heart rhythm. The monitor constantly records your child's heart rhythm for 24 hours, 48 hours, or 5 days.
Can my child play while using a Holter monitor?
It is important that your child continues his or her normal daily routine. This may include going to school and/or playing with friends.
Important things to know before your child uses a Holter monitor:
It is very important the monitor never gets wet. Do not shower, bathe or swim with the monitor. The device, cables and ECG stickers must remain dry at all times
If your child requires an x-ray, MRI or other medical procedure, it is important to tell the doctor or nurse your child is wearing a monitor. The monitor may need to be removed
If one of the ECG stickers comes off, replace it with a new one. Make sure you place the ECG electrode in the same position (see ECG sticker placement picture)
If the ECG stickers are not re-attached, this may require the test to be repeated
Make sure the cables do not disconnect from the monitor, and the battery is never removed

ECG sticker placement:
Instructions
Your child's doctor has recommended the use of a Holter monitor. The monitor will be worn for 24 hours and will monitor your child's heart rhythm. The Holter monitor will record for the entire 24-hour, 48 hour, or 5 days period.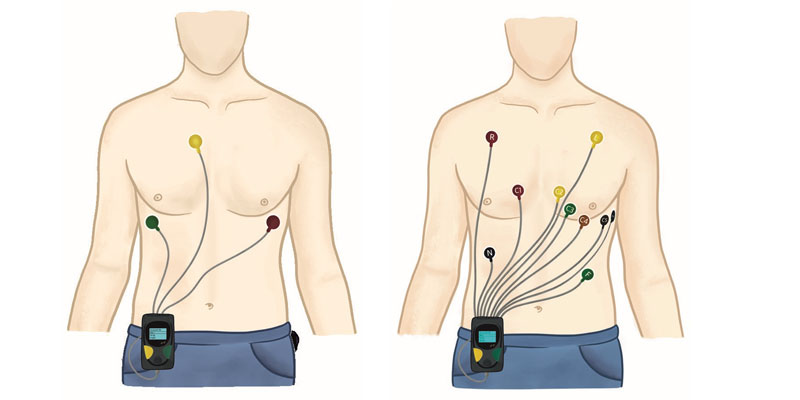 Follow these steps:
Step 1: Check your child's monitor and electrodes to make sure they are attached correctly. (See ECG sticker placement picture).
Step 2: Tell your child that he or she will have to wear the monitor for a period of time as advised by the clinic. They can go to school and play as they normally would.
Step 3: If your child feels his or her heart symptoms, they must press the large green button on the monitor.
Step 4: After pressing the record button, fill in the date, time and activity your child was doing when he/she felt his or her symptoms in the diary below.
Patient Diary:
| | | | |
| --- | --- | --- | --- |
| Date | Time | Activity | Symptom |
| | | | |
| | | | |
| | | | |
| | | | |
| | | | |
| | | | |
| | | | |
How do I return the Holter monitor?
After the agreed period of time, days, remove and discard the ECG stickers from the cables.
Place the Holter monitor, cables and patient diary in the clear plastic bag provided.
Return the monitor to the Sidra Cardiology Clinic. Hospital building, 1st floor.
If you have any questions or concerns please call the Sidra Outpatient Clinic (OPC) at 4003-3333