QF Entity Highlights Precision Medicine Approach for Pediatric Cancer Patients
25 September 2023, Doha, Qatar – Sidra Medicine (a member of Qatar Foundation) has published its "Pediatric Oncology Report 2022" report, to coincide with World Cancer Research Day and Childhood Cancer Awareness Month.
The report is a synergetic initiative between the research and clinical services at Sidra Medicine to enable personalized medicine strategies for children and young people with cancer.
In addition, the report features the multidisciplinary pathways across cancer care and research, and how pathology, genomics, bioinformatics are integrated into the hospital's specialty services such as oncology hematology, neurosciences, neurosurgery. It also highlights examples of molecular based precision oncology reports on somatic mutations, fusion genes and cancer predisposition.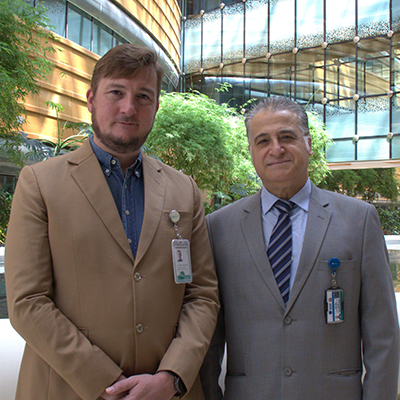 Dr. Ayman Saleh, Division Chief of Hematology and Oncology at Sidra Medicine said: "We firmly believe that our programs will empower pediatric patients to benefit from the seismic shift in cancer treatment, led by targeted and immunotherapy trials. This is what makes pediatric cancer care at our hospital so unique – where diagnosis, care, treatment and finding the best therapies are initiated at the same time."
The report shares the epidemiological data of nearly 400 pediatric patients, giving researchers at Sidra Medicine, strong insights into the distribution of the various types of cancers. It also presents the research department's recruitment and sampling of the eight most prevalent cancer types by year of diagnosis.
With a distribution between Hematological (33 per cent) and solid tumors (67 per cent) similar to other countries, the report highlights leukemia (80 per cent) as the most common blood cancer in young patients, while brain tumors (32 per cent) and lymphoma (15 per cent), are the most common types of solid tumors.
"This deeper understanding of patients' tumors gives us insights into adapting groundbreaking therapies for our pediatric patients. Our work is at the forefront of personalizing precision medicine for every pediatric cancer patient in Qatar. It is our hope that this shared knowledge will enhance understanding and contribute to improved cancer care outcomes," continued Dr. Saleh.
Sidra Medicine recently announced an expansion of its oncology care remit with its pediatric neuro-oncology service for children and young people with malignant brain and spinal cord tumors, details of which can also be found in the 2022 report.
Dr. Wouter Hendrickx, principal investigator of the tumor biology and immunology lab at Sidra Medicine said, "Through this report, we aim to share a rich data repository that will help to ensure the right support systems, processes and resources are available to care for pediatric cancer patients. In addition, our establishment of a pediatric cancer data biobank is the foundation to give offer precision-based oncology care. This close synergy between our clinical and research divisions grants us a comprehensive understanding of our patients' characteristics and epidemiology. By aligning people and technologies, we can create harmony between, pathology, research and clinical care."
For more details about Sidra Medicine's oncology care and research, please visit www.sidra.org.