Sidra Medicine Launches Good Manufacturing Practices (GMP) Facility
Focus on Precision Medicine in Pediatric Cancers
14 November 2023, Doha, Qatar – Sidra Medicine (a QF entity) today announced the launch of its Good Manufacturing Practice (GMP) facility, on the fourth and final day of its research conference, Precision Medicine and Functional Genomics (PMFG 2023).
PMFG 2023 welcomed nearly 880 registered attendees, speakers, exhibitioners and partners, over the four-days of the conference, which ran from 11-14 November.
Dr. Iyabo Tinubu Karch, CEO of Sidra Medicine said: "The GMP facility marks a key milestone in Sidra Medicine's Precision Medicine journey, as it will help us develop better treatment protocols and possibly cures, for pediatric diseases including cancers, genetic and rare diseases. It will allow us to quickly scale up the manufacturing of a medication or treatment protocols such as gene therapy or cell therapy for patients in the wards. This is why it is particularly fitting that we make this announcement on the final day of our PMFG research conference, which features sessions on the treatment of cancers and rare disorders."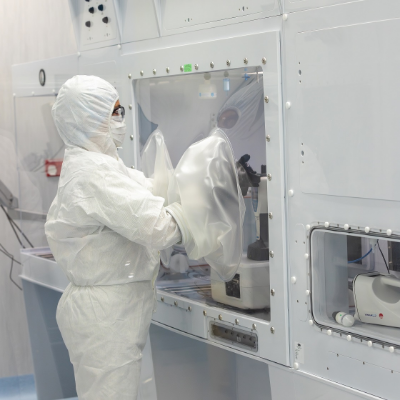 The GMP facility will develop and manufacture individualized therapeutic products and biopharmaceuticals onsite; allowing for a much faster process of turning basic research into actual products that can be used in patients. It will also accommodate cord blood banking and hematopoietic stem cells transplantation, which can treat more than 60 diseases including cancers like leukemia and lymphoma.
Dr. Chiara Cugno, Director of the Advanced Cell Therapy Core and of the GMP Facility at Sidra Medicine said: "Having our own GMP facility is a critical path to treatment for a wide range of our young patients with cancer, blood disorders like thalassemia and sickle cell disease, rare congenital and autoimmune disorders like type 1 diabetes. We are finally closing the loop of precision medicine from the bench to the bedside.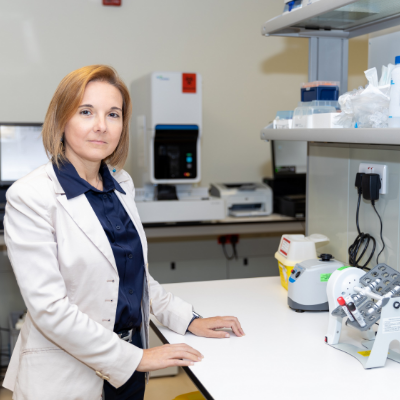 The biggest impact the GMP facility will have is that we can now offer advanced and/or experimental cell and gene therapies for patients, who don't need to travel abroad to seek such treatment. This is particularly life-changing for children requiring gene therapy approaches or hematopoietic stem cells transplantation, which can take several months."
The goods will be manufactured according to strict European Medicines Agency (EMA) and Food and Drug Administration (FDA) guidelines and regulations. Sidra Medicine's GMP facility is licensed by Qatar's Ministry of Public Health (MOPH).
The opening of the GMP facility at Sidra Medicine was attended by CEO, Dr. Iyabo Tinubu-Karch; Chief Research Officer, Dr. Khalid Fakhro; Dr. Chiara Cugno, Director of the facility and Sheikh Dr. Mohammed Bin Hamad Al-Thani, Director of the Public Health Department at MOPH.
Other highlights from the final day of PMFG included a key focus on pediatric cancers:
Key sessions on the growing roles of advanced therapies for rare/orphan disorders and cancers in advancing personalized medicine.
In person and online hybrid sessions with the Society of Immunotherapy of Cancer (SITC) on precision medicine in cancer.
Keynote lecture by Dr. Ted Laetsch (Children's Hospital of Philadelphia, USA) on Precision Medicine for Rare Pediatric Cancers: Lessons Learned and Future Directions.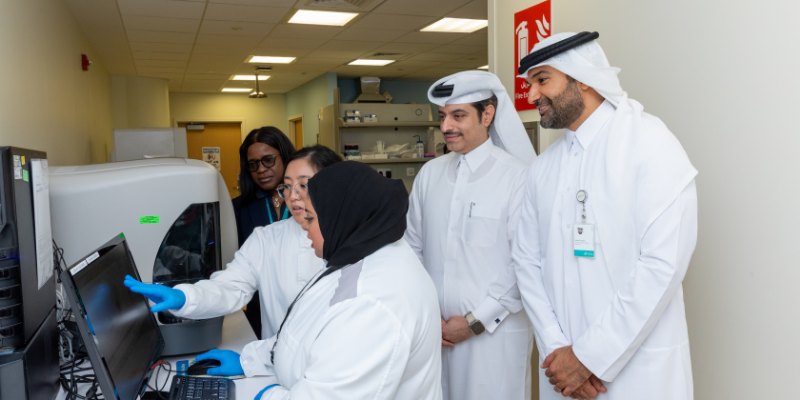 PMFG 2023 was closed by CRO Dr. Khalid Fakhro and conference co-chairs Dr. Bernice Lo and Dr. Matteo Avella, who thanked everyone for making PMFG 2023 a major success and were looking forward to seeing everyone back for PMFG 2024.
Sidra Medicine will also be hosting a Post-Conference Workshop from 15-16 November, 2023 on Genome Editing: Basic Learning and Advanced Techniques. For more details, please visit: Post-conference Workshop – PMFG 2023 (sidra.org).