Qatar Foundation's hospital and research center paves way for how the disease will be diagnosed and treated
The discovery and diagnoses of a new gastroenterological disease has helped save the lives of two patients at Sidra Medicine, which prescribed a precision medicine treatment program for the two young brothers. This achievement will impact the way the disease is diagnosed and treated around the world.
Researchers at Sidra Medicine, a member of Qatar Foundation, discovered a new gastroenterological disease – a new form of Inflammatory Bowel Disease (IBD), and the findings of this study were published in the Cellular and Molecular Gastroenterology and Hematology Journal (CMGH Journal) and will help change the way children with similar symptoms of early-onset IBD are diagnosed and treated.
Diagnosis
Salem was taken to a Pediatric Emergency as he was experiencing extreme symptoms including severe diarrhea and dehydration resulting in cardiac arrest. Doctors worked around the clock to save his life, and while he was resuscitated, his brain was already damaged resulting in cerebral palsy.
"When Salem was born, he suffered from frequent diarrhea, which worsened with time until he suffered a heart attack. He needed to be hospitalized and ended up having to stay in the intensive care unit for 90 days.
"His condition began to deteriorate with time until he was unable to walk and lost sense of hearing. This situation caused us great sadness and pain because we did not know anything about this disease or how to treat it," Salem's father said.
In 2018, Salem's care was transferred to Sidra Medicine's Intestinal Failure Clinic where he was put on Total Parenteral Nutrition (TPN); a life-saving method of being fed nutrition through permanent venous access into the bloodstream.
During his care and treatment at the hospital, Salem's blood samples were also sent for genetic testing as part its Precision Medicine program.
Around the same time, Salem's younger brother Saoud also ended up coming to Sidra Medicine showcasing similar early-onset IBD symptoms. During the consultations, the parents revealed that they had lost two pregnancies to miscarriages before Salem was born.
"The same symptoms began to show up for Saoud, who also suffered from frequent diarrhea. He is given milk through a tube, but he is still able to walk and talk. But before the birth of Salem and Saoud, we had lost two children already – they were fetuses and did not survive. We were informed by Sidra Medicine that the reason for this happening was because me and my are wife are related which leads to genetic familial traits, causing the disease to be passed down to our children," Salem and Saoud's father said.
Discovery
Both Salem's and Saoud's blood samples were sent to Sidra Medicine's Human Genetics lab for genetic and molecular investigation. Dr. Bernice Lo, Principal Investigator, along with research specialists Ahmad Al-Shaibi and Satanay Hubrack studied the samples and made a new discovery.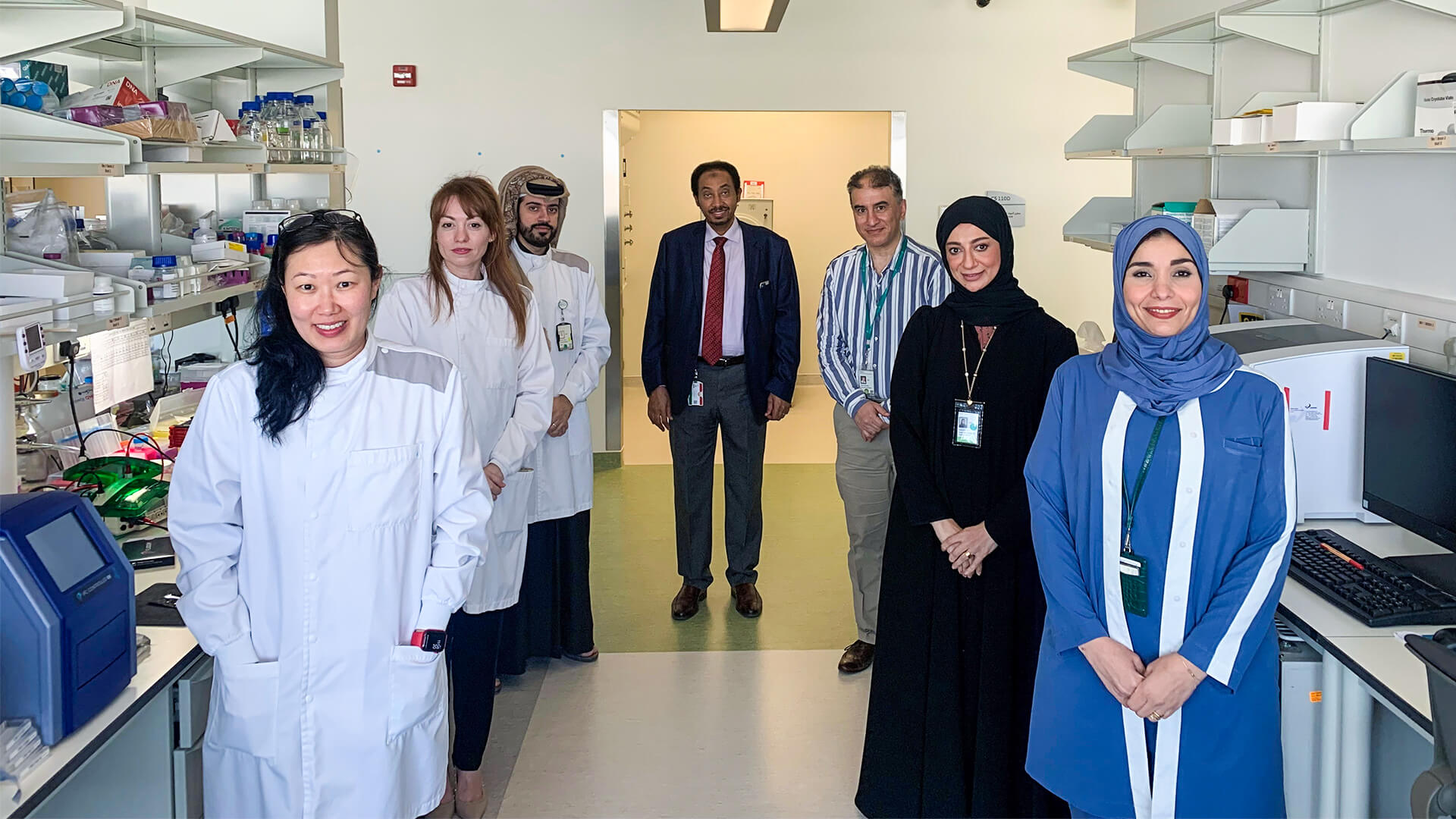 "During the molecular investigation and comparison of both the brothers' genotypes, we noted a striking loss of mucus in their gastrointestinal cells and that they were highly stressed. They basically had a dysfunctional version of AGR2 which was not allowing for the proper production of mucus – AGR2 allows for the production of mucus that protects the gut. We had never come across such a finding in humans before and the diagnosis allowed us to conclude that the mutation was because of a genetic familial trait (homozygous) and was the main cause of the disease," Al-Shaibi said.
The findings established that the brothers had genetically inherited the disease and pointed to the possibility that if their parents, who are related to each other, were to have more children in the future, there was a risk they too would be born with the same condition.
The deficiency of AGR2 was then termed by the researchers as EAGLES: "Enteropathy caused by AGR2 deficiency, Goblet cell Loss, and Endoplasmic reticulum Stress". The symptoms of this new disease included a mucus barrier defect and the inability to mitigate endoplasmic reticulum stress thereby causing the infantile-onset of inflammatory bowel disease.
Dr. Lo said: "Our findings provided a molecular diagnosis for both the brothers and highlighted the importance of mucus in protecting the gut and maintaining gastrointestinal health. This was groundbreaking. The resulting functional analysis then highlighted which medications may work in keeping Salem alive and also prevent the severity of the symptoms from affecting the younger brother Saoud, and any other future siblings in the same family."
The identification of EAGLES also aims to help children in other countries, who don't always have access or are able to afford whole genome sequencing. If a child starts to show the same symptoms as EAGLES, then the hospital needs to request for AGR2 to be included in the list of genes to look out for during targeted gene sequencing. Since whole genome sequencing may not be available at many hospitals across the world, knowing which specific genes to analyze will facilitate diagnosis.
Path to Precision Medicine
With the disease and causal effects of the new type of IBD now identified, the most important stage was about to begin – ensuring that Salem's condition didn't further deteriorate and to prevent a severe episode of the disease from manifesting in his younger brother Saoud.
Dr. Mamoun Elawad, Division Chief of Gastroenterology at Sidra Medicine said: "We already know that some children are susceptible to developing an early onset of Inflammatory Bowel Disease because of their genetics. What makes our care program at Sidra Medicine unique is that all our patients under the age of six who showcase symptoms of early-onset IBD undergo genetic and immunology testing and have their entire genomes sequenced. In the case of these two brothers, what was discovered is truly ground-breaking and will change the lives of future patients diagnosed with the same disease. Early diagnosis and treatment can prevent the debilitating and potentially fatal consequences due to the severity of the disease."
Salem's condition is now stable as he has started his customized medication protocol to prevent him from experiencing any further severe effects of IBD. His brother Saoud is currently waiting to go on the same medication. His health is now under careful monitoring by his parents and the team at Sidra Medicine.
"Salem has started to show noticeable improvement with the treatment he is undergoing at Sidra Medicine. His weight has increased, and his condition has stabilized. We have been facing these challenges with patience for many years, and this progress has given me, and his mother hope – that the lives of our two children will be better," Salem and Saoud's father says.
Sidra Medicine's genetic testing and whole genome sequencing for patients with IBD is a joint collaboration with the Gastroenterology clinic and Human Genetics team and is part of its Precision Medicine program – a first and only one of its kind in the Middle East – making it one of the handful of hospitals in the world to have access to cutting-edge research that can shape the future of young patients' health and lives.