QF entity yields super-resolution image of study into potential type-1 diabetes therapeutic for children.
Collaborative researchers from Sidra Medicine and Qatar University have won the Best Representative Image of an Outcome (BRIO) competition hosted by Qatar National Research Fund (QNRF) to illustrate research outcomes using imagery to appeal to a broad, non-specialist audience. The images are evaluated on originality, scientific importance, and visual impact in photography and illustration.
The winning image titled 'A Cell Bouquet' was captured by Abbirami Sathappan of the Deep Phenotyping Core at Sidra Medicine using a laser scanning microscope to capture Mesenchymal Stromal Cells (MSCs) while testing their value as a therapeutic to combat type-1 diabetes. The microscopic visualization shows the outcome of an experiment using MSCs to reverse the side effects of commonly prescribed diabetes medication by utilizing dietary supplements. The cells were differentiated into osteocytes and adipocytes, treated with an anti-diabetic drug, and evaluated with and without supplements.
MSCs are vital to healthcare research and used in clinical trials worldwide, facilitating research into inflammatory bowel diseases, bone marrow transplantation complications, autoimmune disorders, and acute lung injury in Covid-19 infections. Sidra Medicine researchers strive to advance technology in this field by creating the first biobank of these cells for clinical application, further highlighting how precision medicine directly benefits patient outcomes.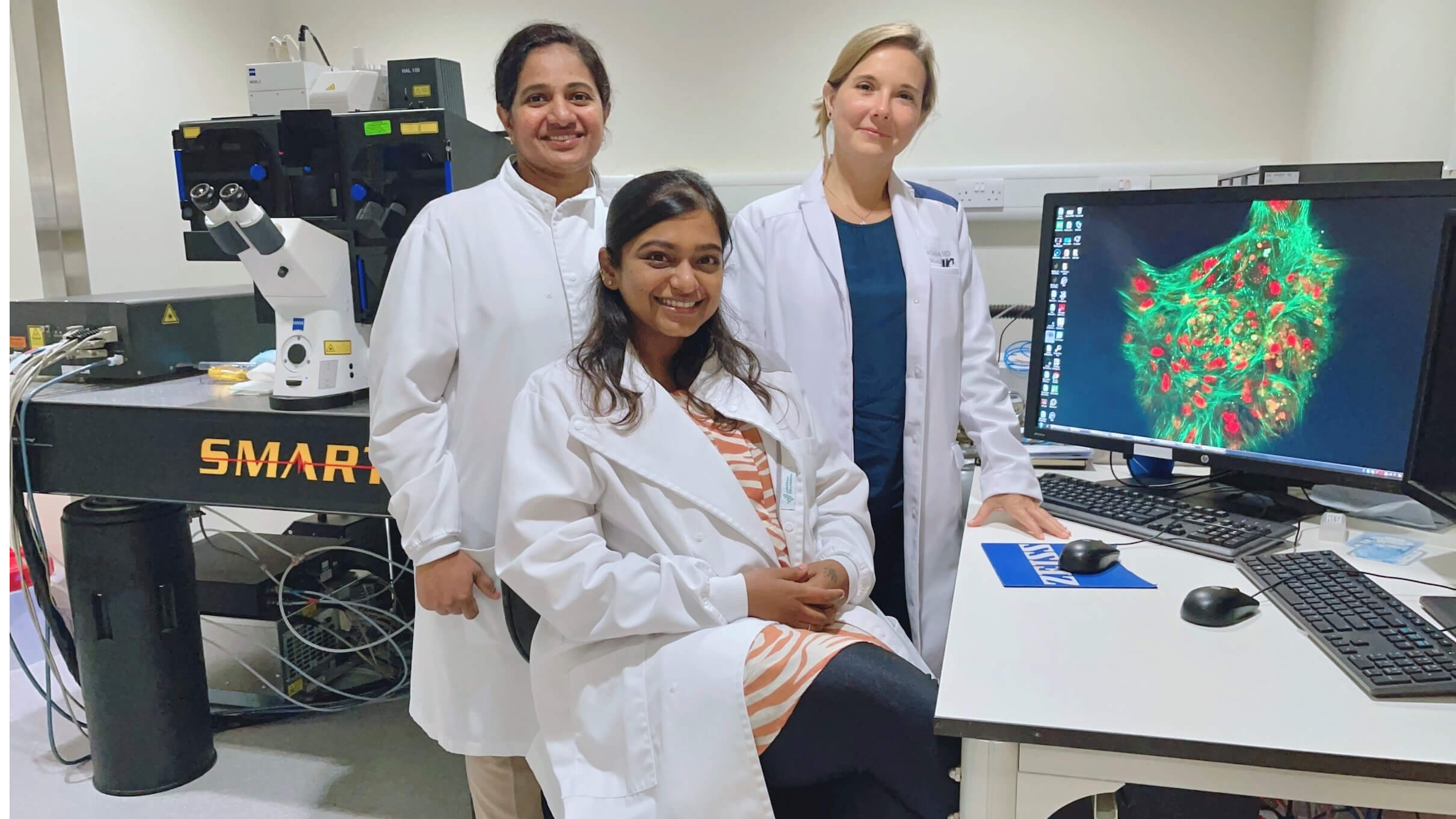 Image from left to right: Dr. Dhanya Kizhakayil; Abbirami Sathappan; Dr. Chiara Cugno next to the Cell bouquet image – Sidra Medicine's Deep Phenotyping Core Lab.
Please note that the people pictures are unmasked for photo identification purposes only.
The project team members from Sidra Medicine comprise the lead principal investigator, Dr. Chiara Cugno, Director of Advanced Cell Therapy Core; Dr. Dhanya Kizhakayil, Post-doctoral Fellow; Dr. Jean Charles Grivel, Director of Deep Phenotyping Core and from Qatar University, Prof. Md Mizanur Rahman. Several Qatar University undergraduate students are currently being trained at Sidra Medicine in context with this collaboration.
Referring to the project's winning submission, Abbirami Sathappan from Sidra Medicine noted, "Art and science go hand in hand. As scientists, we see art in everything we discover and understand. Seeing is believing."
Dr. Khalid Fakhro, Chief Research Officer at Sidra Medicine said: "A famous photographer once said "To photograph is to put on the same line of sight the head, the eye, and the heart" – and to that I would add, "To image is to put together in a single picture the knowledge, the technology and the passion". These three qualities are what embody research at Sidra Medicine. This image is just small representation of the remarkable work carried out at our facility."
The Best Representative Image of an Outcome (BRIO) competition is open to all QNRF-funded programs.