QF Entity protocol with closed loop system considered a best practice model
Protocol successful in glucose control trial in teen with T1D during Ramadan
10 May 2020, Doha – Sidra Medicine, a member of Qatar Foundation, has successfully established its Type 1 diabetes (T1D) treatment protocol for children and young people as a best practice model.
The protocol is based on the effective use of an insulin pump. The pump, which is a hybrid closed-loop system, acts as an artificial pancreas to help children and young people with T1D control their insulin dosage, without the need for multiple daily injections. Based on an initiation schedule developed in-house at Sidra Medicine, the protocol also allows for remote follow up care.
The protocol was launched two years ago as a pilot program by Prof. Goran Petrovski an attending physician of pediatric endocrinology and his team at the Diabetes Clinic at Sidra Medicine. It follows a step by step process and initiation schedule for the hybrid closed-loop, provided by a multidisciplinary team of endocrinologists, nurse educators, dietitians and nurses. Since its implementation, it has fast tracked the treatment process of nearly 100 children and teenagers with T1D being cared for at the hospital's diabetes clinic.
The first step of the protocol involves the children and teenagers (between the ages of 7-17 years) being assessed for eligibility and compatibility with the closed-loop system. They then undergo training for five consecutive days, where both patient and family are provided consistent information and support. The patient first trials the system on manual mode – before it is switched to automatic mode. The whole transfer from "injection to pump" process can be achieved in ten days.
Prof. Petrovski said: "Hospitals worldwide follow different protocols in diabetes management depending on the treatment, technologies and the ease and access to insulin. As a result of the work that was achieved in Qatar at Sidra Medicine, we are now in a position to be considered as a best practice center that showcased the most effective use of the hybrid closed-loop. Our protocol was able to prove that we are truly empowering the children to have better glycemic control and improving their quality of life, all within a matter of days. Given the current circumstances and safety measures about social distancing, the protocol is effective as we can provide remote follow up care without expecting families to come in to the clinic."
"We recently published the results of our protocol in Acta Diabetologica and presented it at several international conferences a few months ago. We have many children's hospitals from neighbouring countries and as far as Europe and Australia, reaching out to us to find out how they can implement the protocol. In fact, Qatar is the first Middle Eastern country to successfully show the best results in using the closed-loop system with our treatment protocol program," continued Prof. Petrovski.
The hybrid closed loop system uses a sensor and a controller-aided insulin pump to monitor glucose levels. The device is attached to the body of the patient. The sensor reads the glucose levels in the body and sends the information to the controller in the pump which based on the reading, uses algorithms to calculate the amount of insulin that the patient needs and pumps the correct dosage. While patients still need to calculate the amount of food and to enter the number of carbohydrate grams, the pump automatically takes care of calculating the insulin dosage.
Previously, patients in Qatar had to travel abroad to the United States to be implanted with the closed-loop system, often having to wait a long time before gaining access to the device. Other drawbacks included slower international administrative processes, delays in educating parents and complex international insurance policies.
Following the success of the protocol, Sidra Medicine has established the use of the most advanced model of the hybrid closed-loop system as the preferred treatment program for many of its pediatric and teen patients with T1D (provided their compatibility with the system).
"Prior to Sidra Medicine establishing the protocol, there were no support services and education materials available especially in Arabic to closely, regularly and safely monitor the children using a closed-loop system. This is a critical part of the protocol process so that they can receive accurate feedback and get help immediately – whether in the clinic or remotely. Families now have access to a 24/7 hotline available in English and thanks to our efforts in Qatar, also in Arabic, set up by the vendor of the system," concluded Prof. Petrovski.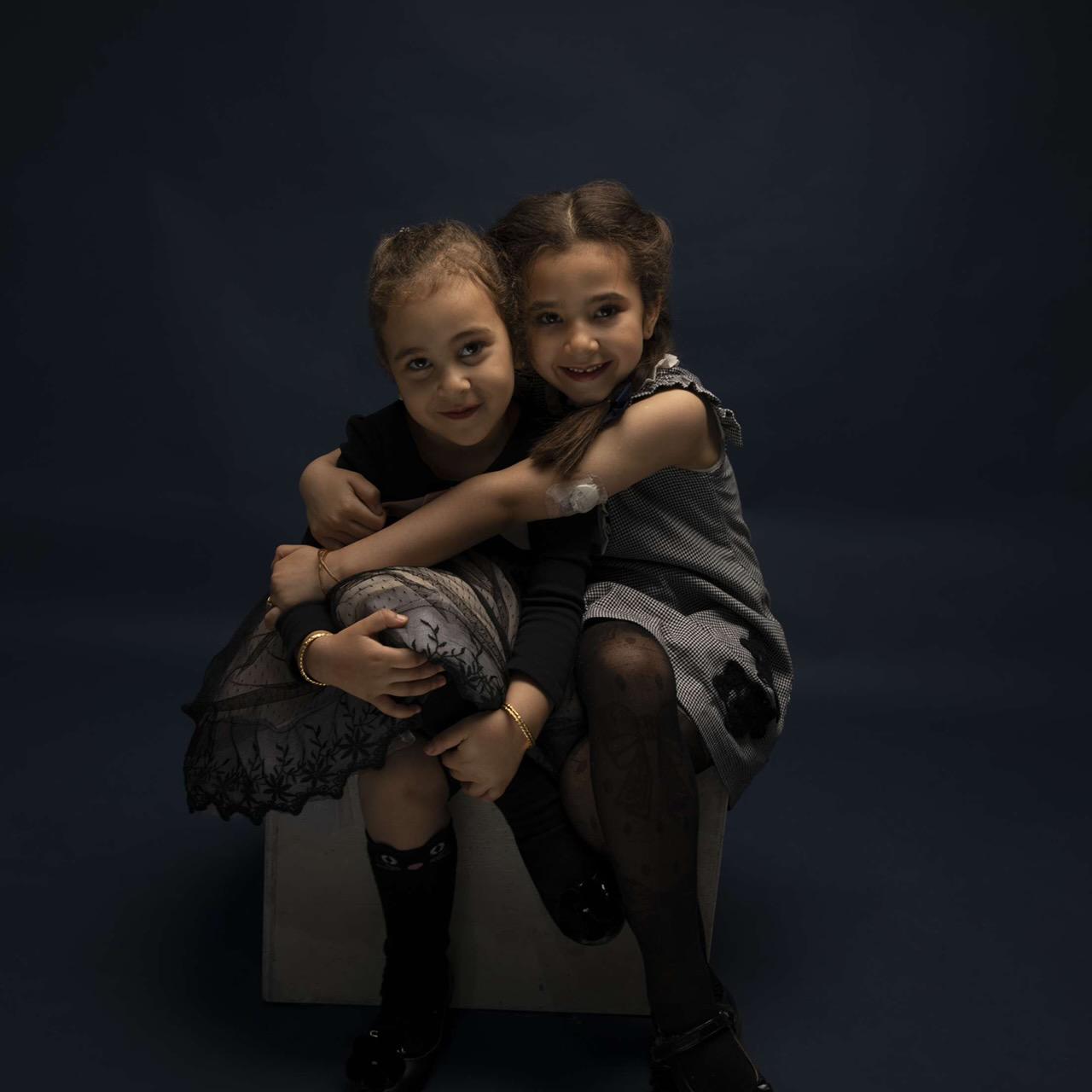 Alia (on the right) one of the first patients at Sidra Medicine to be administered with the Hybrid Closed-loop
Alia, is a seven year old girl who was one of the first cohort of young patients to use the hybrid closed-loop pump, which was administered at Sidra Medicine's Diabetes clinic. Her mother said:"I am grateful that we inserted the hybrid closed-loop pump at Sidra Medicine and made the life-changing decision for our daughter Alia, as both the transition and the transformation were visible in such a short span of time. Alia changed from a child who was visibly uncomfortable and scared to take multiple injections, to a happy confident girl who didn't even notice the pump automatically doing its job. Our joy was seeing how Alia began to feel that she was in control of her condition and her confidence growing with each passing month. The care and follow up we receive from Sidra Medicine to help manage Alia's condition is truly world-class."
Prof. Khalid Hussain, Division Chief of Pediatric Endocrinology and Programme Director for Research for Children's Services at Sidra Medicine said: "Three years ago, we set out to form the basis for an in-depth analysis of childhood diabetes mellitus in Qatar. The diabetes protocol is a ground breaking milestone in this journey to help our patients with new therapies and treatment protocols. This was possible thanks to the investment and support from Qatar Foundation and the Government of Qatar that allowed us to pioneer this high-tech treatment model. I am very proud of the work that has been achieved and while there is more work being done, it highlights Sidra Medicine's continuous path to precision medicine to care for children in Qatar.
A case report: Glucose control in a fasting teenager during Ramadan using hybrid closed loop (Acta Diabetologica)
Many people with Type 1 diabetes (T1D) are unable to fast during Ramadan, as fasting may aggravate their condition. A typical fasting day, especially during summer, can go on for 14 hours. However, despite the risks, and the religious decree supporting the abstinence from fasting for those with acute or chronic medical conditions, there are a significant number of patients who still prefer to fast.
There are known risks associated with low glucose levels for those who fast, and they require Ramadan-specific diabetes care. For example, those taking daily injections, have to manually adjust their insulin levels – by reducing their insulin intake before fasting and then increasing it after they break their fast. Patient H, a Qatari boy with T1D, was 13 years old and keen to fast for the first time during Ramadan.
Prof. Goran Petrovski, Attending Physician of pediatric endocrinology at Sidra Medicine said: "Patient H's case presented satisfactory glucose control without significant changes in the ranges. His glucose values were monitored and compared during a three month range that included one month before, during and after Ramadan. The findings showed that since the hybrid closed-loop system can monitor both Hyperglycemia (excess glucose) and hypoglycema (low glucose) – it was also able to accurately and adjust insulin levels in Patient H. The system was proven to be more practical and did not require the intervention of healthcare professionals to guide the patient on managing his glucose levels."
This is the first report of fasting during Ramadan, using the Hybrid closed-loop, with impressive results. The patient managed his glucose levels easily, with the device automatically adjusting insulin dosage every five minutes. Patient H's trial was recorded the Acta Diabetologica as a case report on 31 August 2019.
Read the Arabic press release here.
-ENDS-