Qatar Foundation Entity Committed to Patient Safety in Surgery
Doha, Qatar, 22 May 2019: Sidra Medicine has joined the American College of Surgeons National Surgical Quality Improvement Program (ACS NSQIP®). Named "Best in the Nation" for surgical quality by the Institute of Medicine, NSQIP is used by top U.S. News and World Report ranked hospitals to improve surgical care.
Prof. David Sigalet, Chair of Patient Services at Sidra Medicine said: "Our top priority is to make sure our patients receive the best surgical care possible. By voluntarily participating in this program, our hospital is joining forces with other leading hospitals around the world to uncover new ways to help our patients get the best results from surgical treatment and care."
Sidra Medicine has joined the ACS NSQIP Pediatric program, which is a validated, outcomes-based program used to measure and improve the quality of pediatric surgical care.
ACS NSQIP enables participating hospitals to evaluate outcomes using a comprehensive database to identify opportunities to improve the quality of surgical care it delivers. Its data collection mechanism uses a 30-day, risk adjusted surgical outcomes process that allows valid benchmarking among all participating hospitals. This process improves and advances surgical care as it offers a clear picture of what is currently happening in hospitals where operations occur; and allows participating hospitals to compare their results to other hospitals in the ACS NSQIP program.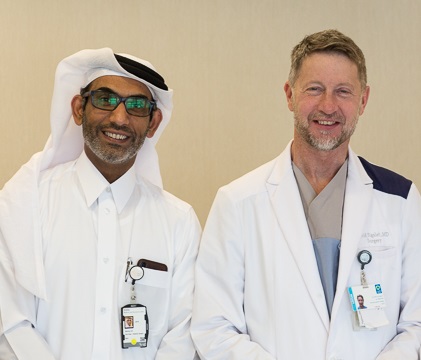 Dr. Mansour Ali, Chair of Surgery at Sidra Medicine said: "We are thrilled to have received our first risk adjusted outcomes report, which reflects surgical outcomes from Sidra Medicine's first year of providing surgical care – both at the outpatient clinic and then the first six months in the main hospital. Having reliable surgical outcomes data early on will allow to track our progress from the start and continue making improvements to patient safety and care. The strength of joining ACS NSQIP is reliable comparable data that is actionable."
ACS NSQIP will help the surgical team at Sidra Medicine track surgical patient outcomes in more than 40 key areas called "measures." Some of these measures—such as surgical site infections—are also tracked after patients are discharged from the hospital to home care.
The certified surgical clinical reviewer (SCR) at Sidra Medicine will collect and validate data on a host of variables related to the patient's condition before, during and after the operation. The measurement method adjusts for the complexity or severity of a patient's illness or condition so that Sidra Medicine has the clinical data they need to evaluate their performance and find better ways to care for their surgical patients.
"As medical professionals, we know that the best way to deliver superior care is to participate
in a scientifically-based program to measure, study and improve care. We applaud Sidra Medicine for being among the leaders in this national effort," said Clifford Y. Ko, MD, Director of Division of Research and Optimal Patient Care at the American College of Surgeons.
Dr. Abdalla Zarroug, Chief of General and Thoracic Surgery at Sidra Medicine, is the Founding President of American College of Surgeons, Qatar Chapter. The Qatar Chapter has members of local surgeons from almost every surgical specialty across multiple hospitals in Qatar and is extremely active in supporting its members in the country.
Since the program was launched in the private sector in 2001, ACS NSQIP participating hospitals have achieved significant improvements in surgical quality and cost savings by
using the program's tools, reports, and data analysis features. NSQIP helps surgical teams prevent medical complications, which can save medical costs and save lives. In fact, a 2009 study published in the Annals of Surgery reported that each year a hospital participates in the American College of Surgeons National Surgical Quality Improvement Program (ACS NSQIP®), it has the opportunity to reduce the number of complications by 250 to 500 and save 12 to 36 lives.
- END -
About the American College of Surgeons
The American College of Surgeons (ACS) is a scientific and educational organization of surgeons that was founded in 1913 to raise the standards of surgical practice and to improve the care of the surgical patient.
For nearly 100 years, ACS has led national and international initiatives to improve quality in hospitals as well as the more specific fields of trauma, cancer, and surgical quality. These initiatives have been shown to measurably improve the quality of care, prevent complications, reduce costs, and save lives. The College has more than 78,000 members and is the largest organization of surgeons in the world.
For more information about the ACS, please visit www.facs.org (.)
About Sidra Medicine
Sidra Medicine provides specialized healthcare to women, children, and young people from Qatar and around the world.
Established by Qatar Foundation for Education, Science and Community Development, Sidra Medicine embraces best practice medical education, innovative biomedical and clinical research and discovery, and exceptional patient and family focused care.
Sidra Medicine provides comprehensive specialist healthcare services for children and young people, as well as maternity and gynecology care for women. Some of its unique children's specialist services include Cardiology, Neurology, Urology and Plastics & Craniofacial Reconstruction. It is also currently the only specialist center in the country that treats and cares for pregnant women with fetal complications.
The ultramodern healthcare organization is a testament to Qatar's pioneering spirit and sustained commitment to its human and social development.
To access Sidra Medicine services, and learn more about our contribution to global healthcare, education and research, please visit www.sidra.org.