Surgeons from Sidra Medicine and Hamad Medical Corporation (HMC), have performed Sidra Medicine's first live-donor renal transplants. The surgeries also mark the launch of pediatric renal transplant services at Sidra Medicine. Both operations involved adult to child transplantation.
Over a period of months, a joint team from Sidra Medicine and HMC overseen by Dr. Abu Bakr Imam Division Chief, Pediatric Nephrology and Hypertension at Sidra Medicine, organized and prepared for two kidney transplant surgeries between mother and child. The landmark surgery took place on 14 April 2019. A second child successfully received a renal transplant on 8 May 2019.
The first renal transplant patient, Mohammed, aged five, was in the final stages of renal failure and was undergoing dialysis. His mother donated one of her kidneys to him to allow him to lead a healthier life.
Mohammed's surgery (as the recipient) was conducted by Sidra Medicine's Prof. Pippi Salle, Division Chief of the Urology and Dr. Bruno Leslie, Pediatric Urologist. His mother's kidney (as the donor) was harvested laparoscopically, a minimally invasive method, by Dr. Omar Ali and Prof. Bernhard Jonas Wadstrom, Transplant Surgeons from HMC. Both surgeries were done consecutively at Sidra Medicine.
Mohammed's surgery is a success, and he no longer requires dialysis. After an 11-day stay, Mohammed was discharged and went home to his family. His mother was discharged, four days after the surgery.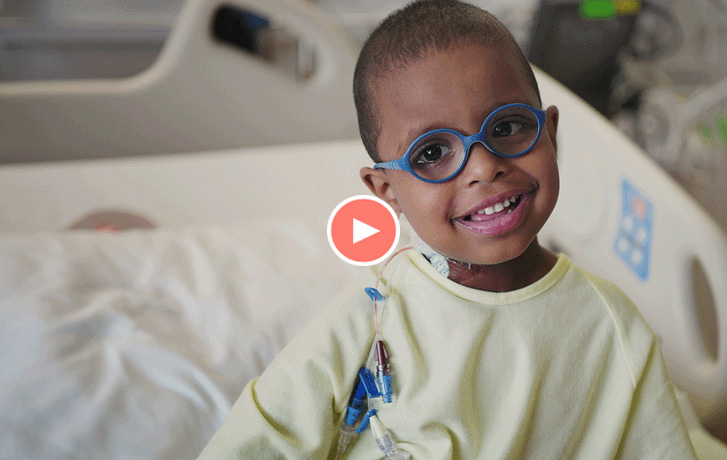 Mohammed's patient journey and details about his surgery can be viewed here.
Dr. Abdulla Al Kaabi, Chief Medical Officer at Sidra Medicine said: "Effective transplants can change the life expectancy and quality of life for the patient, many of whom can go on to live normal lives without the need of dialysis. Our first patient, Mohammed, was incredibly fortunate to have the surgery done within the same facility – saving precious time. His surgery was a wonderful example of collaboration between our teams here at Sidra Medicine and HMC as we specialize in children's surgeries while the expert HMC team handle adult transplantations. The collaboration also marks the official launch of the renal transplant service at Sidra Medicine where we will be offering life-saving renal transplantation for children in need. Seeing Mohammed happily walking around the wards a few weeks after his surgery – was a memorable day for the whole team. We wish him and his family a beautiful and healthy future."
Dr. Abdulla Al Ansari, Acting Chief Medical Officer at HMC said: "These momentous surgeries were the product of ongoing cooperation between HMC and Sidra Medicine and this milestone is the culmination of many months of meticulous planning by our multi-disciplinary transplant team, which was led by Dr. Yousuf Al Maslamani. HMC has the benefit of over 30 years of kidney transplant experience, and we are proud of our role as a pioneer and innovator in the field of organ transplantation in Qatar. We're honored to be able to share our experience and expertise with our colleagues at Sidra Medicine in order to make lifesaving transplantation a viable option for more residents of Qatar."
The activation of the pediatric renal transplantation surgeries at Sidra Medicine marks another specialty surgery service. It offers all required procedures including kidney transplant biopsies, diagnostic radiology, pathology, desensitization, urinary tract reconstruction, and nephrectomies.
Sidra Medicine's renal transplantation approach is based on a multi-disciplinary pre-transplant evaluation process and post-transplant care including inpatient and outpatient care. The service is supported by allied health services including social, psychological and nutritional needs as well as appropriate medical, surgical and intensive care management. The service includes transplantations from both living and deceased donors.
Sidra Medicine works closely with HMC's 'Qatar Center for Organ Transplantation' (Hiba), who regulate and monitor the country's organ donation program. The Hiba Center was inaugurated by Her Highness Sheikha Moza bint Nasser in 2012, where she registered as the first organ donor. The organ donation program is based on the accepted notion that organ and tissue donation helps others by giving them a second chance at life.
Mohammed's father, Mr. Taher Hassnein said: "I extend my sincere thanks to the Government of Qatar and its people as well as the medical and administrative staff at Sidra Medicine, HMC, and the Hiba Center for organ transplantation for the excellent care my son received. I also want to thank my wife, for donating her kidney to save our son's life. My faith is that God will grant our son a complete recovery to lead a fulfilling life without the need for renal dialysis or future medical complications. My message to the community in general and to the families of patients is to consider become organ donors. As the Holy Quran (verse 5:32) states: And whoever saves a life, it is as though he had saved all mankind."
Dr. Yousuf Al Maslamani, Director for Qatar Center for Organ Transplantation said: "We are proud to have worked alongside our Sidra Medicine colleagues to help enable these two life-saving transplants. At HMC, we are committed to supporting a robust culture of organ donation and we are seeing the incredible impact that organ donation is having on multiple lives across our country. Since the Qatar Organ Donor Registry was launched in 2012, over 345,000 donors have registered. Saving lives through organ donation is dependent upon the generosity of donors and their families and partnerships between many teams and organizations. We are delighted to have shared our expertise with Sidra in the launch of their pediatric renal transplant service."
"Organ donation is a wonderful and noble deed. The fact that Sidra Medicine's very own Chairperson, H.H Sheikha Moza bint Nasser has registered as an organ donor is further inspiration for many of us in Qatar to consider becoming donors," concluded Dr. Abdulla Al Kaabi.
Read the Arabic press release here.
Quotes from the surgical teams:
Sidra Medicine: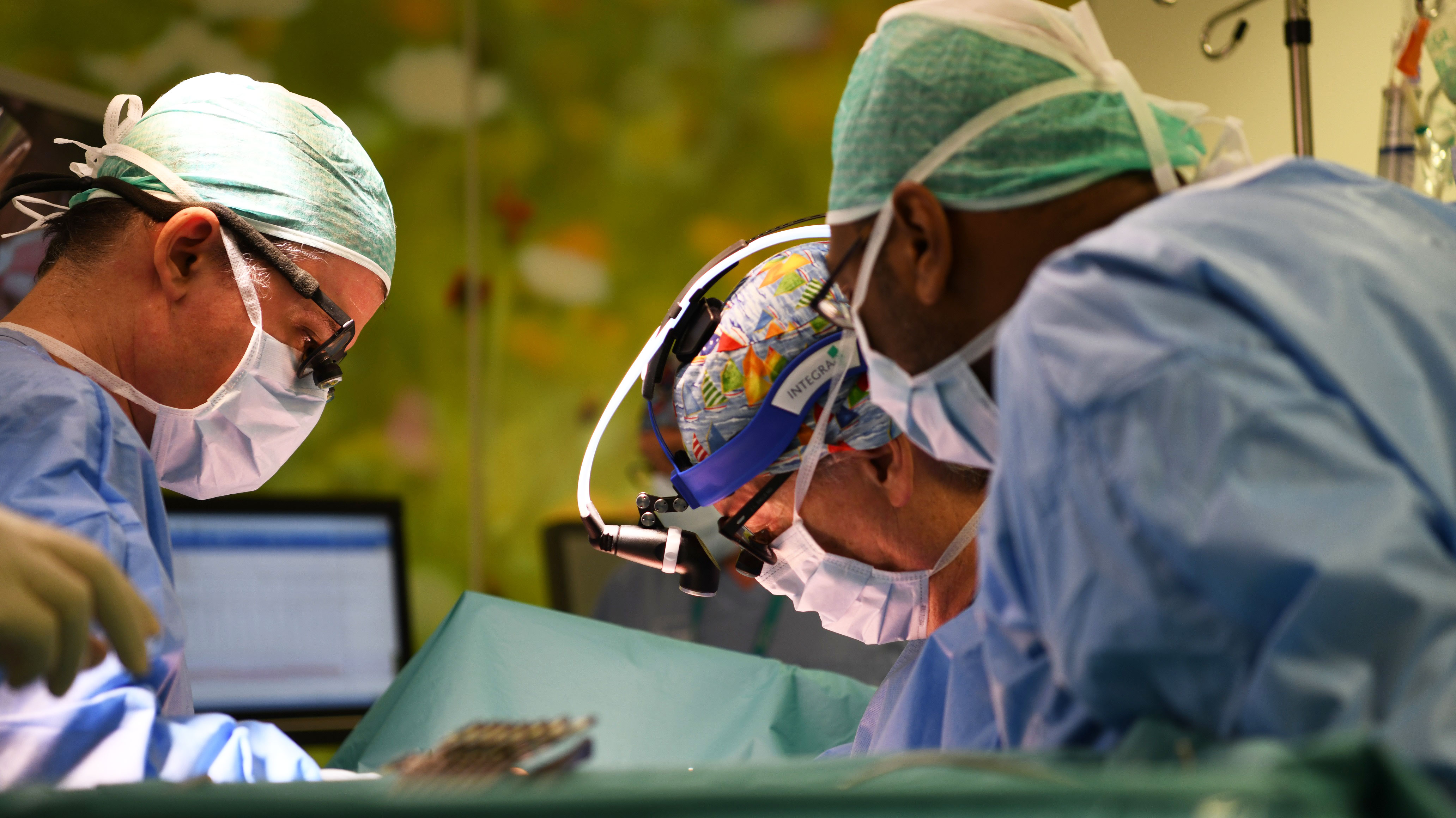 Dr. Abu Bakr Imam, Division Chief, Pediatric Nephrology and Hypertension, Sidra Medicine said: "The launch of our renal transplant service with Mohammed's life-saving surgery is an exciting clinical milestone for Sidra Medicine. We are incredibly proud of the collaboration with our peers from HMC and look forward to our continued partnership to improve the health outcomes for patients in Qatar. We wish Mohammed all the very best and may he go on to have a fulfilling and healthy life."
Prof. Pippi Salle, Division Chief of Urology, Sidra Medicine: "Mohammed was at the critical end stage of renal failure and would have required immediate dialysis had he not been matched with his mother on time. The operation, which took months of planning and preparation, was a success. It was a pleasure to take care of this delightful little boy and see him blossom under the care, attention, and love from all of us at Sidra Medicine and HMC. Having undergone the transplant will allow Mohammed to have a normal life. I would also like to acknowledge his mother's role, who took a brave and selfless step in donating her kidney to save her son's life."
Dr. Bruno Leslie, Pediatric Urologist, Sidra Medicine: "It was a special day for not only Mohammed and his family but for me as a surgeon. I am very proud to have played a part in this groundbreaking operation. The planning for setting up our renal transplant service at Sidra Medicine has been a year in the making. We are confident that it will change the lives of young patients in Qatar and also in the region."
Hamad Medical Corporation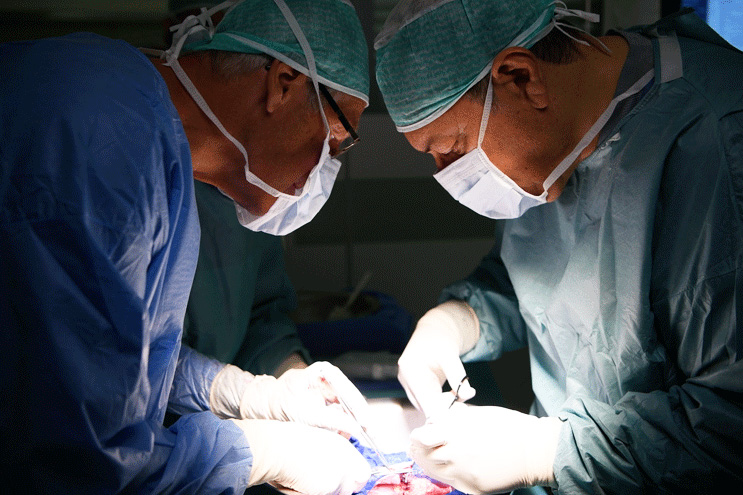 Prof. Bernhard Jonas Wadstrom, Transplant Surgeon, HMC: "This is a rewarding surgery for us as transplant surgeons as we can help somebody to help someone they love. Seeing the patients recover quickly and not requiring dialysis while they go on to have a happy and healthy life is one of the most rewarding things you can witness as a surgeon. This is very special."
Dr. Omar Ali, Consultant Urologist, and Transplant Surgeon HMC: "We are proud of the cooperation with Sidra and HMC that made this surgery between adult and child possible. It was a truly multi-disciplinary and multi-team effort. By having the operation done in the same facility, also provided psychological support for the family."