Sidra Medicine 2nd Health Literacy Conference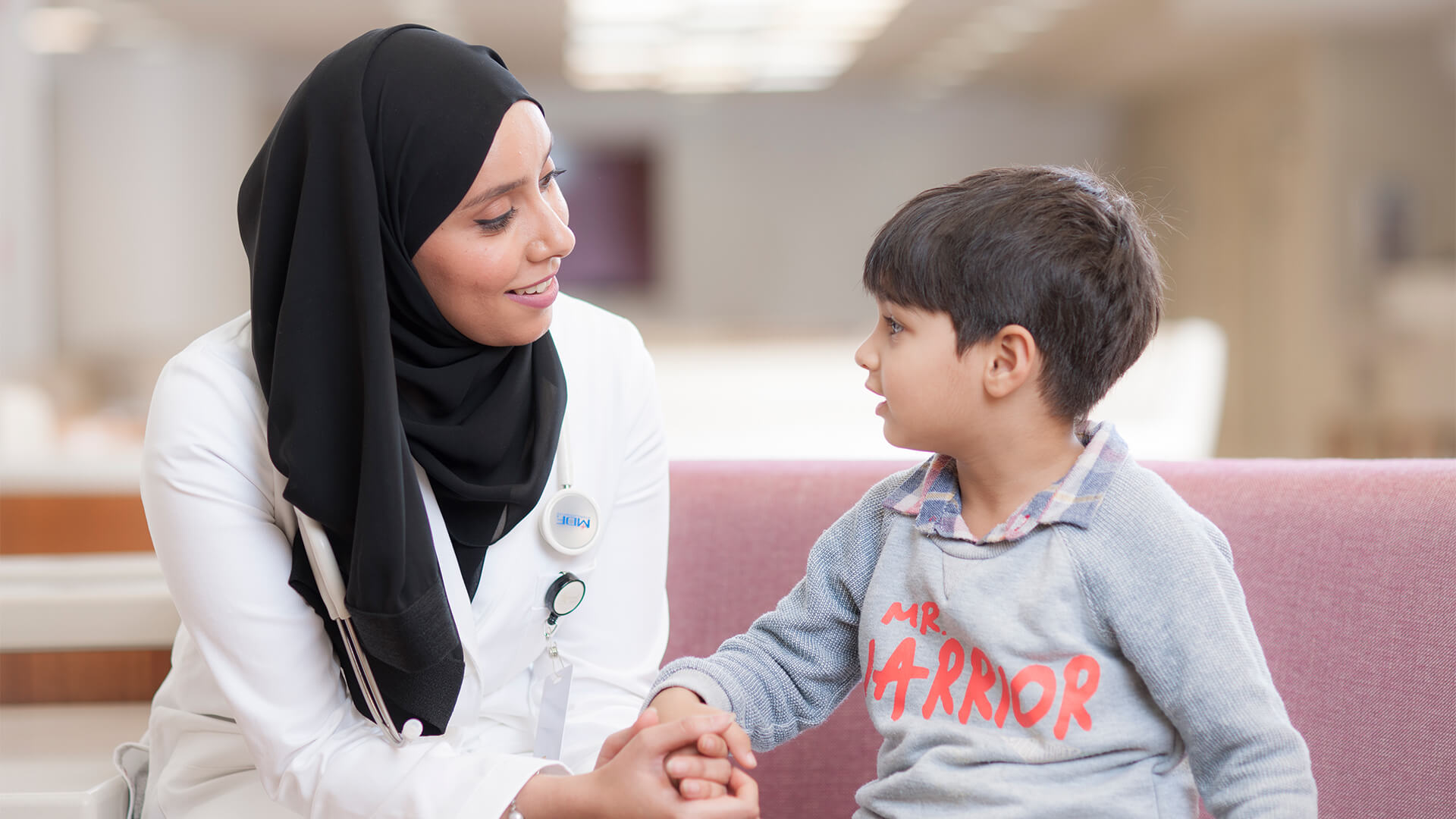 Date: October 31, 2022
Sidra Medicine 2nd Health Literacy Conference "Health Literacy- Engaging Patients and Families for Better Health Outcomes"
Overview about the conference
In support of Health Literacy Month, the Patient Education and Health Promotion (PEHP) division at Sidra Medicine are hosting its second Health Literacy Conference on Monday, 31 October 2022. The theme for this year is "Health Literacy- Engaging Patients and Families for Better Health Outcomes".
Join healthcare experts from leading organizations across Qatar as we collaborate to supporting our patients and their families to be active and health literate partners in their journey of care. The aim is to highlight and reinforce on the importance of engaging patients and their families in positively impacting their health outcomes.
They hybrid conference features workshops and sessions which can be attended in person or virtually. The two accredited workshops associated with the conference will be on 24 and 26, October 2022.
Target Audience
Physicians
Nursing staff
Allied Health professionals
Health promotion experts
Nurse Educators
Child Life Specialists
Pharmacists
Patient Educators
Students from different Health sectors (Medical, Nursing, allied health, Pharmacy)
Brief points about some Topics
Empowering patient information seeking – Developing a toolkit for parents and caretakers

Define health literacy and how patients seek information
Summarize strategies to improve finding reliable health information online

Understanding of self-management role in diabetes care

To identify the concept of self-management.
To underline the current practice of diabetes self-management programs.
To highlight a new attributes related to diabetes self-management.
To recognize the association between self-management and health literacy.

Enhancing Patient Engagement in Primary Health Care Corporation (PHCC)

PHCC initiatives and practices to enhance patient engagement and experience
Demonstrate strategies to enhance collaboration between patients, family, staff, and the community across the continuum of care.
Discuss the importance of integrating sympathy and empathy in providing care to the patient.
Create measurement that matters to patients and families.
Lessons learned and the next steps to enhance PCC initiatives and approach in PHCC.

Assessing health literacy among healthcare professionals and parents of children who attend the Pediatric Rehabilitation Medicine clinic in Sidra Medicine: A convergent parallel design

By the end of this session participants will understand the importance of engaging in health literacy practices

Health literacy and the COVID-19 pandemic: Lessons Learned about how to engage patients and families

Explore the determinants of health literacy during the pandemic.
Understand the challenges of enhancing health literacy during the pandemic.
Discuss the methods that can be implemented to enhance health literacy during emergencies and normal situations.

Patient and Families experience in management of Diabetes in Qatar: Findings from Patient Empowerment Survey

To evaluate awareness, attitudes and practices among diabetic patients and healthcare providers, and to evaluate the level of diabetes care provided to patients
To identify gaps where services and support to diabetic patients can be enhanced.
To seek advice from media experts on developing and implementing effective national health campaigns on diabetes

Enabling and empowering girls to shape their health for the future: a Gynecologist's experience

By the end of the session, the participant will be able to relate the challenges in engaging adolescents in health education endeavors.
By the end of the session, the participant will be able to discuss the importance and effectiveness of engaging adolescents as well as their families in changing health behaviors through health literacy.

Engaging Patients and Families in pharmacy setting

Define Patient Health Literacy and its importance in patients' health plan outcomes.
Discuss impact of pharmacy in empowering and engaging patients and family members in their treatment plan.
Illustrate pharmacy practice methods used to empower and engage patients and families in their treatment plan.

Sharing Experience: Patient and Family Advisory Council (PFAC) program at Sidra Medicine

Discuss Patient and Family Advisory Council (PFAC)
Discuss goals and objectives of (PFAC)
Discuss the impact of patient engagement and involvement in healthcare decisions

The impact of engaging Patients and families on their healthcare and the healthcare system

Discuss patients and families engagement in healthcare settings.
Discuss the impacts of patient engagement on safety, quality, equity, efficiency, health outcomes
Discuss possible challenges in engaging patients and families
Discuss strategies for engaging patients and families
Brief about some number of Speakers
External Speakers:
Dr. Manal Al Musallam - Director of Diabetes Education at Hamad Medical Corporation's Dr. Ghadir Fakhri Al-Jayyousi - Assistant Professor of Health Education and Promotion – Qatar University
Dr. Kholoud Ateeq Al-Motawaa - Head of Non-Communicable Diseases in the Ministry of Public Health
Dr. Amal Abdulla Al-Ali - Senior Consultant Family Medicine, Executive Director of Quality and Patient Safety - PHCC, Qatar, Chair of Corporate Ethics Committee-PHCC, Assistant Professor of family medicine in clinical medicine- (WCMC-Q)
Jessie Johnson - Assistant Professor, Faculty of Nursing, Continuing Professional Development Lead, Chair of Interprofessional Education committee - University of Calgary in Qatar
Jamie Marie Gray - Director, Distributed library, Associate Librarian - Weill Cornell Medicine-Qatar
Internal Speakers:
Amal Aburamadan – Head - Outpatient Pharmacy Service, Outpatient Pharmacy Service Div.
Dr. Suruchi Mohan - Attending Physician - Obstetrics
Amal Alfarsi – Manager of Patient Education and Health Promotion
Aisha Al-Obaidan - Manager - People, Education and Communication, Patient Experience Div.
The Registration Categories
Conference:
15% discount for early birds from Sep 1st until Sep 15th
Non-Sidra clinical staff: 350 QAR
Sidra clinical staff: 150 QAR
Students from different Health sectors (Medical, Nursing, allied health, Pharmacy): 100 QAR
Workshops:
1. Putting Health Literacy Into Practice (2 Hours )
10% discount for early birds from Sep 1st until Sep 15th
Physicians : 150 QAR
Nurses, Midwives, allied health professionals, Pharmacists : 120 QAR
Students from different Health sectors (Medical, Nursing, allied health, Pharmacy): 100 QAR
2. Engaging Patient And Families To Improve Quality of Care ( 1 Hour and 30 minutes )
10% discount for early birds from Sep 1st until Sep 15th
Physicians : 120 QAR
Nurses, Midwives, allied health professionals, Pharmacists : 100 QAR
Students from different Health sectors (Medical, Nursing, allied health, Pharmacy): 80 QAR