Cardiology
Program Overview
The Pediatric Cardiology Fellowship Program is under the Division of Pediatric Cardiology at Sidra Medicine, which is part of the Cardiac Center.
The outpatient clinics offer a full range of outpatient services and state-of-the-art echocardiography laboratories. Our Center operates in collaboration with the Neonatal and Pediatric Cardiac Intensive Care Units. We have allocated regular floor beds for our patient for inpatient services. The Cardiac Program is comprehensive with all the required sub-specialty areas being well covered;
Cardiac Catheterization Laboratory
EP laboratory
Echocardiography laboratory, EKG, Holter, Event Monitor
Cardiac and Neonatal Intensive Care Unit
Outpatient clinics and inpatient regular ward
Exercise laboratory
The program faculty includes highly certified pediatric cardiologists, some of whom have further subspecialty expertise in cardiac catheterization, cardiac imaging, and cardiac electrophysiology.
Goals and Objectives
Our mission is to graduate well-trained pediatric cardiologists at a high level that meets ACGME standards. They will be highly qualified to serve the local and regional community as clinicians and researchers.
The objective of the Pediatric Cardiology Fellowship Training Program is to train candidates for careers in academic pediatric cardiology. A minimum training period of three years is required for the American Academy of Pediatrics Sub-Board of Pediatric Cardiology.
Clinical Training and Key Rotations
The basic curriculum includes 39 blocks distributed over 3 years as follows:
Inpatient 8 blocks, Imaging 8 blocks, cath 6 blocks, research 5 blocks, CICU 3 blocks, Electrophysiology 2 blocks, outpatient 2 blocks, Elective 2 blocks, and vacation 3 blocks.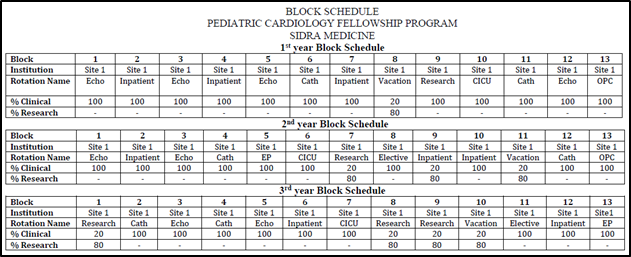 Entry Requirements
Completion of an ACGME-I accredited or equivalent residency training program in Pediatrics
Board certification in core specialty (Pediatrics)
Hold a valid Medical License or be eligible for licensure in Qatar (click here for more details).
Contact Information