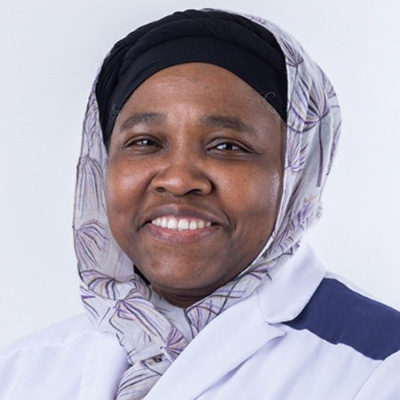 Zainab Imam
FRCPsych,MBBS
Acting Division Chief
Years Of Experience: 30
Dr Zainab Imam is an adult and perinatal psychiatrist with over 30 years' experience as a doctor and she is the Acting Division Chief of Women's Mental Health Division.

She has expertise in the treatment of Perinatal Mental illness including pre- and postnatal mood disorders and psychosis. She can consult on preconception planning and complex perinatal mental health medication management. She also consults on other General Adult Mental Health conditions such as anxiety, depression, OCD, PTSD, psychosis and bipolar affective disorder.

She has expertise in the assessment, diagnosis and treatment of Adult ADHD.

Prior to joining Sidra Medicine, Dr Imam was an Honorary University Fellow of Plymouth University Peninsula Schools of Medicine and Dentistry where she was a clinical teacher and examiner of undergraduate medical students. She was also the Module Lead for the General Adult Module of the Southwest Peninsula Deanery's MRCPsych Course and a trainer for core trainee psychiatrists. She was a member of the Public Education Engagement Board of the Royal College of Psychiatrists and a Partner in Psychiatry-UK LLP, an NHS and CQC approved provider of Tele-psychiatry and ADHD services in the UK.

Dr Imam is a Co-founder and Trustee of Foundation for Refugees Economic Empowerment (FREE- A UK and Nigeria Registered Charity), she is a Trustee of Nigeria Health Watch which uses informed advocacy and communication to influence health policy and seek better health and access to healthcare in Nigeria, she is also a Trustee of Nigerians in Diaspora IDP Support Group (NIDSG) and a Faculty of its Trauma Counselling Training Program in Nigeria. She is a Patron of Asido Foundation; a mental health education and advocacy charity in Nigeria.

Since joining Sidra Medicine in January 2018, Dr Imam is the Clerkship Director for Medical Students in Women's Mental Health Division. She convenes the World Maternal Mental Health Day celebrations yearly and she is a member of the International Task Force for World Maternal Mental Health Day. Dr Imam is a co-opted executive member of the Perinatal Faculty of the Royal College of Psychiatrists where she leads its International Work Room.

Dr Imam is a Common Purpose Alumni.

University of Ibadan, Nigeria
University College Hospital, Ibadan, Nigeria
West African College of Physicians (General Practice)
Royal College of Psychiatrists, UK
University of Plymouth
Yale School of Management – Executive Education
Common Purpose, UK.

The NHS, UK
The National Hospital, Abuja, Nigeria
University College Hospital, Ibadan, Nigeria
Psychiatry- UK LLP

Perinatal Psychiatry, Adult Psychiatry, Early Intervention in Psychosis, Women's Mental Health, Adult ADHD

Perinatal Psychiatry
Adult ADHD
Medical Education
Trauma Counselling

Hankir, A, Tom, A, Ibrahim, H, Rifai, AH, Shahwar, D, Youssef, A, Azeem, MW, Javed, A, Imam, ZK, and Zaman, R. 'A World Psychiatric Association Initiative to Increase Interest in Psychiatry as a Career in Qatar Medical Students: A pilot Study.' Psychiatria Danubina, 2020: Vol 32, Suppl. 1, pp 135-138. (Peer Reviewed)
Ibrahim H, Tom A, Youssef A, Shahwar D, Imam Z, Rifai AH, Hankir A, Zaman R, Javed A, Azeem MW. The World Psychiatric Association Inaugural Student-Led Mental Health Conference to Increase Interest in Psychiatry as a Career in Qatar: A Pilot Study. JAACAP; 59(10): S206
DOI: https://doi.org/10.1016/j.jaac.2020.08.256
Watt, F, Ali, S M, Imam, Z, Hynd, N, and Ahmed S. 'Perinatal Mental Health'. Book Chapter in Mental Health in Qatar: Challenges and Prospects. Edited by Amber Haque, Livia L. Gilstrap and Suhaila Ghuloum. Cambridge Scholars Publishing 2020.
Imam, Z and Dauleh, H. 'Gender Based Violence in Qatar; Anecdotes from Clinical Practice' Scora QMSA Journal, 2020; 1(2): 40-47.
Ahmed, S, Imam, Z, and Watt, F. 'The development, implementation and outcome of a routine antenatal mental health screening pathway in a new women's and children's hospital in Qatar'. Abstract in conference programme, the Marce Conference, Bengaluru, India, September 2018.