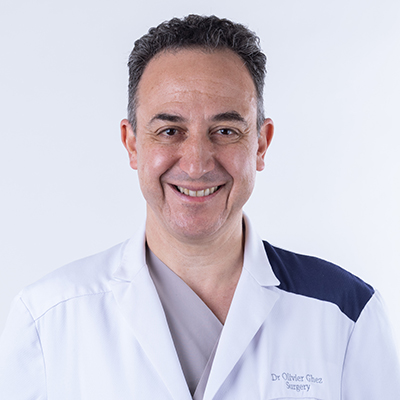 Olivier Ghez
MD
Division Chief
Years Of Experience: 17
About the Physician

Dr. Olivier Ghez is the Division Chief of Cardiovascular and Thoracic Surgery at Sidra Medicine, a specialist women's and children's hospital in Doha, Qatar.

Dr. Ghez joined Sidra Medicine in April 2018. He specializes in neonatal, paediatric and adult congenital cardiac surgery, particularly for complex heart malformations including complex neonatal and pediatric heart surgery, aortic and mitral valve repairs for congenital patients and cone repair for tricuspid valve Ebstein malformation. Along with a highly specialized team of interventional cardiologists, Dr. Ghez and his team apply innovative hybrid techniques and cosmetic approaches to cardiac surgery for simple malformations.

Prior to joining Sidra Medicine, Dr. Ghez was the lead pediatric cardiac surgeon at Royal Brompton Hospital in London, U.K. During his 10 year tenure at the hospital, he was honoured by the ITV/Sun's Special Recognition Health Star Award for having successfully operated on the hearts of more than 1500 new born babies, infants and children.

Dr. Ghez received his medical degree from the University Aix-Marseille II in France as well as a master's degree in physiology and biology of circulation from the University of Paris VII. He has several degrees from the same universities in specialties including congenital cardiac surgery; extracorporeal circulation and microsurgical research

University Aix-Marseille, France
fellowships with the Children's Hospital in Marseille and French College of Thoracic and Cardiovascular Surgery, France; Great Ormond Street Hospital in the UK
Harvard Medical School in the US
University of Paris VII

Royal Brompton Hospital in London

Dr. Ghez is involved in several research projects to improve care to patients with congenital heart disease including operations, simulation and circulatory support in children. He is a regular reviewer for the European Journal of cardio thoracic surgery and other publications.