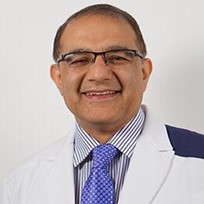 Muhammad Waqar Azeem
DFAACAP,DFAPA,MBBS
Chair, Department of Psychiatry
Years Of Experience: 29
Professor Muhammad Waqar Azeem is an internationally recognized academician and health care leader with Sidra Medicine and Weill Cornell Medical College. He is an Inaugural Chair of Psychiatry for Sidra Medicine in Doha, Qatar. He is Professor of Psychiatry at Weill Cornell Medicine. He has played an instrumental role in establishing child, adolescent and perinatal psychiatry services in Qatar from the scratch. Under his leadership, Sidra Medicine developed world's first and only ACGMEI Training Program in Child and Adolescent Psychiatry. He is Director of Sidra Medicine World Psychiatric Association (WPA) Collaborating Center.

Professor Azeem has contributed nationally in number of important initiatives, including being Chair of Qatar's National Autism Plan Working Group, Co-Chair of World Innovation Summit for Health (WISH) Autism Forum and member of National Mental Health Task Force. Internationally, Prof. Azeem is Chair of the World Psychiatric Association (WPA) Working Group on Medical Students and member of the WPA Working Group on Autism as well as on Child and Adolescent Psychiatry. He participated as invited member of World Health Organization (WHO) Rehabilitation Program to contribute in developing rehabilitation interventions for individuals with autism. Professor Azeem's primary clinical and research interests include Autism Spectrum Disorder and Developmental Disabilities, Global Mental Health, Child & Adolescent Psychiatry Training and undergraduate medical education. He is involved with number of prestigious research grants from QNRF and SIRF regarding Autism, ADHD, genetics, neuroimaging and psychiatric comorbidity with chronic medical conditions. He has presented nationally and internationally and has published extensively in peer reviewed journals. In addition, he collaborates with various professionals and medical schools in South East Asia and Middle East on various projects including autism spectrum disorder and developmental disabilities, psychiatric co-morbidity in medical conditions, as well as in improving child and adolescent services, and child and adolescent psychiatry training.

Professor Azeem joined Sidra from Albert J. Solnit Children's Center, one of the premiere child and adolescent psychiatry teaching facilities in the U.S., where he held the position of Chief of Psychiatry and Medical Director. He also served as an Associate Clinical Professor at Yale Child Study Center / Yale University School of Medicine and Associate Residency Training Program Director for Yale Child Study Center / Solnit Center Child and Adolescent Psychiatry Fellowship.

Professor Azeem has done his general psychiatry training at Hennepin County Medical Center and Regions Hospital in Minnesota, where he also served as Chief Resident. He has done his child and adolescent psychiatry training at Children's Hospital Boston with Harvard Medical School. Professor Azeem is Diplomate of the American Board of Psychiatry and Neurology in both General Psychiatry and Child and Adolescent Psychiatry. He is Distinguished Fellow of the American Psychiatric Association (APA) as well as Distinguished Fellow of the American Academy of Child and Adolescent Psychiatry (AACAP). Professor Azeem has received several awards and honors for his work. He has co-directed the child and adolescent review courses internationally. He served on various boards and committees at regional, national and international level.