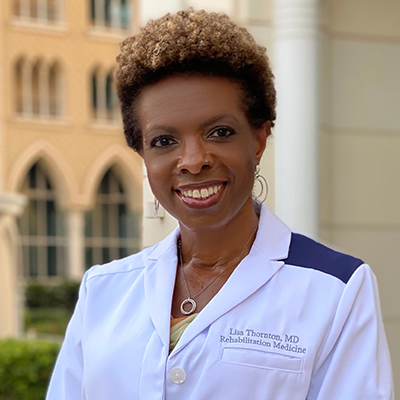 Lisa Thornton
FAAP,FAAPMR,MD
Division Chief, Pediatric Rehabilitation Medicine

Dr. Lisa Thornton is a pediatric physiatrist (a physician who specializes in pediatric rehabilitation). She has broad expertise in physical disability and is dedicated to improving all aspects of the lives of children with disabilities. Her medical practice focuses exclusively on the holistic needs of this population. She has proficiency in the health issues that face people with disabilities but also is knowledgeable about issues of accessibility, education, transportation, recreation, housing, and vocation.

Since August of 2017, Dr. Lisa has been the Chief of the Division of Pediatric Rehabilitation at Sidra Medicine. She is a member of the Special Needs Taskforce of the National Health Strategy through the Ministry of Public Health
Before moving to Doha she was an assistant clinical professor in the departments of Pediatrics and Orthopedics & Rehabilitation at the University of Chicago's Pritzker School of Medicine. She was also medical director of pediatric and adolescent rehabilitation at LaRabida Children's Hospital, Shriner's Hospital for Children, and Schwab Rehabilitation Hospital. She completed pediatric specialty training at Children's Memorial Hospital in Chicago and her rehabilitation residency at the Rehabilitation Institute of Chicago where she led her peers as Chief Resident.

Dr. Lisa has worked with numerous community-based organizations that focus on the policy needs of people with disabilities. She has given testimony to the US Senate Appropriations Sub-Committee on Labor, Health & Human Services. She has lectured widely about the needs of children with disabilities and has appeared as a health commentator on every network morning show in the US.

Dr. Lisa received her undergraduate degree at Fisk University and her medical degree from the University of Michigan.