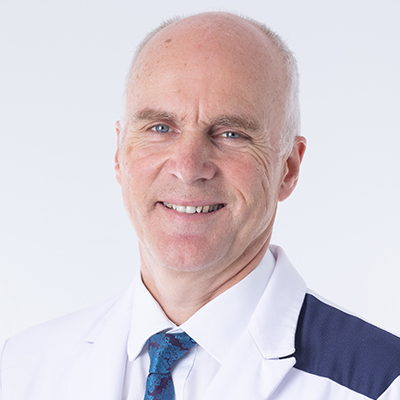 Ian Pople
MD
Division Chief of Neurosurgery
Years Of Experience: 25
Since starting his position as the Chief of Neurosurgery at Sidra Medicine in September 2018, Dr. Pople has led the development of a safe and sustainable emergency neurosurgery service for the children of Qatar, which also now offers world-class surgical programs in pediatric epilepsy and surgery for lower limb spasticity.

Prior to joining Sidra Medicine, Dr. Pople was Senior Pediatric Neurosurgeon at Bristol Royal Hospital for Children, UK, where he led the development of the Epilepsy Surgery and SDR services for Children.

Dr. Pople is a graduate of Sheffield University, UK, and did his neurosurgical training in Leeds, London (Great Ormond Street Hospital) and Bristol prior to a fellowship in Pediatric Neurosurgery at Le Bonheur Children's Hospital and St Jude Children's Research Hospital in Memphis USA.

He has a specialist interest in complex hydrocephalus, neuro-endoscopy, brain tumors, and tethered spinal cord. Throughout his career as a neurosurgeon, Dr. Pople has performed over 180 selective dorsal rhizotomy (SDR) procedures on children with spastic diplegic cerebral palsy and over 2000 other pediatric neurosurgical procedures. He has carried out ground-breaking research into new treatments for hydrocephalus in premature infants and intends to continue this research in Qatar.

MB ChB, University of Sheffield

UK - 1983

FRCS (Royal College of Surgeons)

England - 1986

FRCS (Surgical Neurology), Royal College of Surgeons

Edinburgh - 1994

University of Tennessee - Pediatric Neurosurgery

- 1995

Specialist Register (Neurosurgery General Medical Council)

Neurological and cognitive recovery after head injury in children and the potential benefits of targeted rehabilitation.
Endoscopic techniques for hydrocephalus and treatment of neonatal hydrocephalus using novel techniques.
Neuropsychological effects of brain tumours in children.

All aspects of Pediatric Neurosurgery, especially hydrocephalus, spasticity and epilepsy surgery. He has performed over 80 SDR (selective dorsal rhizotomy) procedures on children with spastic diplegic cerebral palsy and has implanted many baclofen pumps in children with more severe spasticity.

Ian's research interests are mainly in the treatment of neonatal and childhood hydrocephalus, head injuries, spina bifida and lower limb spasticity management. He has >65 peer-reviewed publications and maintains an active research interest supporting recent projects both locally in Bristol and internationally.