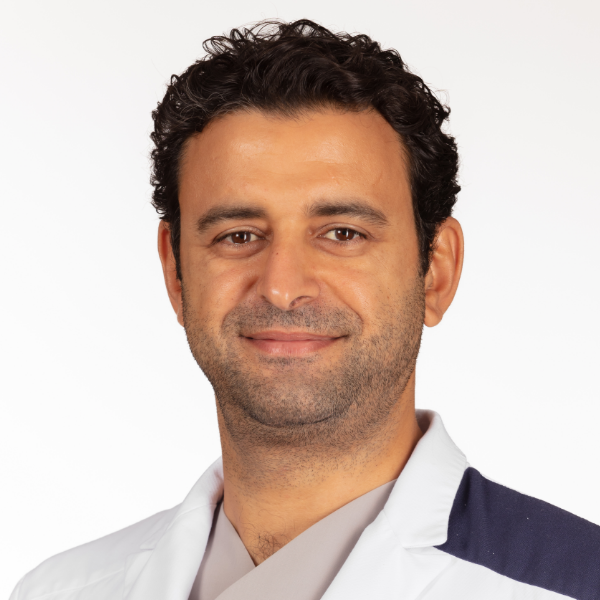 فؤاد الشامي
حاصل على زمالة الكلية الملكية لعلماء الأمراض,دكتور في الطب
طبيب معالج
سنوات الخبرة: 18
نبذة عن الطبيب

الدكتور الشامي هو طبيب معالج في قسم طب الأمراض التشريحي وجزء من الفريق القائم بخدمات التشريح العام وأخصائي علم أمراض النساء وأمراض الأطفال في سدرة للطب، وقد انضم إلى سدرة في عام ٢٠١٨. وبالإضافة إلى أدوراه السريرية، فقد قام الدكتور الشامي منذ وصوله بإدارة تقديم خدمات إعداد تقارير علم الأمراض الرقمية المتكاملة في سدرة للطب، وهي إحدى أول الوحدات الرقمية بالكامل في المنطقة. وهو مسؤول أيضًا عن إدارة الجودة في قسم طب الأمراض وكان قائمًا بدور رئيس القسم لمدة بلغت ستة أشهر في ٢٠٢١.

انضم الدكتور الشامي إلى سدرة للطب من كارديف بالمملكة المتحدة، حيث كان استشاري علم أمراض الأنسجة في مستشفى جامعة ويلز وجامعة كارديف، وكان يمارس طب الأمراض التشريحي العام وعلم الأمراض الخلوي وإعداد تقارير الدلالات الحيوية لعلم الأمراض الجزيئي. لديه خبرة بحثية واسعة النطاق ومنشورات عديدة في دوريات راجعها الأقران ومشاركات كثيرة في التجارب السريرية.

زمالة الكلية الملكية لعلماء الأمراض، المملكة المتحدة
عضوية الكلية الملكية للجراحين بإنجلترا وويلز
طبيب بشري، جامعة تشرين

محاضر في علم الأمراض السريري وطب المختبرات في كلية وايل كورنيل للطب - قطر
الكلية الملكية لعلماء الأمراض
عضو جمعية علم الأمراض السريري والجمعية البريطانية لعلم الأمراض الجلدي.

علم أمراض النساء وعلم الأمراض الرقمي

علم الأمراض الجراحي علم أمراض تطور السرطان

Fulvestrant plus capivasertib versus placebo after relapse or progression on an aromatase inhibitor in metastatic, oestrogen receptor-positive breast cancer (FAKTION): a multicentre, randomised, controlled, phase 2 trial. The Lancet Oncology. 2020 Mar 1;21(3):345-57.
Does Simian Virus 40 (SV40) Have a Role in UK Malignant Pleural Mesothelioma? No Role is Identified in a Sensitive RNA In Situ Hybridization Study on Potentially Affected Birth Cohorts. Applied immunohistochemistry & molecular morphology: AIMM. 2019 Jun.
Acquired resistance of ER-positive breast cancer to endocrine treatment confers an adaptive sensitivity to TRAIL through posttranslational downregulation of c-FLIP. Clinical Cancer Research, 24(10), 2452-2463.
Nuclear grade and necrosis predict prognosis in malignant epithelioid pleural mesothelioma: a multi-institutional study. Modern Pathology. 2018 Jan 12.
Synergistic targeting of breast cancer stem-like cells by human γδ T cells and CD8+ T cells. Immunology and Cell Biology. 2017 Mar 30.