Sidra Medicine launches Ponseti Clinic
Doha, Qatar, 23 October 2019: Sidra Medicine has launched a Ponseti Clinic to treat congenital clubfoot.
Clubfoot refers to a condition in which a newborn's foot or feet is inwards at the ankle. One in every 1000 babies is born with clubfoot1. Over 50 percent of the babies have bilateral clubfoot, meaning both feet are affected.
The Ponseti Clinic, launched by the Division of Orthopedic Surgery at Sidra Medicine, follows the Ponseti method whereby the treatment aims for early and full correction of all the components of the deformity by gentle manipulation and well-molded, thinly padded plaster casts changed every seven days.
At Sidra Medicine, the Ponseti method is performed by specialized physiotherapists who gently manipulate the baby's foot with their hands. The method's aim is to correct the deformity in the foot without the baby having to undergo extensive and multiple surgeries.
Acting Division Chief of Orthopedic Surgery, Dr. Talal Ibrahim who was one of the key surgeons in launching the specialized clinic at Sidra Medicine said: "The Ponseti method is a life-changing technique and has become the most widely practiced method for the initial treatment of infants born with clubfoot. The key principal of the method is that the tissues of a newborn's foot can be gently manipulated. By applying this technique within the first few weeks of life, most clubfoot can be successfully corrected without the need for major reconstructive surgery. Ponseti care is also a collaboration between parents and the orthopedic team as parents will play a central role in their child's outcome."
Ponseti care also requires after home monitoring where parents and caregivers play a central role in the healing and treatment process. This can range from the soothing of their baby during initial stages of casting to the monitoring phase at home during the later orthotic fitting stages of care.
Paul McDermott, Supervisor in the Physical Therapy unit at Sidra Medicine said: "Babies diagnosed with clubfoot are referred to the Ponseti clinic and normally have to undergo one session a week where we gently manipulate their foot or feet. Each session also requires plaster changes as we apply a cast from the toes to the thigh, to hold the foot in position."
"Most clubfoot correct with four to six manipulations followed by a plaster cast application by a skilled professional at each visit. However, a small percentage of clubfoot are very severe and difficult to treat and require a specific approach. Historically, severe clubfoot have required extensive surgery with often poor long term results. It is widely accepted now that the Ponseti method has managed to correct these severe cases using a standard technique with up to 8 to 10 casts therefore avoiding the need for extensive surgical procedures," continued Mr. McDermott.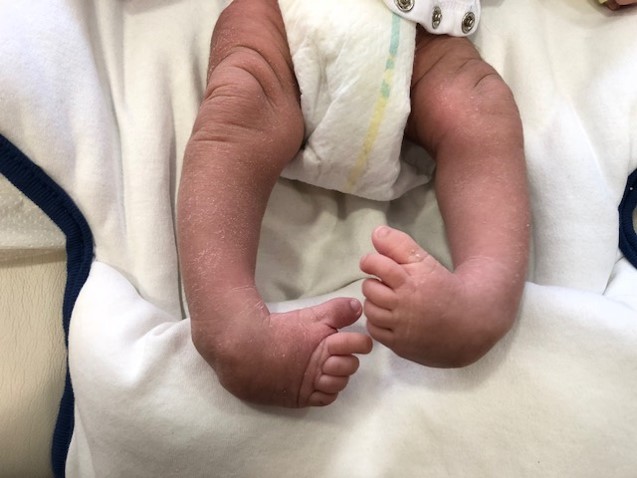 Baby Hassan after birth
One of the first patients to be treated at the Ponseti clinic was Hassan, who was born with bilateral complex clubfoot. "Hassan's feet as a newborn had signs of severe deformity with complex clubfoot. To address this, he required a combination of refined specialized Ponseti manipulation and casting followed by surgery. Early diagnosis of complex clubfoot gave him the best possibility of having supple, straight and functional feet. Without early intervention, Hassan would not have been able to walk properly," continued Mr. McDermott.
After 10 successful cast changes at the Ponseti Clinic at Sidra Medicine, Hassan underwent "posterior release" surgery by Dr. Ibrahim, to release both feet. "The surgery involved releasing the soft tissues in the hindfoot of both feet. The releases allowed us to further achieve a normal position of the feet," Dr. Ibrahim continued.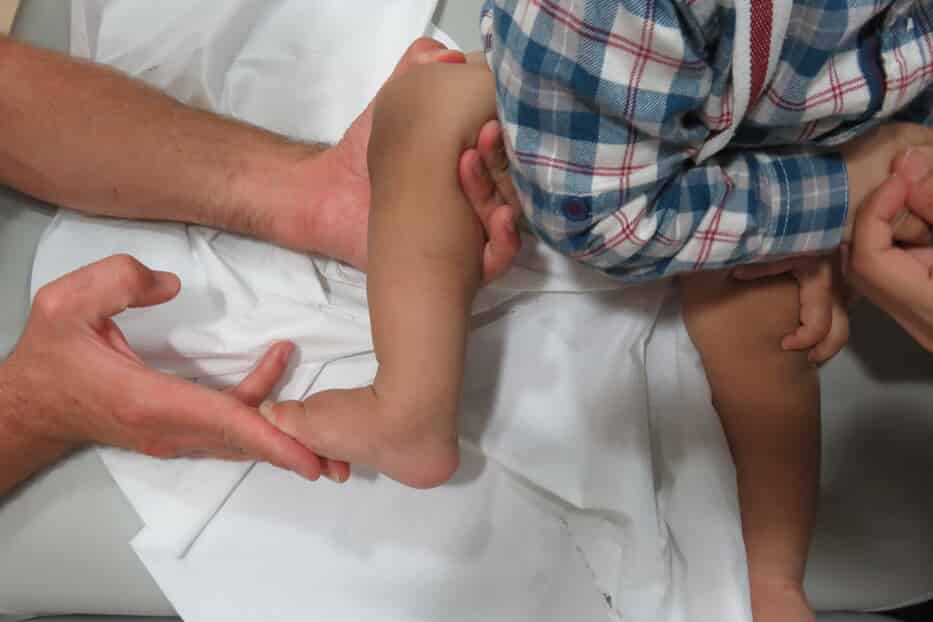 Hassan after undergoing surgery and the ponseti method
Post-surgery, Hassan wore a cast for another six weeks which was then followed by wearing custom boots attached to a metal bar. The metal bar held his feet in the correct position to prevent them from relapsing. Hassan will continue wearing the boots – at night and during naptimes – until he is four years of age.
Hassan's parents Wasim and Razina Khan said: "We knew that Hassan was going to be born with clubfeet and while we were assured that it could be fixed, it was still stressful. After Hassan was born, we were referred to Sidra Medicine under the care of Dr. Talal Ibrahim and the physical therapy team. It was only after we started coming here, did we start to feel that our boy was in the best hands. Because of the complex nature of Hassan's clubfeet, he also had to undergo surgery, as the Ponseti method alone was not going to be enough to correct the deformity. This was another source of worry for us, as he was so young!"
"To see the dedication, the commitment, patience and the love they showed Hassan and us, proved what a family centered hospital Sidra Medicine is. Every appointment, and there were weekly ones, was always focused on ensuring Hassan was comfortable, happy and not in pain. They dealt with his care gently and with love, laughter and play and made sure to involve us and talk us through his program.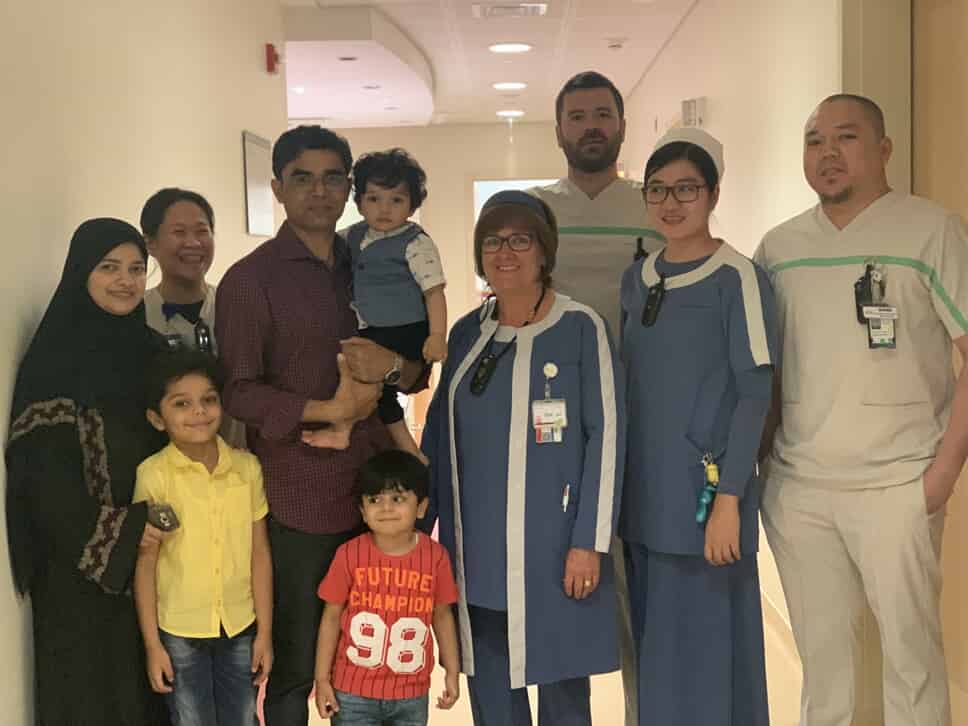 Hassan with his family with the Physical Therapy team at the Ponseti Clinic in Sidra Medicine
"A child's first steps are a big milestone and seeing our little boy taking his first steps when he was 12 months old, was the best day of our lives. Those little steps created big leaps of joy for us. To other parents who are expecting a baby or just had a baby with clubfoot, our message to them is – don't worry. Treatment be found here in Qatar in the form of the amazing team at Sidra Medicine. The team make it easy, seamless and through our son's journey, proved that they can help," Hassan's parents said.
To read the Arabic press release, please click here.
For more details about Sidra Medicine's pediatric orthopedic and physical therapy services, please visit www.sidra.org.
- END -
ملاحظات للمحرر:
1 – National Institutes of Health as cited in Medical News Today: https://www.medicalnewstoday.com/articles/183991.php. Accessed on 22 Sept. 2019.