Doha, Qatar, 12 November 2019: The multidisciplinary pediatric and surgical teams from Sidra Medicine have saved the life of a baby born with multiple life-threatening malformations.
Komail was born with several complex congenital and craniofacial anomalies, such as cleft palate, bilateral microtia (both ears deformed); arrhinia (absence of the nose); and severe micrognathia (undersized jaw) resulting in an upper airway obstruction. After birth, he was immediately transferred from another hospital to the Neonatal Intensive Care Unit (NICU) at Sidra Medicine.
Commenting on Komail's first hours, his mother Mrs. Shaista Perveen said: "We were worried for Komail. How was he going to survive, what kind of care would he need and how would we cope? Never had I felt so alone yet never had I felt so determined. As soon as we stepped through the doors at Sidra Medicine, little were we to know how this hospital and its people would change our lives."
Sidra Medicine, a women's and children's hospital, had opened its inpatient hospital facility in January 2018. The hospital and its pediatric specialty teams were well equipped to handle the complex requirements related to Komail's care and treatment.
Commenting on Komail's condition, Dr. Helmut D. Hummler, Division Chief of the Neonatal Intensive Care Unit at Sidra Medicine said: "When Komail first came to the hospital, our multidisciplinary team of specialists immediately set about prioritizing a treatment program to save his life. Complex, multidisciplinary interventions were needed to ensure maximal quality of life."
"Komail's care at Sidra Medicine was handled by a multidisciplinary team of physicians and nurses included teams from the NICU and other subspecialties such as plastic and craniofacial surgery; otolaryngology; pediatric anesthesiology; and audiology. He also received holistic support from Allied Health teams, including respiratory therapists; dieticians; speech, language and occupational therapists. Family-centered psychologists and social workers also supported Komail and his family during this critical time," continued Dr. Hummler.
Over the course of eight months as an inpatient at Sidra Medicine, and despite his tender age, Komail underwent multiple life-saving surgeries and procedures while he received round-the-clock care from the NICU team. Komail was on a ventilator for the first six months because of breathing difficulties due to the severe upper airway obstruction.
Dr. Mitchell Stotland, Chief of Plastic and Craniofacial Surgery at Sidra Medicine said: "Komail's main issue that needed to be addressed was his inability to move air through his nose and mouth. In the first several months of life, babies breathe almost exclusively through their nose. For Komail there were two obstructions – first, the fact that he was born without a nose or nasal passages, and secondly, that his lower jaw bone was so severely underdeveloped it was causing his tongue to fall back into his pharynx – that is, right up against the back of his throat. Therefore, while our colleagues in Otolaryngology worked to create a nasal opening that would accommodate a breathing tube, we went ahead to lengthen and advance his lower jaw bone enough to bring his tongue forward to help clear his upper airway for spontaneous breathing."
At four weeks of age, Komail underwent a first procedure in which the bones on both sides of his jaw were cut and an implantable distraction device was inserted which allowed for twice daily lengthening of the jaw bone over a period of a few weeks.
After several months, the device was removed, the jaw was re-cut, and a second round of jaw advancement was carried out. In total, approximately 35 mms of length was added to Komail's lower jaw. As it turned out, while this improved the aesthetic balance of his face markedly, the residual underdevelopment of the upper part of his face still made normal breathing too difficult for Komail to maintain.
"We initially remained hopeful that he would be able to breathe properly by himself after the surgical interventions, but it became more and more apparent that he needed to undergo a tracheostomy. This involved making a small surgical opening in his neck to place a tube into his windpipe which would allow him to breathe properly and independently without a ventilator," said
Dr. Patrick Sheehan, Senior Attending Physician of Otolaryngology, Head and Neck Surgery at Sidra Medicine who performed Komail's tracheostomy..
Following the tracheostomy, Komail also needed to be fitted with a hearing device as he wasn't able to hear at normal levels.
"I remember every moment of the day Komail was fitted with a hearing aid at Sidra Medicine's Audiology clinic while under the care of Dr. Nel Govender. That beautiful little smile when he could hear clearly will forever remain etched as a wonderful milestone for my baby. We were all overjoyed seeing Komail's immediate reaction. I am so happy that he was fitted with the hearing device as it would help him with his communication development and allow him to bond with me and the rest of the family," said Mrs. Perveen.
After eight months at Sidra Medicine, and with the majority of his life-saving treatment complete, Komail was discharged from the hospital. The family's time in Qatar also came to an end as they prepared for a new move overseas.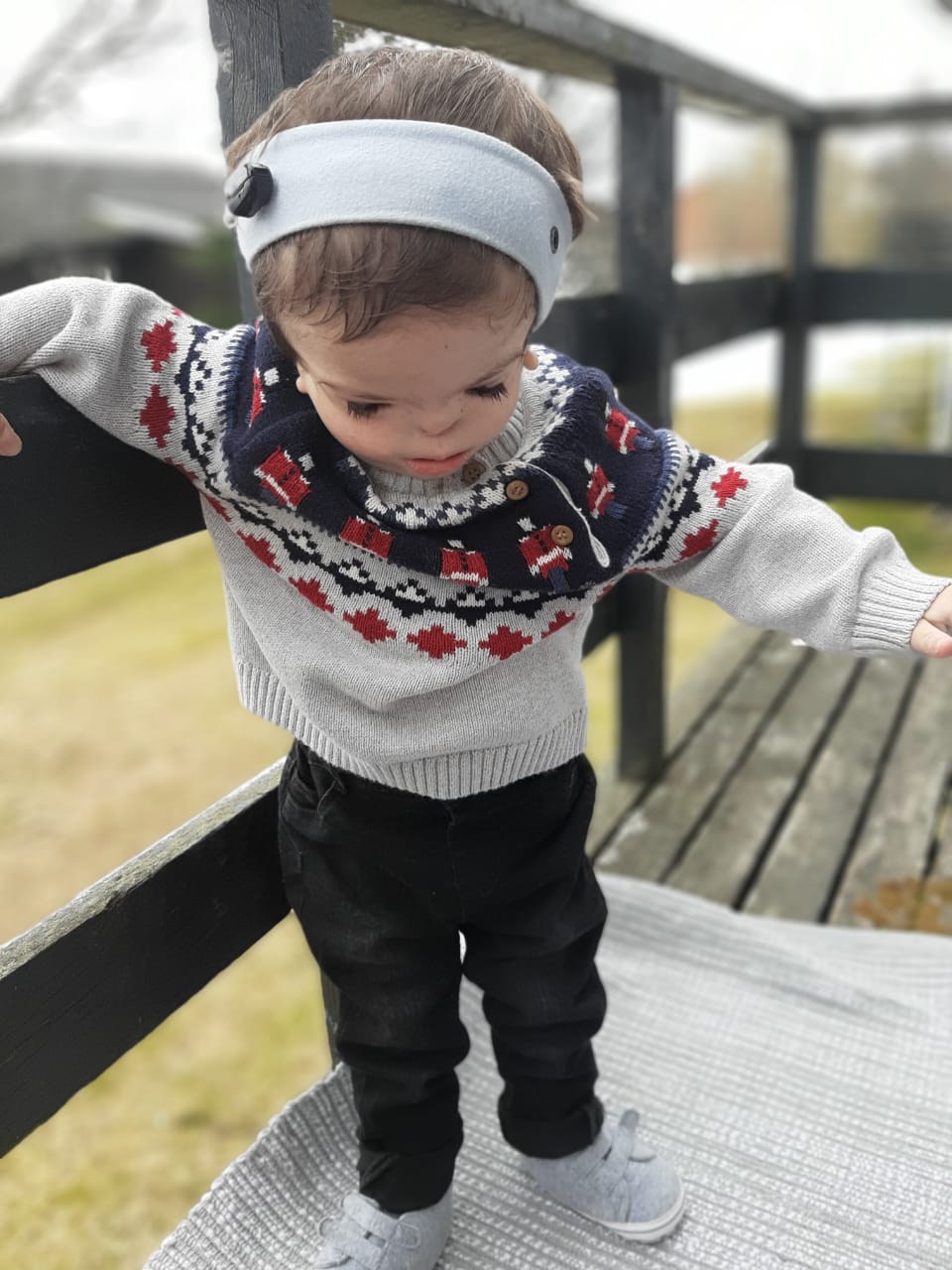 Baby Komail
In an emotional message to the team at Sidra Medicine, Mrs. Shaista Perveen acknowledged the support she received during her son's stay at the hospital.
"My family and I have now relocated to Europe. Our hearts are filled with joy to see how far he has come. He has started crawling. He claps, dances and enjoys music. I am lucky my son survived and to have had a hospital like Sidra Medicine beside me during the most critical time."
"I don't have words to thank each and every staff member, either doctor or nurse, social worker or administrative personnel who were with us through every big or small step during his treatment and care at Sidra Medicine. Everyone not only took care of my Komail, they also took care of me. Their warmth, understanding healed me and my son in more ways than I can think of."
"The support I received as a mother with a child with multiple medical issues – is something that will always remain with me. There were many moments when I fell into despair and I was picked up with love, compassion and care. I become stronger and more focused. I love Sidra Medicine and its teams for their immeasurable help. I can truly state that Sidra Medicine is one of the best hospitals."
To all mothers, who like me, are embarking on a journey with a child born with a medical condition like Komail. I want to give you a message of patience and strength. We have a saying in our tradition, that "a mother is strong enough that she would do anything to protect her children".
"The multidisciplinary staff who cared for Komail throughout his stay, continues to share the delight of this hopeful journey with Komail and his family, even oceans apart, as his family remains in contact with personal stories and pictures of his ongoing development in life. Komail will still need ongoing care as he grows older including further surgeries to address his craniofacial anomalies as well as ear reconstruction surgery but it will be with a smile shared with all whose lives he has touched, starting at Sidra Medicine," concluded Dr. Hummler.
.www.sidra.org لمزيد من التفاصيل حول سدرة للطب يرجى زيارة
- ENDS –