Meriam shares her story about her daughter Alaa's groundbreaking surgery at Sidra Medicine. Alaa was our first epilepsy surgery patient.
When our beautiful daughter Alaa was born – we were ecstatic and overjoyed. Every detail about her fascinated us as we watched her with loving eyes – taking in all her movements. Every moment was precious.
Suddenly ten days after her birth, our little baby started to get seizures. We were horrified to see her going through convulsions. Alaa was diagnosed with medically intractable epilepsy – a condition where she would get persistent seizures.
It was heartbreaking to watch her get seizures at any given notice. As she grew older, the risks of her injuring herself were getting higher. We lived in dread that anything that made her excitable like seeing something colorful or a noisy toy could trigger a seizure. We also knew that a small proportion of people with intractable epilepsy also face the possibility of sudden unexplained death if they have seizures in their sleep.
Knowing this and seeing her suffer, my husband and I had countless sleepless nights. I just couldn't close my eyes without worrying what would happen to her.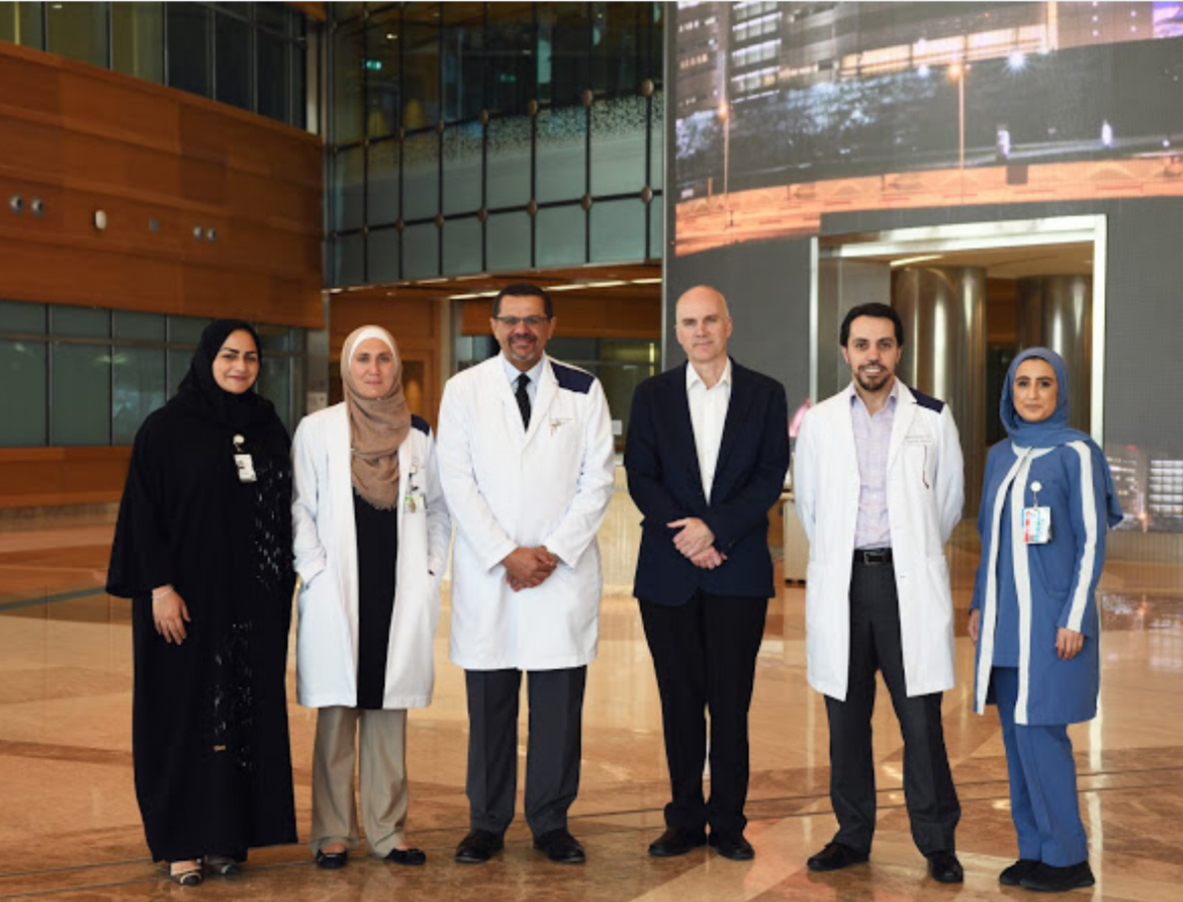 When Alaa was nearly two years old, after a year and a half of trialing medications and electronic monitoring, a team of neurologists, surgeons and experts in diagnostic imaging at Sidra Medicine confirmed that Alaa required neurosurgery.
Sidra Medicine is the only children's hospital in Qatar that specializes in children's neurology and neurosurgery. The team had identified the abnormal tissue in the right side of her brain that was causing the epileptic seizures. They assured us that they had the ability to safely remove it and could do so within a matter of weeks, as it was the right time for Alaa.
Surgery was the only option to save her life, as medications and other forms of non-invasive treatments could not help her condition. My husband and I were so scared for her. We had hundreds of questions going through our mind as this is such a big surgery. Would she be ok? Are we rushing into this?
As full time working parents – we couldn't be around her 24/7. What if she had a seizure once she started school? She had already fallen and cut her lip during one of her episodes. We knew we couldn't wait any longer.
We even sought a second opinion from Europe. We just had to be sure we were doing the right thing. It was very reassuring when we were told that the surgery and the epilepsy care Alaa would receive at Sidra Medicine was at the top standards like some of the big well known children's hospitals in Europe and America.
During the consultations with the doctors Dr. Ian Pople and Dr. Khalid Al Kharazi, we were told that Alaa's case was the first epilepsy surgery case to take place at Sidra Medicine. Though both Dr. Ian and Dr. Khalid had performed lots of similar surgeries in other hospitals – we were still worried. She was essentially in our eyes – a pioneering patient for epilepsy surgery at the hospital!
In the end, after prayers, consultation and family support – we agreed that Alaa should and must have this surgery. As her parents, we felt it was our duty to do whatever we could to save her life.
There was a lot of pre-surgery discussions as the doctors talked us through every step of the way what her procedure would entail. We also found out that they were going to use a new machine that would scan her brain after the operation, while she was at the operating table to check that there wasn't any abnormal tissue left. This would save precious time and prevent the doctors from having to make any further incisions to her skull and operate again.
Alaa's surgery was performed in January 2018 at Sidra Medicine. There was a huge team. I spent every second saying a silent prayer while she was being operated on. "Please please save my child. Please let her be ok."
The wait was agonizing. Every second felt like an hour. As the hours ticked by we sat, prayed and waited. Several hours later, when the doctors finally emerged and told us that Alaa's surgery was successful – we heaved a huge sigh of relief. Our baby had made it. The doctors had successfully removed all the abnormal tissue that was causing the epileptic seizures.
We stayed in the hospital for two weeks where she was monitored during her post-operative care. While we were there, we were looked after with so much understanding, love and support. Once we were back home, it took a few days to stop worrying – just checking to see whether her seizures would come back.
We were very lucky and blessed to live in a country like Qatar – where the government has built and invested in some of the best healthcare services. Sidra Medicine was not like other hospitals we had seen before. It was big, spacious and with doctors, nurses and specialists who involved us every step of the way. By opting to having the surgery in Qatar, we didn't have to travel overseas or worry about taking long leave of absences from our jobs. We were in an environment that was culturally familiar and comfortable for us as a family.
I hope our story will reassure other parents out there whose children have similar conditions such as Alaa's and are seeking treatment in Qatar and at Sidra Medicine. We could not have asked for a better hospital and medical team, particularly under the care of such experienced surgeons such as Dr. Ian Pople and Dr. Khalid Al-Kharazi and especially our neurology nurse practitioner Kathleen Teta. She was like a family member. We will never forget her kindness and support.
We no longer have to worry about the seizures and our daughter today is happy and healthy. Thank you again to the team at Sidra Medicine. We also want to acknowledge Qatar Foundation for bringing this specialized hospital to Qatar. And thank Her Highness Sheikha Moza bint Nasser, whose vision as the Chairperson for Sidra Medicine has made such a hospital possible.
We are incredibly grateful to everyone who has helped us along this journey of treatment, recovery and care for our daughter. All of you have not only changed the life of our daughter but ours too!