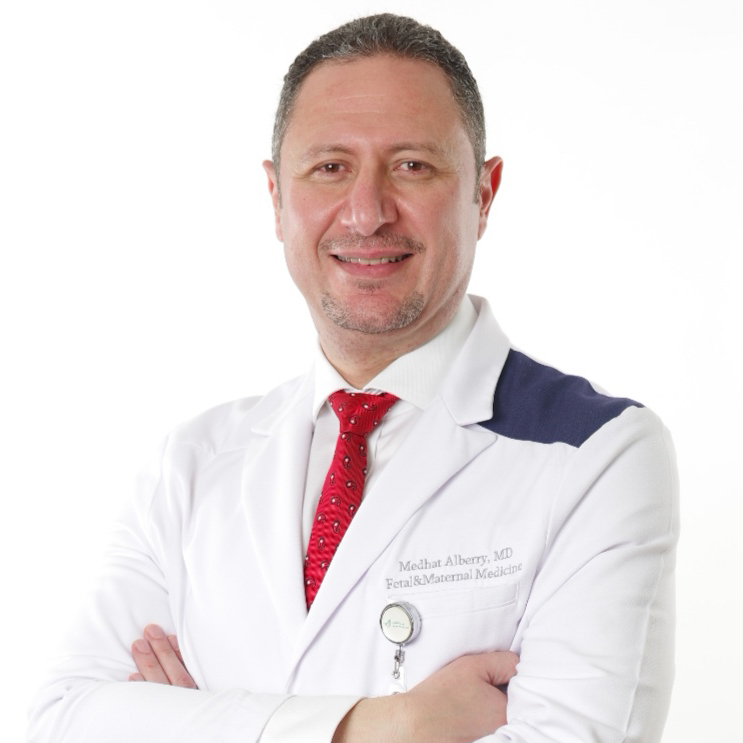 Medhat Alberry
FACOG,FRCOG,MBBCH,MRCOG,MSc,PhD
Senior Consultant in Obstetrics and in Fetal and Maternal Medicine
Years Of Experience: 24
About the Physician

Dr. Medhat AlBerry is an Attending Physician at Sidra Medicine. He has years of experience as a Consultant in fetal and maternal medicine and obstetrics.

He joined Sidra Medicine in November 2017 and has vast experience in managing low and high-risk pregnancies. His areas of expertise in Fetal Medicine include fetal growth restriction, multiple pregnancies, fetal congenital abnormalities, non-invasive prenatal testing (NIPT), and invasive procedures such as amniocentesis and chorionic villous sampling (CVS) and 3D/4D ultrasound.

Prior to joining Sidra Medicine, Dr. Alberry practiced in the UK for 12 years in a number of major maternal fetal medicine/Obstetrics units such as Cambridge University Hospital, Birmingham Heartland's Hospital and others.

MBBCh: Ain Shams University.
MSc: Ain Shams University.
MRCOG: the Membership of the Royal College of Obstetricians and Gynecologists, UK.
PhD: The University of Bristol, UK.

Assistant Professor in OBGYN at Weill Cornell Medical School, Doha, Qatar.
Honorary Lecturer at the University of Birmingham, UK.

Cesarean sections and normal deliveries.
Antenatal care for both high and low risk pregnancies.
Twins and multiple pregnancies.
Maternal medical disorders in pregnancy.
Fetal Growth restriction.
3D/4D ultrasound.
Complex congenital fetal abnormalities.
Non Invasive Prenatal testing (NIPT).
Invasive testing; Amniocentesis, Chorionic villous sampling (CVS).

I am involved in the teaching of Medical students and postgraduates to help them be ready for their future as efficient Doctors.

Medical Publications (selected publications for last 5 years)

I have over 20 peer reviewed publications, the following are the latest:

Merriel A, Alberry M, Abdel-Fattah S. Implications of non-invasive prenatal testing for identifying and managing high-risk pregnancies. Eur J Obstet Gynecol Reprod Biol. 2021 Jan;256:32-39. doi: 10.1016/j.ejogrb.2020.10.042. Epub 2020 Oct 22
Alberry MS, Aziz E, Ahmed SR, Abdel-Fattah S. Non invasive prenatal testing (NIPT) for common aneuploidies and beyond. Eur J Obstet Gynecol Reprod Biol. 2021 Mar;258:424-429. doi: 10.1016/j.ejogrb.2021.01.008. Epub 2021 Jan 19.
Abigail R. Aiken, Catherine E. Aiken, Medhat S. Alberry, Jeremy C. Brockelsby, and James G. Scott. Management of Fetal Malposition in the Second Stage of Labor: A Propensity Score Analysis. Accepted AJOG October 2014.
Alberry M, Hassan W, Goodburn S, Brockelsby J, Wladimiroff J , Nash R, Lees C. The impact of national guidance for anomaly screening and invasive testing: unintended consequences, Arch Dis Child Fetal Neonatal Ed. 2013 Jul 19.
Medhat Alberry, Victoria Bills and Peter Soothill. Update on Pre-eclampsia Prediction Research. The Obstetrician & Gynaecologist 2011; 13:79–85.