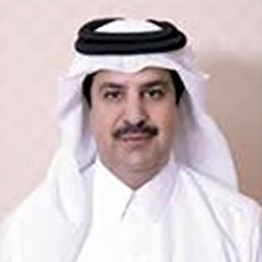 Abdulaziz Mohammed Al-Rabban
Governor; CEO Business Trading Company
Abdulaziz bin Mohammed Al Rabban graduated from the Warner Pacific College Portland, Oregon, the United States in Political Science – International Relations in 1984 after which he joined to the Amiri Protocol as the Undersecretary and held his role as Assistant Director of Protocol until 2003. Soon after leaving the public service, Al Rabban took over the helm of the family business from his father and made a successful stride to take the business to new heights.
His roles in Qatar's social and business scene include being the Chairman of Business Trading Company (BTC), Partner - Place Vendôme at Lusail City (United Developers), Chairman – Everfashion Luxury, Partner –Azadea Retail Fashion Group Qatar, and the former Vice President and honorary Board member of the Al Sadd Sports Club Doha to name a few. He was also a founder of the Qatari Investors Group, also referred to as the QSC Holding Company. Al Rabban's hobby is flying, as he is a pilot and an active member of Qatar flying club in Al Khor Qatar.
Al Rabban was also involved in politics in Qatar through his work as the Diwan undersecretary of the Amiri Protocol. This protocol falls under one of the National Organizing Committees of the Second South Summit. The South Summit is the highest authority in the State of Qatar that is responsible for coordinating official meetings and conferences with the Group of 77 and China and another milestone achievement was The Islamic Conference Organization (ICO) Summit in 2000, which was a great accomplishment under his leadership.
The present success story of Business Trading Company (BTC) in general is one interlaced with tales of unwavering commitment, a far-sighted vision to revolutionize the retail landscape of Qatar and an ardent passion to collaborate the nation in its steady march towards progress and prosperity. It is quite promising to note that in a short span of time, grown into a massive organization with its branches spreading beyond the geographical boundaries of Qatar and its roots penetrating the fertile economic soils of the GCC, the Middle East and UK in the business verticals of Shopping Malls, Retails, Luxury Fashion, Food & Beverages, Entertainment and Hospitality.